Hardware is roaring back into prominence in technology innovation, from advanced cars to robots, smart homes and smart cities, 5G communication and the burgeoning electronification of industry, medicine and utilities. While software continues to play a role, all of these capabilities depend fundamentally on advances in hardware and particularly novel chip solutions: in sensing, high performance and/or low power compute and communication, AI accelerators and many more functions. Yet amidst this explosive growth, the semiconductor industry has massively consolidated. Fewer and bigger companies do their part to drive innovation but are naturally more risk-averse and more inclined to evolutionary rather than revolutionary advances. Where's all the real innovation and risk-taking going to come from in this environment?
Thirty to forty years ago, if you could make a convincing case there were plenty of VCs ready to bankroll your venture. As manufacturing costs for advanced processes grew, VCs found the comparably minor capital needs of software ventures much more attractive and steered away from silicon business plans. But designers didn't stop having ideas or feeling the itch to start new enterprises; they were just stalled by a seemingly insurmountable barrier to entry – raising seed and Series A funding.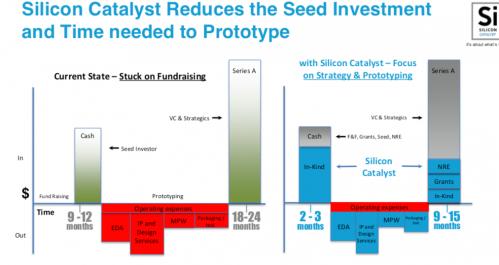 Everyone knew this, but Rick Lazansky wanted to do something about it. Rick is a serial entrepreneur, actively involved in the investment community. He believed the industry needed an incubator to help silicon innovators with good ideas get past this hurdle. Incubators and accelerators are not new concepts but his creation, Silicon Catalyst, makes particular allowance for the special needs of this domain. They provide a pool of seed investors, two years of design tool access, manufacturing and test, access to a wide range of advisors with lots of industry experience and access to a premium group of strategic partners looking for innovations they need. You'll still have to raise some of your own investment to prove you have skin in the game, but the barrier is now much less daunting.
Before you quit your job, get a second mortgage on the house and tell your significant other that the family will be living with your parents if your venture doesn't work out, remember that as with any incubator, you're going to have to do some work to be accepted; I'll get to that. But first some more detail on that buffet of goodies to which you'll have access if you cross that hurdle.
Your immediate concern is probably how you manage EDA, IP and design services, MPW, packaging and test costs. Silicon Catalyst has assembled a group of 25+ in-kind partners who will provide 2 years of free or significantly-discounted access to their capabilities and services from the time your clock starts. These include Synopsys for design tools, S2C for emulation, SiFive and Silvaco for IP, TSMC MPWs for prototype manufacturing, Advantest and EAG for test, Mathworks, AWS, Instrinsix, MEMS design and foundry solutions, patent lawyers, even a CFO app – and many more. They cover pretty much everything you're going to need to create that prototype. These partners see value in this access because they see the portfolio companies as potential new customers.
There are multiple strategic ecosystem partners, including Bosch, On Semiconductor, Soitec and TI Semiconductor; I met the Bosch representative at a recent event. Strategic partners pay close attention to the portfolio companies working in their areas of interest. Bosch knows that that interesting startups have neither bandwidth nor the nerve to approach a company of their size. By being a strategic partner, they can interact with promising ventures very early on during the screening process and react quickly if they see a fit. Others see opportunities in hot areas such as photonics where they see potential to build further demand for their technology.
Among advisors, full disclosure – I'm now an advisor, but they have some really good people too. Just a small sample includes Dave French (past CEO of Cirrus Logic and EVP at NXP), John East (past CEO of Actel Semi), Misha Burich (past CTO and VP at Altera) and Mark Ross, (ex-Cypress Semi EVP & CTO). There are 120+ advisors aligned with Silicon Catalyst, with skills ranging from globalization to manufacturing development, angel investments, MEMS – it's all on the website.
Investors include Rick himself, Jim Hogan and many of the advisors. There are options for seed money to come from individual investors, also from an ecosystem investor group to which multiple angels can contribute. Angels particularly are attracted by the reduced risk over personal investing. In the personal approach there's a lot of risk and a lot of work for an investor to decide where and how much they should invest. Investing together with others in in a pre-screened group of portfolio companies can look like a pretty attractive proposition. The Silicon Catalyst approach reduces risk all round – for portfolio startups, investors, in-kind and strategic partners.
Silicon Catalyst looks at opportunities from lots of domains and geographies, spanning pre-seed to post-Series-A chip startups. Existing portfolio companies are in analog-based AI, communications, ultra-low power design and others, some in Silicon Valley but also in Canada, Korea and Singapore. From their founding in 2015, they've connected to over 250 startups, receiving applications from Europe, India and other locations. There's now a joint venture in Chengdu, China focused on the power semiconductor ventures and they're exploring the possibility of another joint venture to assist startups in Israel.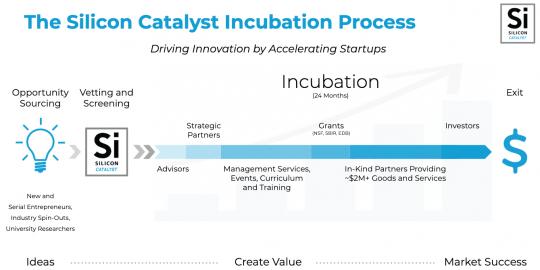 So what's the catch? Applicants are screened through a rigorous review process; historically, only one out ten makes it through to becoming a portfolio company. That's so all those supporting individuals and organizations feel they are getting value for their investments in the domains that most interest them. Nick Kepler (COO) told me that even though selection is obviously rigorous, he wants to make sure that each applicant gets value out of the process even if they aren't selected. Worth remembering even if you're not sure you are ready. This could be a way to find out what you have to do to tune up your game.
Silicon Catalyst has around 20 companies in the portfolio, they raised their own investment round last year and they're planning to get to several hundred companies in the portfolio over the next 7-10 years. As a measure of success, they already have portfolio companies who have graduated from the incubator to Series A funding.
OK, I'm obviously biased. But c'mon – when did you last see an idea this exciting for any would-be silicon entrepreneur? If you want to learn more, first click HERE. Also know that upcoming events for their ecosystem members include a Portfolio Company Update (what others call "Demo Day") and their Semi Industry Forum, both at the end of May. And for you entrepreneurs, the deadline to apply for the Fall Screening Event is in July. Check out their website to learn about the application process.
Share this post via: