What happens when you get a panel of four executives together with an industry-leading journalist to discuss tradeoffs in IoT designs? After the obligatory introductions, Ed Sperling took this group into questions on power, performance, and integration.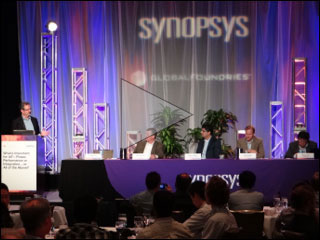 Panelists were:

Steve Hardin
Director of Product Development, IoT Solutions Group, AT&T

Wayne Dai
CEO, VeriSilicon

John Koeter
VP of Solutions Group, Synopsys

Rajeev Rajan
VP of IoT, GLOBALFOUNDRIES
There are a lot of good comments in this session, following is just a sample I picked out based on what I'm seeing and hearing from my IoT journeys.
Hardin and AT&T are coming from an entirely different direction, M2M modules, and his comment on the question of power was interesting. "There had not been attention paid to evolving the [cellular] wireless technologies for this specific use case." As we've been suggesting for a while, new specifications are emerging, and chipsets optimized for IoT use cases are needed.
Koeter claims Synopsys currently has 150 active IoT designs with their IP content, 60% in either 55 or 40nm, and 20% in 28nm or below. Part of that traces to mixed signal and embedded flash technology needed, and some indicates current availability and cost of wafer capacity. But then there's this: "If you just try and take your existing IP and slap an IoT label on it, you will not be successful … you really need to optimize it." (You may have heard me refer to the "IoT paint job" more than once.) He nodded to the GF community that 22FDX might ultimately be a very good process for that optimization.
Dai suggests it isn't just power consumption and battery technology, but thermal dissipation that designers may need to worry about. (This panel was way before the Intel Basis smartwatch recall was issued!) There is also recognition that not everything is an edge device; gateway and infrastructure chips, especially deployed in large volumes in data centers, are also power optimization targets. FD-SOI presents a creative opportunity to use one process and optimize it for high-end or low-end IoT applications.
Rajan says we're trying reinvent similar security capabilities for the IoT that have existed in M2M space for some time – activation, provisioning, and services, with an end-to-end perspective. The challenges are lack of standardization and fragmentation, and in general attention is shifting from broad, horizontal applications to more vertical, targeted IoT designs. There are a lot of providers with unique, point security solutions, and some of them are not suitable for low-cost nodes.
Will people want to keep modules, say in their connected car, up to date – more like the shorter cycle of the mobile device? That's an interesting proposition from Hardin, given the rate of standards evolution right now. The consumer mobile model has a lot more control; on the IoT, the end-to-end design is much more wide open. We've often thought of IoT devices as embedded in nature, with longer lifecycles, but in some use cases particularly at the high-end upgradable radios make a whole lot of sense.
These are just some of the issues the panel touched on. Archived video of the panel is available (registration required) from the Synopsys site:
What's Important for IoT—Power, Performance or Integration… or All of the Above?
I'll close with one of Rajan's opening comments where he touched on an interesting concept: the emotional value of the IoT. Data, in and of itself, isn't very useful. Decision making, enabled at the right time with the right context, is most important. In many cases the devices won't be making fully autonomous decisions – they'll be collecting and analyzing and correlating data, and bringing their findings to human attention at the right moment.
If you could take a few minutes for a listen, I'd like to hear what insights you gleaned from this panel.
Share this post via: