Lately there has been significant concern over the rising costs of designing in silicon and the troubling decline in venture investments in semiconductors. These alarming trends include fewer IPOs, a falloff in the amount and frequency of early stage seed investments, and comparatively low industry organic growth rates. A new company called Silicon Catalyst has recently been formed to address some of the key challenges facing entrepreneurs attempting to innovate in semiconductors … namely the challenge of raising sufficient funding and obtaining the appropriate design, prototyping, and test capabilities to move from concept to working prototypes.
While there are other incubators for software and some for hardware, Silicon Catalyst looks to be the first focused exclusively on startups creating solutions in silicon. Co-founded by three semiconductor veterans: Mike Noonen, Rick Lazansky and Daniel Armbrust, the incubator announced its initial partners last month. They are industry leaders Synopsys, TSMC and Keysight (formerly Agilent) who will provide design tools, fabrication and test capabilities respectively.

"The launch of this startup incubator parallels TSMC's emphasis on a 'Grand Alliance' of collaborating companies in the semiconductor industry to increase innovation," said Rick Cassidy, President, TSMC North America. "TSMC is pleased to join the efforts of Silicon Catalyst to help the next wave of fabless semiconductor start-ups achieve success."

"A vibrant start-up community is a valuable component in the development of any business and the multi-trillion-dollar industries that we enable," commented Aart de Geus, Chairman and co-CEO, Synopsys. "Synopsys is proud to be a Silicon Catalyst founding partner to support semiconductor solution start-ups."
The Silicon Catalyst incubator's initial location in Silicon Valley is expected to be announced shortly. Startups are expected to come from universities, industry entrepreneurs and spinouts not just in Silicon Valley but from all around the world. Silicon Catalyst plans to collaborate with local incubators to enable these entrepreneurs to leverage the Silicon Catalyst partner resources without needing to relocate. The first round of screening is expected to begin within the next two months.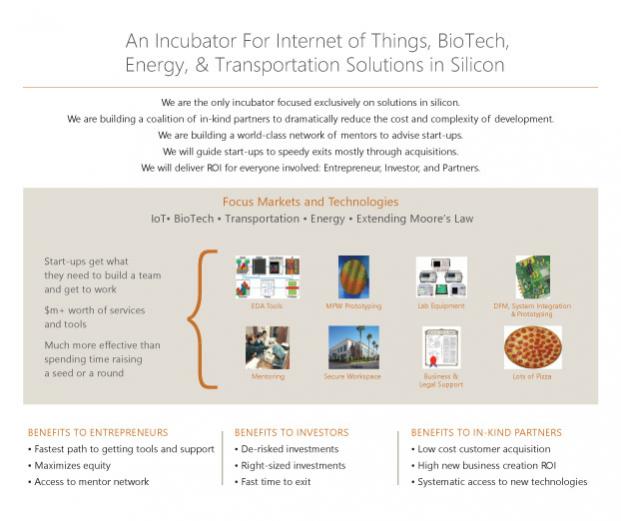 Silicon Catalyst is engaged in discussions with many industry strategic partners who are expected to help select, guide, invest in and be potential acquirers once the startups graduate from the incubator (over a maximum of 24 months). In addition to some modest funding of up to $500k and providing access to the essential services needed for new designs, Silicon Catalyst intends to pair each startup with an experienced mentor who can provide relevant advice and assistance which is viewed as essential to address the challenges that these early stage companies inevitably encounter.
Investors are mostly ignoring early stage semiconductor investments, however Silicon Catalyst and its partners believe we are entering a long term wave of innovation that requires new semiconductor innovation at their core to address opportunities in IoT, biotech, energy, transportation and mobile. Inspiration for an improved business incubation model and an accompanying vibrant startup community came from the biotech and pharmaceuticals industries that have found ways to address the high upfront costs of device and drug development. Since upfront costs are significantly reduced, start-ups are expected to become much better investments since funding can go directly to innovation and value creation. Silicon Catalyst expects to see renewed interest over time from angel, strategic, and venture investors as a result.
It will be interesting to see how the semiconductor industry embraces and supports this new model. Optimistically, with sufficient backing, we will look back on this as an important part of today's fabless semiconductor ecosystem, absolutely.
Share this post via: