USB is certainly the most ubiquitous of the Interface protocols. I would bet that everybody is using USB everyday (I mean activate a USB connection, as we also use PCIe or SATA even if we don't realize that we do it), but which application will get benefit of the 10 Gbps delivered by USB 3.1? Before precisely answering the question, let's review some facts:
More video/images are created as video standard is moving from 4K to 8K
End user consumption per day (Video, audio, social media) is growing, estimated at 63 Gigabytes per day per person
The storage devices prices are dropping, this is true for both HDD and SSD, leading to use larger devices (for the same price).
These facts allow understanding where USB 3.1 adoption will come first, in storage and digital office segments, to support applications like Hubs, Docking stations, Host add-in cards or SSD.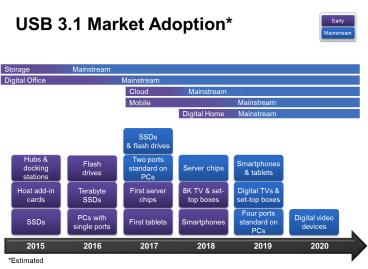 As an analyst, I have tried to model SuperSpeed USB adoption, back in 2009. There is a consensus about the adoption behavior, coming from the "Innovation Theory": it looks like a Gaussian curve (with Innovator, Early Adopter, Early Majority, Late Majority and Laggard categories). By the way, this Gaussian curve and the related categories are exactly the same than for an epidemic, Ebola or the flu virus! Let's come back to electronic. This theory tells us that the adoption rate is low at the beginning (Innovator and early adopters), then reach the mainstream (early majority and late majority) and finally the laggards.
For an IP vendor, the $1 million question is to know about the market dynamic, how long it will take for USB 3.1 to reach the mainstream for each specific market segment. Synopsys has built the above picture, which is the addition of five Gaussian curves: Storage, Digital Office, Cloud, Mobile and Digital Home. According with John Koeter, vice president of marketing for IP and prototyping at Synopsys, the company has an "extensive knowledge in developing USB IP, more than 3,000 USB design wins". Thus, Synopsys knows the key factor, by experience about selling USB 3.0 IP, which is the adoption rate.
USB 3.0 specification has been released at the end of 2008, starting to sale in 2009, and it took 5 years for the new standard to reach all the potential applications. If you take a look at the above picture, Synopsys has built it by duplicating for USB 3.1 what has happened with USB 3.0, and I fully agree with this approach. We can consider that the early adopters for USB 3.0 will be the early adopters for USB 3.1 (and so on for the other categories). In other words, the application currently integrating USB 3.0 will certainly move to USB 3.1. This is a "semi-empirical theory", based on past behavior, but with only one unknown: USB 3.1 adoption rate in Intel PC chipset. If this adoption comes faster than for USB 3.0 (which was too long, by the way), we may even see quicker sales of USB 3.1 than USB 3.0 IP.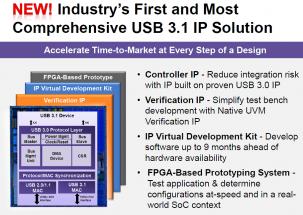 Synopsys is claiming offering the most comprehensive USB 3.1 solution, and there is no doubt about this assertion! IPnest has made the IP vendor ranking for USB 3.0 IP in 2013, and Synopsys enjoys 75% market share. In fact, USB 3.1 is just an enhancement of USB 3.0, running at twice the data rate (10 Gbps instead of 5 Gbps), and we can see that most of the architecture can be reused.
Synopsys Controller IP operates at USB 3.1/3.0/2.0 speeds
Interoperates with all USB generations
Synopsys customers can use their existing USB 3.0 drivers
Configurable by user

Address all markets – storage to mobile phones
AXI speeds and bus width
More memory for higher performance or less area for cost savings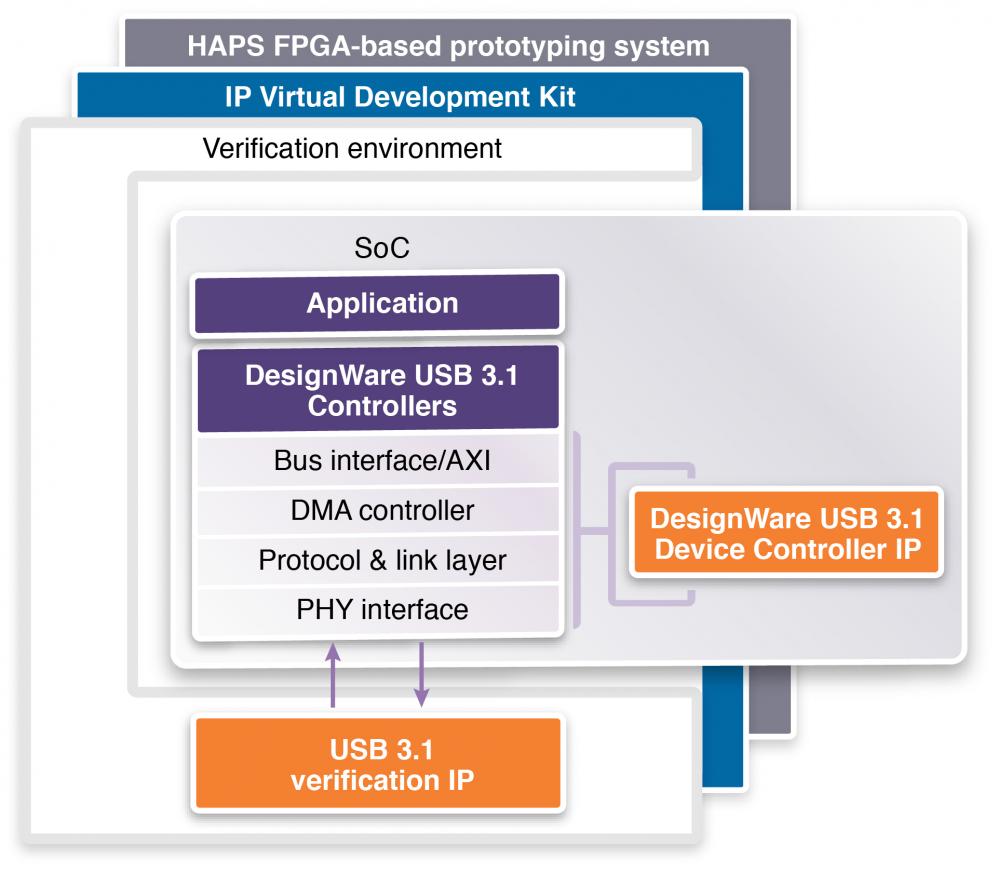 Synopsys also offers VIP:
Virtual model of DesignWare® USB 3.1 IP
Develop SW up to 9 months ahead of HW availability
USB 3.1 IP VDK configured to behave identically to real RTL for accurate driver development
Includes model of multi-core ARM® Cortex®-A57 Versatile Express board
It will be quite a challenge for Synopsys competitor to win market share on USB 3.1 IP market, as the company has enjoyed so far about 160-180 USB 3.0 design win, for a total (including the internally designed IP) of 300 to 350 design starts, since the release of the standard.
Also Read: USB 3.1: Physical, Link, and Protocol Layer Changes
From Eric Esteve from IPNEST
Share this post via: