There's never a dull moment in the foundry race to offer FinFET processes that enable leading-edge SoC design. Today I attended a webinar hosted by Samsung and Synopsys on how to enable 14nm FinFET design. The two speakers were Dr. Kuang-Kuo Lin from Samsung and Dr. Henry Sheng from Synopsys.


Dr. Kuang-Kuo Lin, Samsung



Dr. Henry Sheng, Synopsys
Foundry, Samsung

Why FinFET?
Lower power required for mobile devices
20nm planar and lower nodes are too leaky for current
Lower VDD possible, lower power, faster switching
FinFET Challenges
Process is more complex than planar
Parasitic resistance goes up
Limited device width choices, quantized
3D modeling and extraction is more complex than planar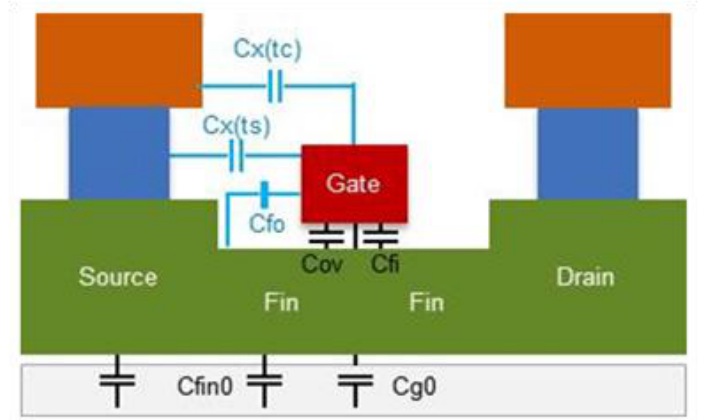 FinFET Collaboration
Enablement (3D TCAD, parasitic extraction, SPICE modeling, early IP)
EDA flow (FinFET ready tools, Rules and tech files, aware-models, QoR)
Validation (Test chips, silicon correlation, early engagements, IP)
Samsung 14nm FinFET
Samsung working on FinFET for 10 years now
Partnered with IBM and GLOBALFOUNDRIES
2012 – Test vehicle and MPW last year
2013 – MPW (Multi Project Wafers)
Improved short-channel effects
Reduced Vt mismatch (lower than 20nm and 28nm)
46% improvement in switching speeds, compared to 20nm
15% smaller die size, compared to 20nm planar
PDK is ready, IP is ready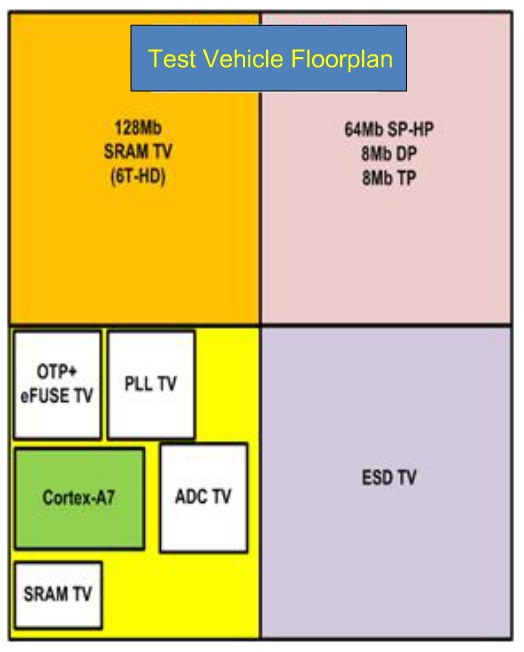 EDA, Synopsys

14nm collaboration with Samsung started years ago, and first test chip in December 2012 with Samsung.
20nm marked the end of planar scaling. DPT (Double Pattern Technology) is required at 20nm and lower for DFM (Design For Manufacturing).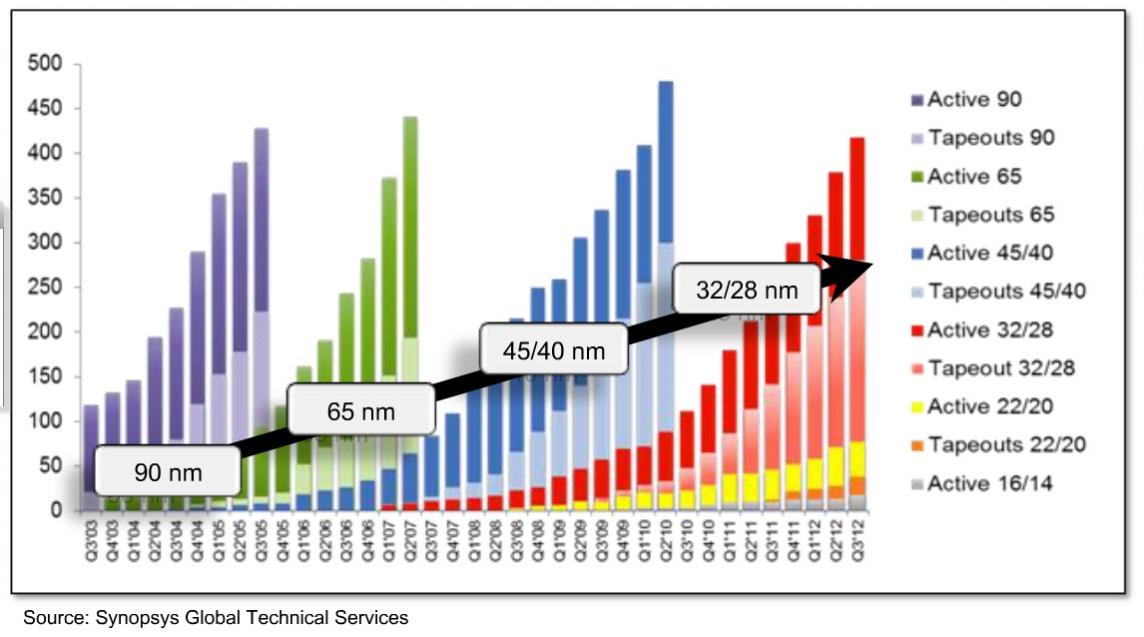 Lots of change in EDA to make tools FinFET-ready.
Goal – make the required FinFET changes almost invisible to EDA tool users.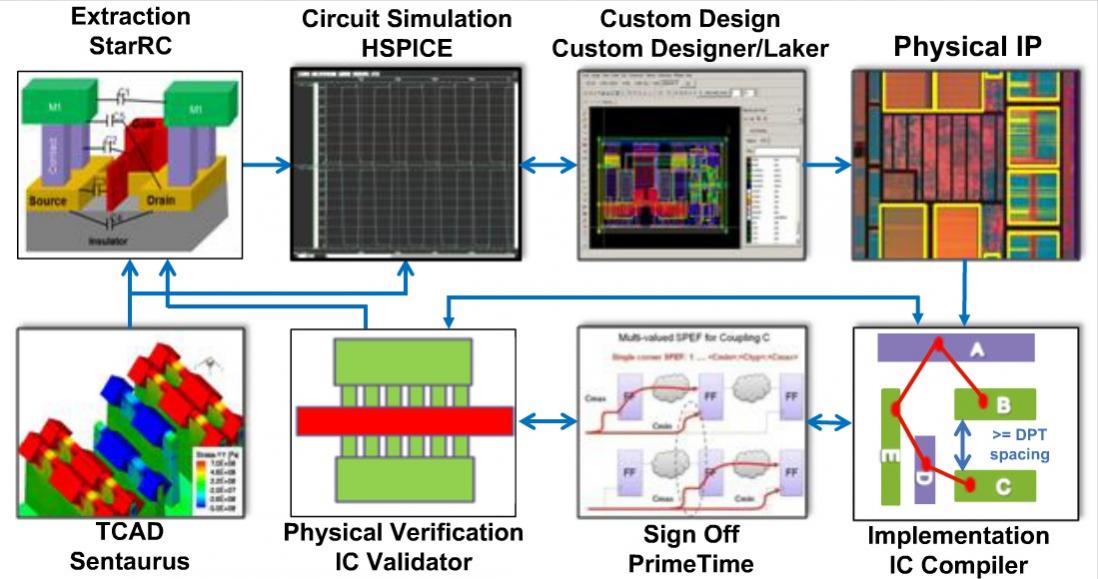 Design Challenges
Cross section of 14nm wires is much thinner than at 65nm, so resistance goes up. Resistance is very dominant at 14nm.
Metal stacks are bloomed, instead of same widths
Capacitance per micron about the same
More vias required per net
2-3X gate capacitance compared to planar
Power can go up
Electromigration (EM) issues increase
Self-heating creates a reliability issue
Line width/edge roughness impacts current and timing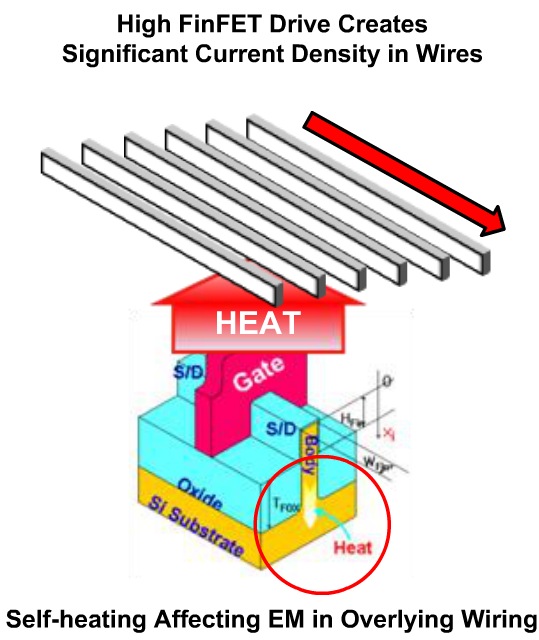 EDA tools upgraded for 14nm FinFET
Place & Route (IC Compiler)
Target either low Vdd or high performance to achieve specific QoR
Dynamic power optimization, reduction of overal wire length
Signal EM analysis
Clock Tree Synthesis (CTS), Multisource and Clock Mesh approaches to clock assembly
Convergent timing closure flows, cell choices must be tolerant to process variability
Strong timing correlation between P&R with IC Compiler and PrimeTime SI, 99.92% of endpoints within 1% of PrimeTime SI
Design Rule Checking (DRC) – IC Validator updated for 14nm FinFET technology. Call physical validation during P&R, eliminate extra work.
Power analysis with PrimeRail (EM, Power density, dynamic voltage drop, de-cap analysis)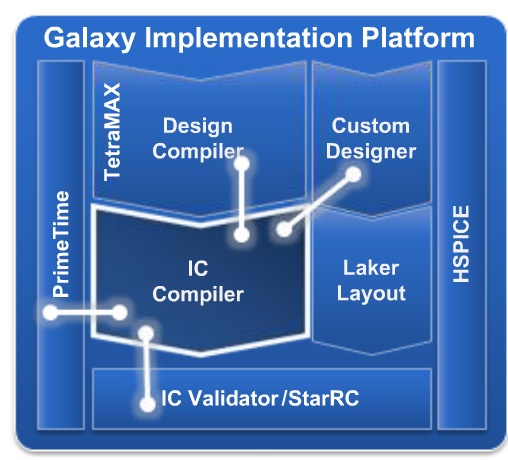 Questions
Q: What FinFET process node is Samsung offering today?
A: 14nm LPE is offered now, the PDK version 0.1 is ready now. Beta version available soon. Test chip taped out and analyzed. Shuttles available now. Smaller poly-pitch, smallest SRAM bit cell.
Q: With increased resistance, do we need to add more buffers?
A: Timing closure is more challenging, but we get benefit from improved drive strengths. Not really seeing a large increase in number or size of buffers. Wire optimization is helpful to optimize timing.
Q: Do we need multi-Vt at 14nm to handle leakage reductions?
A: FinFET devices in general have much better leakage performance, so we're not using multi-Vt with FinFET.
Q: How does the collaboration work between Samsung and Synopsys?
A: We've been partnering for years to get 14nm FinFET working. The collaboration starts early and is proven through test chips and MPW efforts.
Q: What about IP availability at 14nm?
A: Samsung has added Synopsys interface IP, and our own standard cells and SRAM arrays.
Summary
With the 20nm node just ramping up now, it's pretty impressive to see what Samsung and Synopsys are doing together at the 14nm node with FinFET technology. SoC design teams still have to go through a careful financial and technical analysis to determine if they really need the power, performance and area offered by 14nm compared with 20nm. It's an exciting time to be an IC designer with so many technology choices available.
If you're attending DAC next week in Austin then you can find Synopsys events here or visit them in Booth #947, Samsung is in Booth #915.

lang: en_US
Share this post via: