If we agree on the definition of IoT as a distributed set of services based on sensing, sharing and controlling through new nodes, we realize that these nodes are a big hardware opportunity. The chip makers and IP vendors have to create innovative SoC, delivering high performance at low cost and low energy. Moreover, the new systems will have to integrate multiple sensors and stay in Always Alert mode.
The problem comes when you realize that no processor core is ideally suited for all these 3 functions: sensing, computation and communication.
Sensing is going from voice/face trigger to biometric monitoring, indoor navigation to sensor fusion, and probably many more as we can be confident about the creating power of innovators. Computation is linked with maths: Digital Signal Processing, bit manipulation, floating point, encryption, security, etc. when communications is based on protocol standards like NB-IoT, Wi-Fi Halow, GNSS, BLE or Zigbee.
Because every IoT application is different and because the above list is pretty long, no processor cores are ideally suited for all 3 functions, sensing, computing and communicate. Cadence, and more precisely Tensilica team developing the highly configurable DSP IP core, has brainstormed and realize that cost and ease of use are driving the desire for single core for IoT SoCs. The next step has been to develop the new Fusion F1 DSP core, able to compute, support sensing and communication protocols.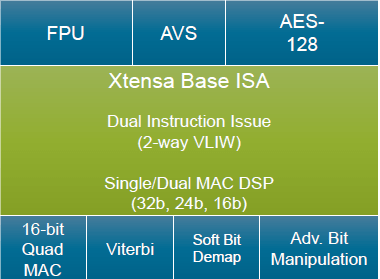 The Fusion F1 DSP core is above pictured and the green box is the core basis. Because Tensilica want to address various applications, IoT and even more, the flexibility has been the driver for the architecture definition. The 7 blue boxes (FPU, AVS, AES-128, 16-bit Quad MAC, Viterbi, Soft Bit Demap and Bit Manipulation) are proposed as pre-verified and proven option. A chip maker can really optimize the DSP core definition in respect with the real needs of the application, and minimize the DSP area and power consumption.
This flexibility is added to the natural DSP flexibility, as you can use the same core to support the communication protocol (the modem) when active, then switch to support sensor fusion when needed. This strategy is also good for power consumption optimization, which is key for this type of application.
This Fusion DSP can target technology nodes from 55 nm, 40 nm, 28 nm to 22 FD-SOI (all of these sounding good for IoT applications), and obviously smaller nodes when designing to support very complexes platforms.
If you take a look at the above picture, it's clear that the Fusion F1 DSP is architecture to efficiently support the modem function in wireless communication, thanks to the selection of Advanced Bits Ops., Viterbi or Soft Bit Demap., but also sensor fusion and audio/voice/speech. When you look at the end products, wearable, smart home or automotive, you can guess that the majority of these applications will integrate one or more wireless communication protocols.
A good way to introduce the very interesting partnership built by Cadence with Commsolid, providing ultra-low power solutions for standardized wide-area networks (WAN) like Cat-NB1 (NB-IoT) and 5G IoT in the future. The NB-IoT protocol should see a large adoption in the applications requiring ultra-low power but low modem bandwidth (< 100 kbps), which fit well with the specification of wearable and most of IoT systems.
Commsolid has built an ultra-low power baseband IP, the CSN130, designed for the new NB-IoT standard specified in 3GPP Release 13. The CSN130 is a complete pre-certified NB-IoT baseband, consisting of hardware and software. In fact, the physical layer implementation, the modem, target the Fusion F1 DSP and this explain why this partnership is beneficial for a customer needing fast TTM at no risk, as the Commsolid NB-IoT baseband IP is pre-certified, using Tensilica DSP.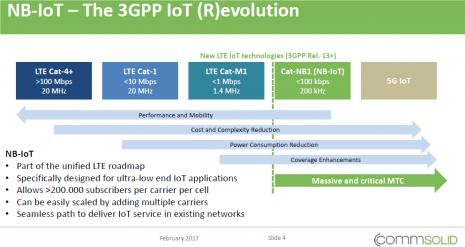 As such, the Cadence/Commsolid partnership is a very good solution to develop an application supporting NB-IoT wireless protocol, but the story doesn't stop here, as it goes up to the business model. Commsolid has the right to license the complete solution made of the CSN130 IP AND the Fusion F1 DSP from Cadence to a customer asking for business simplification (only one license agreement make the project manager life easier, as far as legal and business negotiation are concerned).
The adoption of emerging IoT technology and innovative wireless protocol like NB-IoT going together with simplified business model should make the solution more attractive.
Last but not least, the FUSION F1 DSP core can be power conscious AND performant, with 4.61 CoreMark/MHz, a very good figure in this product category.
The following link to more information about the Fusion DSPs: https://ip.cadence.com/ipportfolio/tensilica-ip/fusion
By Eric Esteve fromIPnest
These design-win with ForteMedia, Realtek or CyWeeMotion sensor fusion demonstrate that the Fusion F1 is flexible, appropriate for voice processing solutions and IoT modems:

Realtek
Share this post via: