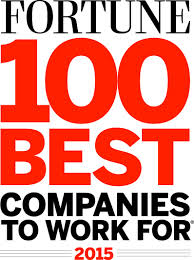 Apparently that is the case. Honestly my choice would have been Mentor but I can easily make an argument for Cadence based on my discussions with the foundries and their top customers but more on that later.
Fortune Magazine last week added Cadence to the 2015 list of "100 Best Companies to Work For" citing a cultural transformation driving the company's recent success. They are referring to the hiring of Lip-Bu Tan as CEO of course. At first some said he wouldn't stay as CEO but that was more than six years ago, right?
"Being named to FORTUNE'S list of 100 Best Companies to Work For is a tremendous honor," said Tan. "It speaks to the achievements of our employees, and to the strength of our culture. The enthusiasm of employees for innovation and solving customer problems is central to who we are and has been a critical component in our success."
I started my semiconductor career right out of college moving to Silicon Valley in the early 1980s when EDA was just getting started. It was dominated by DMV (Daisy, Mentor, Valid) when two smaller start-ups merged (ECAD and SDA) in 1988 to create Cadence with Joe Costello as CEO. Joe was quite a character and I credit him with making EDA an exciting place to work. Unfortunately after Joe left in 1997 Cadence seemed to lose its way. In January 2009 Lip-Bu Tan joined Cadence as President and CEO after serving on the Cadence Board of Directors for five years. To me that was a turning point which brought Cadence back to what they are today, an industry leader. Cadence stock agrees as it has quintupled since Lip-Bu took over as President and CEO.
In regards to the fabless semiconductor ecosystem, I would say I have my finger on the pulse as much or more than most. I routinely meet with the foundries and their top customers and listen to the latest EDA tales of woe. Over the last three years however I have noticed a positive turn to the Cadence stories. One large fabless customer who is a notorious complainer told me recently that they have the best relationship with Cadence today than they have ever had which is going on 20+ years now. Same with the foundries, you can clearly see this through the level of engagement via Hsinchu visits, PDKs, conferences, webinars, and other collaborative activities.
Speaking of that, Wednesday seems to be foundry day at CDN Live this week. Unfortunately I will not be able to attend as I'm in Hsinchu but SemiWiki bloggers Paul McLellan and Tom Simon will be there for some live coverage. If I was able to attend however this would be my must see list:
Cadence In-Design and Signoff Tools Certified for ST's 28nm and 14nm FD-SOI Technologies
Tempus (TM) Timing Signoff Solution for Certification in 16FF/10FF TSMC
Flows Tackling Coloring, Cell Pin Access, Variability for 2nd Gen Patterning and 2nd Gen FinFET at TSMC 10nm Using Cadence EDI System
10nm Parasitic Challenges and How It Is Addressed by Industry's Most Accurate FinFET Extraction Tool; Quantus Extraction
Anything FD-SOI and 10nm of course because those are the trending keywords on SemiWiki…
Share this post via: