Almost every SoC has multiple analog blocks so AMS methodology is an important topic to our growing electronics industry. Authored by Jess Chen (Qualcomm), Michael Henrie (Cliosoft), Monte Mar (Boeing) and Mladen Nizic (Cadence), the book is subtitled: Advanced Methodology for AMS IP and SoC Design, Verification and Implementation. Cadence published the book and I've just read the first chapter and deemed the tome worthy to review because it shows both the challenges of AMS design plus verification and discusses multiple approaches, while not favoring one particular EDA vendor tool.
Review of Chapters 2 through 11 are here.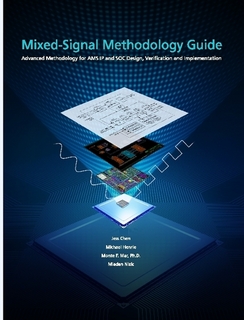 Mladen Nizic


I spoke by phone with Mladen Nizic on Thursday afternoon to better understand how this book came to be.
Q: Why was this book on AMS design and verification methodology necessary?
A: Technology and business drivers are demanding changes in products and therefore methodology. We need more discussion between Digital and Analog designers, collaborating to adopt new methodologies.
Q: How did you select the authors?
A: I knew the topics that I wanted to cover, then started asking customers and people that I knew. We gathered authors from Boeing, Cadence, Qualcomm and ClioSoft.
Q: What are the obstacles to adopting a new methodology?
A: Organizational and technical barriers exist. Most organizations have separate digital SOC and analog design groups, they just do design differently and are kind of isolated. You start to see engineers with AMS Verification Engineer appearing now. The complexity of the AMS designs is increasing with more blocks being added. Advanced nodes bring challenges, which require even more analysis.
Q: Will reading the book be sufficient to make a difference?
A: The whole design team needs to read the book, then discuss their methodology, and start to adapt some or all of the recommended techniques. Analog designers need to learn what their Digital counterparts are doing for design and verification.
Q: Why should designers spend the time reading about AMS methodology?
A: To become better rounded in their approach to design and verification. You can also just read the chapters that are of interest to each group.
Q: Where do I buy this book?
A: Right now you can pre-order it at LuLu.com, and soon afterwards on Amazon.com.
Q: Can I buy an e-Book version?
A: There will be an e-Book version coming out after the hard-copy.
Q: Is there a place for designers to discuss what they read in the book?
A: Good idea, we're still working on launching that, so stay tuned.
Chapter 1: Mixed-Signal Design Trends & Challenges
The continuous time output of Analog IP blocks are contrasted with the binary output of Digital IP blocks and various approaches to Mixed-signal verification are introduced:
To gain the verification speed you must consider abstracting the analog IP into behavioral models, instead of only simulating at the transistor level with a SPICE or Fast-SPICE circuit simulator.
Topics raised: mixed-signal verification, behavioral modeling, low-power verification, DFT, chip planning, AMS IP reuse, full-chip sign-off, substrate noise, IC/package co-design, design collaboration and data management.
Other chapters include topics like:
Overview of Mixed-Signal Design Methodologies

AMS Behavioral Modeling

Mixed-Signal Verification Methodology

A Practical Methodology for Verifying RF Designs

Event-Driven Time-Domain Behavioral Modeling of Phase-Locked Loops

Verifying Digitally-Assisted Analog Designs

Mixed-Signal Physical Implementation Methodology

Electrically-Aware Design Methodologies for Advanced Process Nodes

IC Package Co-Design for Mixed-Signal Systems

Data Management for Mixed-Signal Designs.

Share this post via: