What started as blogs, or vignettes as Wally calls them, posted on SemiWiki is now a free PDF eBook. The journey starts with his school days at Stanford through 20+ years at TI and 24+ years at Mentor Graphics. Wally has traveled millions of miles meeting with every customer imaginable while presenting hundreds of different keynotes on the semiconductor industry. If we ever came out with an AI smart speaker on all things semiconductor it would be called Wally.
The crowning achievement of Wally's career (my opinion) and one of the most disruptive moves in EDA history is the acquisition of Mentor Graphics by Siemens in 2017 for $4.5B (representing a 21% stock premium). Acquisition rumors had been flying around the fabless semiconductor ecosystem but no one would have guessed it would be the largest industrial manufacturing company in Europe. At first the rumors were that Siemens would break-up and sell Mentor keeping only the groups that were part of the Siemens core business, specifically they would sell the Mentor IC Group. Those rumors were flatly denied at the following Design Automation Conference during a CEO roundtable with Wally. Now Mentor, including the IC group, is an integral part of the Siemens corporate strategy. Thank you again Dr Walden Rhines, EDA would not have been as fun without you, absolutely.


From LinkedIn:
Wally Rhines is widely recognized as an expert in business value creation and technology for the semiconductor and electronic design automation (EDA) industries. Dr. Rhines was CEO of Mentor Graphics (a "Big Three" EDA company with $1.3B+ revenue) for 24 years, has served on the boards of four public companies, managed the semiconductor business of Texas Instruments (TI), and is a spokesperson, writer and highly-sought-after speaker for the high-tech industry delivering more than twenty keynotes per year.
Dr. Rhines currently serves as CEO Emeritus of Mentor, a Siemens Business, consults for investors, corporations and the U.S. government on strategic directions, value creation and technology, serves on public and private boards, and supervises a $20M foundation. Business achievements include major turnarounds, both at Texas Instruments, through his creation and management of the digital signal processing business, and at Mentor, where he managed more than 3X growth in revenue and a 10X increase in enterprise value before acquisition by Siemens AG.
Dr. Rhines' technical expertise includes semiconductor design, process engineering and manufacturing as well as financial modeling of trends and value creation. He has been deeply involved in global business development including projects in China and India.
As CEO and Director, he has managed businesses through difficulties including unfriendly takeover attempts, favorable outcomes for both the company and the activists, with three of the world's leading activist investors, and volatile economic and business cycles. He continues to seek new opportunities to grow businesses, particularly through private equity, consulting and personal investing.
From the book:

From Wild West to Modern Life the Semiconductor Evolution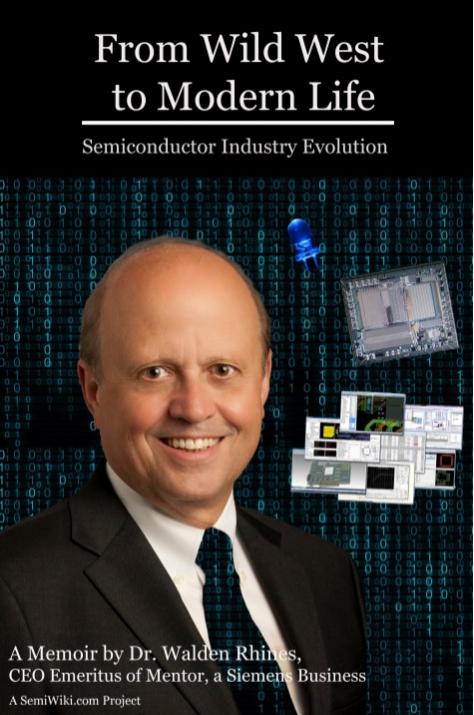 Foreword
In 1968, Texas Instruments, Motorola, and Fairchild dominated the emerging semiconductor business with 66% combined market share. Over the next fifty years, the industry de-consolidated – dozens of new semiconductor companies emerged, creating a more dynamic market that altered the list of the top ten largest companies.During the same period, an ecosystem of companies emerged to grow the materials, develop the manufacturing equipment, design the software, and create all the other capabilities needed to support what has become one of the most strategic industries in the world. Much of this evolution was driven by relatively young, inexperienced individuals operating in a totally unregulated,free market, worldwide business environment. I was privileged to work with many of these people and to be involved in some of the revolutionary innovations.Many people, including Daniel Nenni, have asked me to relate some of the stories of game-changing programs and people with whom I was involved,including the dynamics of growth of the Electronic Design Automation (EDA) industry. I've put this off for a long time, but Daniel is persistent. So I started writing some short vignettes during long airline flights. This activity required that I contact other people who were involved in this history, some of whom I hadn't seen for decades, to verify the accuracy of my recollections. I hope this collection of essays provides some feeling for the remarkable history of the growth of an industry as well as insights into its future evolution.
Walden Rhines
March 2019
Share this post via: