This is the sixteenth in the series of "20 Questions with Wally Rhines"
Electronic design automation (EDA) began and grew with the integrated circuit (IC) design business probably because IC design grew in complexity faster than printed circuit boards. The race for superiority in PCB design evolved in parallel, however, and has become increasingly important as system design moves to more advanced EDA.
Daisy, Mentor and Valid, founded in 1980 and 1981, supported a combination of IC and PCB design. Both technologies required schematic capture and layout but simulation was primarily an IC design technology. Mentor and Daisy targeted both IC and PCB design while Valid specialized in PCB. At the same time, companies like Racal Redac (Europe), Cadence, SciCards (on VAX), Intergraph and others competed for the PCB market. As much as the IC market, competitive advantage in PCB design and layout (and eventually manufacturing) resulted from strategic acquisitions as well as organic technology development.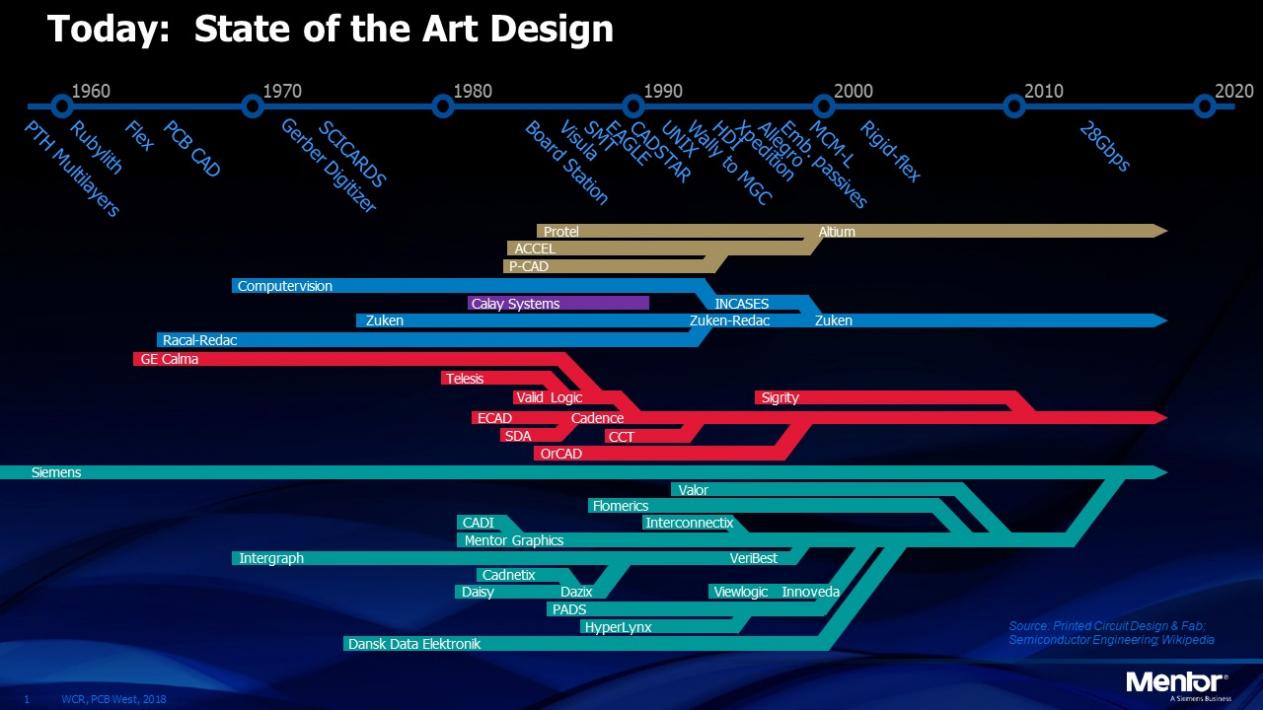 Computervision, Calma and Applicon were the "Big 3" electronic design environments that preceded the Daisy, Mentor, Valid era. But the GE acquisition of Calma, which had a very strong IC layout capability, demonstrated how large companies can easily mismanage the acquisition of fast moving, small, high tech companies, and the value of Calma was quickly lost. Daisy and Mentor went head to head and Mentor ultimately won the majority of the systems companies (and even owns the remnants of Daisy today through Mentor's acquisition of Veribest from Intergraph), a historical event that gives Mentor its strength today in system design as systems companies (particularly aerospace, defense and automotive) rarely changed EDA suppliers, even as they adopted IC design tools to complement their PCB tools.
A critical shift occurred in the early 1990's. Mentor's PCB capability came from the acquisition of CADI. Cadence had acquired tools as well and both Zuken and Racal Redac had strong positions grown from organically developed tools. In 1990, Cadence and Mentor had approximately equal market shares, with Zuken and Racal Redac making up much of the remainder of the PCB market. Cadence made a very bold move, taking advantage of the fact that Mentor was in a period of weakness due to its struggles with Version 8.0. Cadence acquired Valid, announcing that the overlap between Cadence and Valid PCB design tools would be quickly resolved by eliminating the losers and crowning the winners. This turned out to be a difficult strategy since ALL of the users from both Cadence and Valid lost some portion of their design flow. That forced all the Cadence and Valid users into a competitive re-evaluation of all the alternatives. Zuken gained a little and Mentor gained a lot, while Cadence kept some. The result: By 1999, Mentor had 20% of the PCB market, Cadence 17% and Zuken, who had acquired Racal Redac to complement its Japan strength with a European supplier, had 16%. By this time, the dot com crash was beginning and Zuken reduced investment while Cadence focused on IC design. Mentor, who was still troubled by the Version 8.0 problems, continued a heavy rate of investment in "system design" including PCB, as an area of #1 market strength, and continued to gain market share in PCB, peaking at a market share of about double its nearest competitor.
Over the next two decades, all this history had an effect on strategic evolution. The original companies that needed to move toward EDA standardization in the 1980's were largely systems companies. They needed standardization in design methodologies, libraries and tools across their disparate divisions. Even though two thirds of Mentor's revenue ultimately came from IC design, the original adopters of EDA remained as a stable base of customers, particularly those who manufactured cars, planes and trains, or were involved in aerospace and defense. Mentor was able to capitalize upon that large market share and, thanks to some developments along the way, developed a leading position in electronic wiring and embedded software for those kinds of systems.
As much as anything, this systems capability is what made Mentor so attractive to Siemens' software division as they looked to extend their "digital twin" platform from design, product life cycle management, mechanical CAD and manufacturing simulation to the electronic dimension of the digital twin.
There was another reason that Mentor's system design businesses succeeded despite the difficulties of the Falcon Version 8.0 transition. Russ Henke, who managed the PCB business at that time, did not believe that Version 8.0 would ever work. So he followed a path, common in many companies, of quiet non-compliance. He instructed his PCB team to develop a "wrapper" to interface to Version 8.0, just in case it worked, and then proceeded to invest in the traditional PCB design business, consistently growing PCB revenue throughout the period of Version 8.0 chaos and into the 1990's.
There was another beneficial offshoot of the Version 8.0 transition problems. The Mentor sales force had very little to sell after the announcement that Version 7.0 would not be extended but would be replaced by Version 8.0 whenever that environment became available. An innovative sales team working with the "Value Added Services" group sought out new users for the existing products that were not affected by the Version 8.0 transition. PCB schematic capture was one of those products. They found a local customer in Portland, Freightliner, who manufactured trucks and is now owned by Daimler. Convincing them to move from manual wiring design to EDA can't have been easy but they became the first adopters of a "field-developed" product named "LCable", a name that reflected its use in the design and verification of cabling and wire harnesses for trucks and cars. Adoption by other automotive and aerospace companies proceeded slowly but, over the decade starting in 1992, the complexity of automotive and aerospace electronics increased so much that the need for EDA became apparent. By year 2000, the business was blossoming but had outgrown its original roots in PCB design and layout. Martin Obrien joined Mentor from Raychem and brought with him a detailed knowledge of how automotive, aerospace and defense companies thought about electrical wiring architectures. That became one of the valuable core businesses of Mentor over time. Today, the "Capital" family of integrated electrical system design products has become the leading system connectivity design environment, extending from concept through simulation, topology, bill of materials, factory form boards for manufacturing and maintenance after the sale. Siemens has become a teaching customer but the Capital family is intensely focused on providing an open environment that can help Siemens' competitors as much as it helps Siemens.
The 20 Questions with Wally Rhines Series
Share this post via: