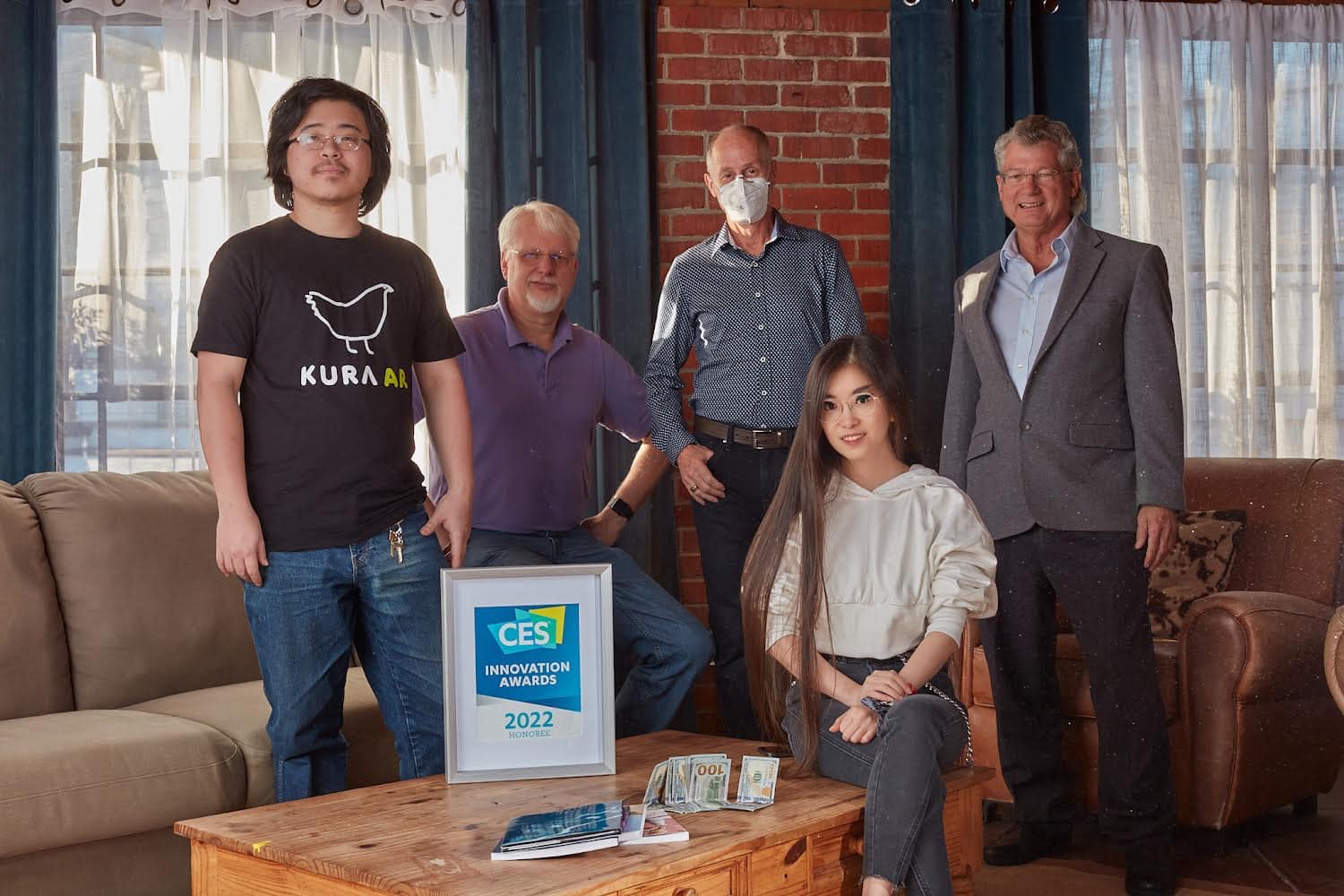 This interview is with Kelly Peng, Co-founder, and CEO of Kura Technologies. Kura Gallium, Kura's first product, was named Best of CES 2022 and received a 2022 CES Innovation Award as well. Kelly is an inventor, engineer and entrepreneur that leads a team of dedicated innovators that are redefining the term "Augmented Reality". She was a recipient of the prestigious Forbes "30 Under 30" in 2019 for her work in developing the most advanced augmented reality glasses that will start sampling in 2022. Based in Silicon Valley, Kura Technologies is eclipsing the competition in areas of field of view, resolution, brightness, transparency, depth of field, sizes, and other critical metrics.
Web3 and in particular Augmented Reality is a hot topic currently, help our readers understand what differentiates Kura from the many other early-stage companies in this market?
As you have indicated, the interest in Virtual Reality and Augmented reality is currently expanding in all directions. The fact is that we are currently experiencing a rapid change in the way AR and VR will be deployed in the very near future. These changes will open up new markets that were inconceivable a few years ago and will allow us to interact with information in the world around us in practical and interesting ways. The emerging applications will enable new activities like medical diagnosis and treatments, training, 3D design visualization,  industrial inspection, and face-to-face virtual communications all through a pair of glasses.
To facilitate this, Kura has focused our technology development to create a visualization system that is as natural as wearing glasses, and allows the wearer to experience the enhanced content necessary to optimize the desired reality. The Kura Gallium is the first pair of AR glasses to offer a 150-degree full frame field of view, 95% transparency, 8K resolution, unlimited range of depth, and many other features that provide the seamless view of the natural and augmented surroundings often referred to as the "Metaverse".
What is the status of the glasses that were demonstrated at CES in January?
We showed demos with the world's biggest field of view in AR, high transparency, and high brightness; newly assembled eyepieces for our upcoming dev kits, and software applications including3D model viewers and telepresence and remote collaboration tools running on our headset with 9-degree of-freedom head-tracking and gesture input. The team is focused on a couple of major developments for the hardware and telepresence platform side of Gallium. One of the larger projects is the development of the ASIC that creates the backbone of the system electronics. Custom ASICs and silicon were taped out last Fall at some of the world's biggest production foundries and we are pleased to announce that the silicon has already come back from the fab and has also been packaged. We have been testing and running characterization recently and the results look great. The tape-out is a big success!
Can you provide some more details about the ASIC?
Yes, the internal code name for the chip is "Mill's Creek". The chip incorporates the control and driver circuits for the micro-LED displays, as the world's fastest micro-LED display driver ASIC and core enabler for our 8K resolution.  This is one of the most critical components in the systems because it provides more than 100x resolution expansion, on-the-fly pixel repair, high dynamic range and full-color images.
The Augmented Reality user experience is dependent on high-quality display capabilities. The Gallium glasses use fully customized micro-LED displays to create the brightness and image sharpness that people expect. However, the micro-LED technology is not optimized unless the display driver and our optical architecture are optimized specifically for the application. The "Mill's Creek" ASIC is fully customized specifically for the Kura Micro-LED display hardware with a completely unique architecture, which is unlike practically all of the other headsets that use off-the-shelf components for the display driver. This successful tape-out is a big milestone for us toward pushing Gallium to production.
Startup companies are all about the team of engineers and innovators that are driving the development. Can you give us a little more insight into the team?
Kura is currently made up of over 35 people that are all contributing to the product development. We have been very fortunate to pull together a great mix of talent. More than half of Kura's founding and leadership are from MIT, and 3 of our lead engineers have together of 400+ patents. Kura's in-house ASIC design team leader is Mark Flowers, Kura's Director of Technology, who was previously the founding CTO of Leapfrog (IPOed, and valued $1B+). He has over 30 years of leadership experience designing and delivering custom mixed-signal ASICs. In the past, he was responsible for the shipment of tens of millions of customized chips as well as integrated consumer and enterprise platforms and products. In an earlier startup, Mark was the co-inventor of DSL, with over 800 million installed lines. That company was acquired by Texas Instruments. He graduated from MIT with a Master's and Bachelor's in electrical engineering with a specialty in IC design and computer science.
We are also fortunate to have a strong operations organization. That team is led by Gregory Gallinat, our COO, and Chuck Alger, Director of Supply Chain and Manufacturing. A core focus of the Ops team is defining and facilitating the worldwide supply chain and business practices to support Kura's product launch and growth trajectory. Chuck has more than 20+ years of experience with Intel, Microsoft, and CP Display. This includes multiple manufacturing site launches for products like Hololens and Surface. He also has extensive expertise in semiconductor quality and reliability coming from his time at Intel. Chuck also worked as Director of Supply Chain at Compound Photonics (just acquired by Snap), a company building ASICs for driving micro-displays like micro-LED and LCoS.
What's the demand and upcoming adoption of Kura Gallium?
We are a platform company poised to reshape the landscape of AR. The interest in Kura Gallium has been fantastic in the last year. The CES awards and the exposure we received through various other venues has opened up the path to adopt the platform into a broad range of applications. The various venues where we have been invited to speak at such conferences as SPIE, has exposed our thought leadership to this market. Kura currently has orders from over 350 companies, 100% of which are in-bound, and among those, over 50 companies that are in the Fortune 500, with total order requests from paid Fortune 500 companies totaling more than 100K units, and as these companies recognize the superiority of our performance and plan to use our product and platform in such areas as remote collaboration, telepresence, virtual showrooms, training, entertainment, tele-medicine, etc..
Many of these clients had also become investors in Kura. We also have several active projects with government agencies that see Augmented Reality as a critical technology for training, visualization, and remote collaboration and assistance. As you can see, the need for AR in various enterprise applications is very high now and we see many of these adopting our product quickly, as many clients and repeatedly express to us they really want to have the headset deployed as soon as possible. The CEO of Tokens .com, a publicly traded company that invests in Web 3 assets recently said in an interview on CNBC that "within the next 24 months all major companies will have a presence in the Metaverse like they have a website."
Your initial focus seems to be on the enterprise and B2B2C side. When will consumers be buying Kura Gallium?
As with most emerging technologies, the early adopters start with the enterprise market. The enormous benefit of having real-time information augmenting that forward-looking view of users can be realized quickly in many industries. We are launching our hardware + software platform (global holographic telepresence platform, computer vision/AI SDK, and AR data platform), and many of our clients are industry leaders or some of the biggest companies in the world in automotive, training, design, telecommunication, entertainment, etc.
AR is really an industry in that demand had been waiting long for a product that users can use with acceptable vision quality together with a good form factor, Kura's product and platform are serving the biggest demand in the industry and also largely expand the number of use models. Not to mention, Kura's performance combined with the comforts of our first product over-compete all the "consumer-targeted" AR glasses and solutions today already. The consumer demand is there and will grow rapidly following the enterprise adoption, with a rich set of applications like the App Store. We have already designed many of the core technologies for our future generations of products that will be launched for both consumers and enterprises with improved performance and even more compact with a deeper level of silicon integration.
Also read:
CEO Interview: Aki Fujimura of D2S
CEO Interview: Frankwell Lin, Chairman and CEO of Andes Technology
CEO Interview: Tamas Olaszi of Jade Design Automation
Share this post via: