The world semiconductor market grew a slight 0.4% in 2011, according to WSTS. In early 2011, expectations were for growth in the 6% to 10% range. Various natural and man-made disasters lead to weaker than expected growth. The March 2011 earthquake and tsunami in Japan disrupted semiconductor and electronics production. Floods in Thailand in 3Q and 4Q 2011 severely impacted hard disk drive manufacturing. The European financial crisis resulted in weak demand in 4Q 2011.
Recent forecasts for the 2012 semiconductor market are primarily in the range of 2% to 3%. Always optimistic Future Horizons predicted 8% growth. IC Insights projected 7% growth for the IC market. We at Semiconductor Intelligence believe the 2012 semiconductor market will see a slight decline of about 1%. The decline is expected due to the overall economic outlook in 2012 and the quarterly pattern of the semiconductor market. (Cick to enlarge images)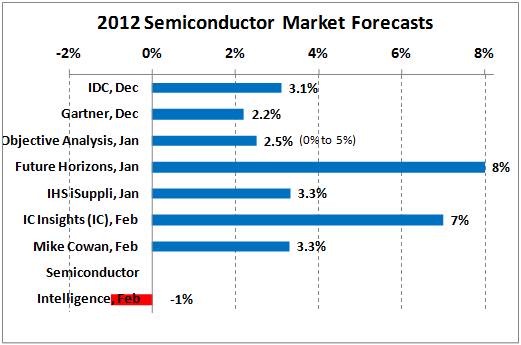 The International Monetary Fund's (IMF) January 2012 forecast was for World GDP growth of 3.3% in 2012, half a point slower than estimated 3.8% growth in 2011. The U.S. is expected to maintain moderate 1.8% growth in 2012, the same as in 2011. The Euro Area is projected to see a 0.5% drop in GDP in 2011 due to the financial crisis. Japan's GDP should rebound from a 0.9% decline in 2011 to 1.7% growth in 2012 as it recovers and rebuilds from the 2011 disasters. China remains a major growth driver, with expected 8.2% growth in 2012, one point lower than in 2011. Hong Kong, South Korea, Singapore and Taiwan collectively should see 3.3% growth in 2012, slowing from 4.2% in 2011.
The semiconductor market declined 7.7% in 4Q 2011 from 3Q 2011, due largely to the floods in Thailand and weakness in Europe. The largest semiconductor companies providing guidance generally expect significant revenue declines in 1Q 2012 from 4Q 2011. Intel, Texas Instruments, ST Microelectronics and AMD all gave similar revenue guidance: worst case declines of 10% to 12%, best case declines of 4% to 5%, and midpoint declines of 7% to 8%. Renesas and Broadcom also expect declines in 1Q 2012. Samsung did not give specific guidance, but expects a weak DRAM market in 1Q 2012. A couple of companies expect increases. Toshiba expects a recovery to 15.5% revenue growth for its semiconductor business after a 19% decline in 4Q 2011. The midpoint of Qualcomm's guidance is for 2.5% growth.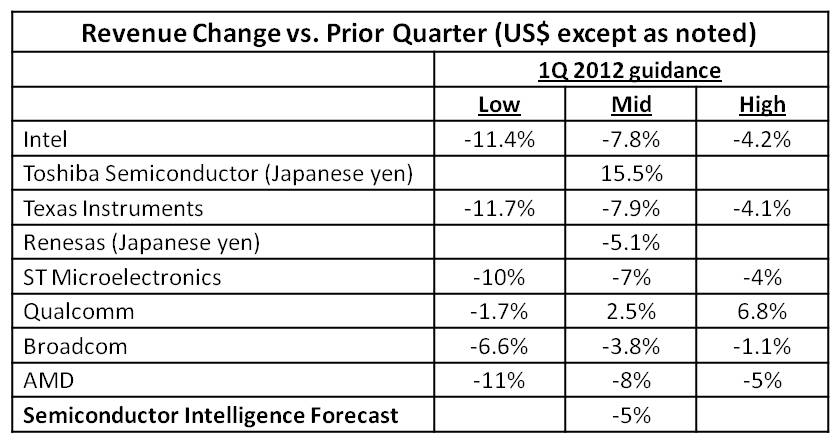 We at Semiconductor Intelligence are forecasting a 5% decline in the semiconductor market in 1Q 2012. With a 5% 1Q 2012 decline following the 7.7% decline in 4Q 2011, it will be difficult for the industry to achieve positive growth for the year 2012. The average quarter-to-quarter growth rate in 2Q through 4Q 2012 would need to be 6.5% just to achieve 0% for the year. Our forecast of a 1% decline in 2012 is based on average growth of about 5% for the last three quarters. Further deterioration in the world economic situation from current expectations could result in a more significant decline in the semiconductor market in 2012 of 5% or more.

Share this post via: