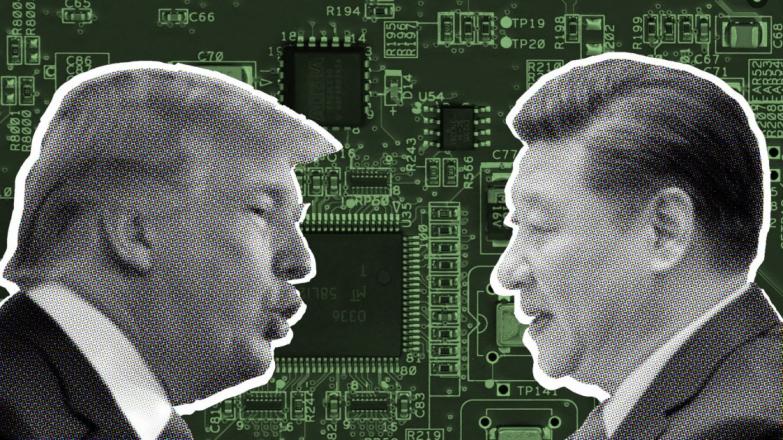 As we have been warning for months the China trade issue continues to grow and accelerate. As we are approaching the June 30th cliff (when export sanctions will be announced) it seems as if the administration has given the industry a kick so we fly even further. The US will also restrict Chinese investment in US tech companies. The administration went on to say that other foreign countries beyond China will also be held to the same restrictions.
Ir seems fairly clear that China's "Made in China 2025" program is a red flag to the current US administration. Given this further escalation , it makes it even harder to back down from the edge that we are racing towards. We had previously said that a resolution prior to the June 30th announcement was low, we now put the odds at less than zero.
Even if we backed off or found a way to settle with China, we think permanent damage has been done to the tech industry that will either take very long to recover from or never recover at all. The repercussions are much broader after you realize all the interconnectedness of the Chinese and US economies.
We may also be helping other countries compete against us on the global stage given our. It's very difficult if not impossible to calculate the full risk of semiconductor trade with China as there are many derivatives that are unclear. Much of this will also remain unclear as even after the June 30th list comes out we are sure there will be questions.
A very rough guess of 25% of the overall US semiconductor industry may be a starting point. At least 15% or so of the semi equipment industry is likely at risk. The risk obviously varies widely. The stocks will be driven primarily by this China trade issue as there are limited other drivers at this point. The stocks have done well and are well priced which can set us up for downside.
Throwing a wet blanket on M&A?
We can well imagine that we might see a slight slow down in semiconductor M&A or at least an easing of valuations assuming China will be taken out of the bidding process. China has a very big $100B checkbook for the semiconductor industry and if we stop them from bidding we could see reduced M&A activity and at the very least lower valuations as a bidder with money burning a hole in their pocket has been thrown out of the game.
Companies who may have embraced one another with fear of being acquired may be OK being single and boards may not see dollar signs of big Chinese checks.
Helping foreign competitors in China
By refusing to sell to China we will cede the Chinese market to our competitors plain and simple. While not selling them oil and pork bellies is easily replaced by other countries in a commodity market chips and chip equipment is not quite a commodity in many cases.
In semiconductor equipment both Lam and AMAT compete against the likes of Tokyo Electron (who AMAT tried to buy) as well as Hitachi. They both also compete against ASM International (not ASML). KLA , NANO and Rudolph have NOVA (of Israel) as a competitor as well as Hitachi and others. Veeco has Aixtron in Germany. You also have indigenous Chinese suppliers like AMEC.
You can be sure that salesmen at Tokyo Electron , Hitachi, Nova, AMEC and Aixtron and others have already placed calls to their Chinese customers to offer help against those untrustworthy Americans. We have seen the trailer for this movie before in the Veeco/AMEC dust up in China. We think Veeco permanently lost customers who would rather buy from a local supplier, AMEC, rather than a US supplier who could be cut off at any minute even if the technology was worse and price higher. Its more important to have a steady supply to stay in business as ZTE found out.
Even if we kiss and make up with China, as Veeco and AMEC did, the damage has already been done and is "undoable".
"Billing" address versus "ship to" address?Moody's gets it wrong…
We found a laughable news report that Moody's (obviously experts in the semiconductor equipment industry) that said that China will have a limited impact on the semiconductor equipment industry as "indigenous" business with China amounts to only 6% of AMAT, LRCX & KLAC.
We don't think even the current administration with its limited understanding of tech thinks for a second that technology loss to China only matters with companies that are "indigenous" to China (ie; billing address is in China).
The issue is that companies like Intel, Samsung and others are building fabs in China and teaching them. This is much like Japanese engineers who on their weekend breaks flew to Korea to help set up Korea in the semiconductor business.
What Moody's got wrong is that it is the "ship to" address that matters and that is a lot, lot larger than 6%….more like 15% or more. China is the fastest growing market for semiconductor equipment period. With memory slowing its even more important than ever.
Who cares who pays for it or gets the bill or where the company is headquartered, what matters is what equipment shows up inside China, thats what the administration wants to stop and they are not so stupid as to use a "bill to" address.
This means that life for companies like Intel and Samsung will get very complicated. Will they abide by restrictions which could put their China operations out of business? Will equipment be "trans-shipped" from Korea and Oregon? Will equipment makers service "gray market" equipment? Will they be breaking the law? Will they just buy from non US equipment companies for their China operations and teach the Chinese how to make do?
It going to get very ugly, very confusing and very messy.
US semi equipment manufacturing in China at risk?
One thing not widely mentioned are equipment companies that manufacture in China and ship back to the US. Two companies that come to mind are AEIS which moved its semiconductor power supply manufacturing from Colorado to China a long time ago and UCTT which makes a significant amount of its product in China and has been one of the leaders in outsourcing to China.
What will the tariffs do to those products? what could the impact on gross margins be? These products go into AMAT and Lam tools which could in turn be at risk.
Ignoring the 800 pound gorilla in the room….China trade
We find it interesting that quite a few so called analysts have not mentioned China trade as an issue or mentioned it only in passing. We have published numerous articles starting with our April first issue warning of a potential equipment embargo and reporting on the increasing issues and associated risks. We similarly started ringing alarm bells about the dependence on memory growing to an unsustainable level of business. Other analysts only recognized the memory market issues after Samsung stopped its orders.
We pointed out in our last newsletter that both memory and China have been the two brightest spots in the industry and now both have dimmed at the same time for different reasons. It seems that many have not fully calculated the potential impact of China and will only do so after the fact on July 1st.
Investors need to pay attention as headline risk can cause stocks to go down in the near term even if trade issues are worked out over the longer term
The Stocks….
We had mentioned in the past weeks to our clients that being short the semi group would probably be appropriate going into June 15th and June 30th and so far that seems to be the case.
We would mention again to investors that a simple way to be short the group is SOXS (not SOXX). SOXS is a 3X bear index of the SOXX index. The SOXX was down 3.13% today while SOXS was up 8.7% today. At the very least, for those long term holders who don't want to trade out of positions and go short you can "hedge" your bets a bit with SOXS (we have no affiliation and get no compensation…).
We made some money in AMAT's quarter suggesting it had downside to a"4″ handle, and it was down 10%. We thought $45 might be a good place to buy in again but we are re-thinking that in light of the worsening Chinese trade issues.
When investors see a 25% shipments down quarter from Lam we could see a $150ish price. KLAC has been immune until recently but has still been holding up relatively well. ASML has broken below $200 which we view as an important psychological barrier.
Unfortunately we see no positive news coming out before the June 30th "D" day for exports to China and don't think Semicon will help the stocks either. Even good numbers from Micron haven't helped much and Intel's CEO issues don't help either….
All is not quiet on the semiconductor front and the war is going poorly before it even starts…
Share this post via: