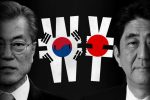 Investors underestimate Japan/Korea trade war, US chip equip companies get collateral benefit, Long term share shifts in China & Korea, Creates near term upside for US companies, Memory Chip Price "Mirage".
The lesser known trade war
While the market and the news has been pre-occupied with the ongoing soap opera of the US-China trade war and its star power performers, Trump & Xi, there has been an escalating war going on between Japan and Korea that may have as much or more impact for some companies as compared to the US-China trade war.
We too, have been guilty of talking about China for several years now as they are clearing vying with the US for technology dominance and it has the importance of that struggle on a global stage.
While the trade war between Korea and Japan may not be for global dominance as neither country is on par with the US or China, it is still a blood sport with very important consequences for global markets, company profitability and national honor.
Long memories- back to WW2
The issues between Japan and Korea go back to World War 2 and prior as Japan ruled over Korea from 1910 to 1945. The issue of "comfort women" continues as the main symbol of the animosity.
This came to a head when the Korean supreme court recently allowed Koreans to sue Japan over damages from the "forced labor" in WW2.
Japan retaliates where it hurts- in semiconductors
Japan's response was to restrict exports to Korea of key resist and etching gases that are critical to manufacturing both semiconductor and flat panel displays.  Korea is almost 100% reliant on Japan for this and semiconductors and flat panels and associated products are clearly the lifeblood of Korea's economy.
Take a look at Samsung's quarterly reports and you understand how bad things would be without chips.
Thus Japan's restriction is in essence a "death threat" to the entire Korean economy.
The reaction in Korea has been swift as expected
The reaction in Korea is about the same as China's reaction to the death threats against Huawei by the US and the actual death of the Jinhua memory fab at the hands of the US….Korea has gone ballistic….
Both the Korean government as well as Korean businesses are now hell bent on fixing the dependency on Japan but more importantly going many steps further and cutting off as much business from Japan as is possible, as quickly as possible.
Korea has choices that China doesn't
Korea has the ability to find other vendors to replace Japanese companies especially in the semiconductor business.
Tokyo Electron which is the second largest semiconductor equipment maker in the world after Applied Materials stands to lose a whole lot of business as the Koreans can choose from Lam, Applied, ASM International and a number of domestic suppliers such as Semes. They could even go to China to the recent IPO, AMEC.
China's Jinhua didn't have this many alternatives to stay alive. China still wants to do business with the US and the US with China but in Korea, its blood & personal pride against Japan.  The trade war between the US and China is exclusively about money without a lot of other emotion mixed in.
US semi equipment gets collateral benefit
Much of the deposition and etch equipment used in semiconductor production, especially for non critical applications, is a bit of a commodity with pricing being a significant selection factor.   TEL has picked up a lot of share in recent times and the Japanese have a long history of cutting prices to the bone just to retain customers and employment. Many times US companies bow out of the "race to the bottom" against Japanese companies.
However we are now in a situation where US and other non-Japanese equipment companies may not have to have the lowest price to get the business and perhaps will win business just by being close enough that Korean customers can avoid the distaste of having to buy a Japanese product.
Near and long term benefit
We think the impact of avoiding Japanese products has already been started as we think some companies we know have already won business they otherwise wouldn't have gotten.
Korea has also made it clear that they are re-evaluating their long term supply partners so the anti-Japan sentiment of today will likely be institutionalized for the future.
Although we think there was both long and short term damage to US and China relations due to the trade war, we think there will be less long term damage once the US and China work out a trade agreement whereas animosity will remain between Japan and Korea as it has festered just below the surface for many, many years.
US companies could see pick up without memory recovery
While we still need memory to recover to get a true recovery, we think there could be enough share shift between US and Japanese companies in Korea to see a meaningful uptick in business without memory capex coming back.   Korea has also been the biggest buyer of Japanese equipment and if much of that buying goes elsewhere (mainly to the US) it will look a lot like a broad based spending recovery.
We think the potential gains in Korea could out weigh potential losses in China so it would be a net win for US companies. While China is not far from being a bigger spender than Korea in semiconductor equipment we think the US will gain more in Korea than it can possibly lose in China in the long run.
The "Memory Mirage"
We would caution investors not to read too much into memory pricing given the backlog of idled capacity in all the fabs.
More importantly, we think there has been a bit of an "artificial" inflation of memory pricing due to concerns about Korean production being curtailed due to Japan cutting off key materials.
In short we think memory users have been "stocking up" to offset any supply disruption in memory and as such the recent stabilization in pricing/demand for memory may have a lot more to do with "stockpiling" than a true recovery or stabilization.
If Japan and Korea work out their differences, at least in critical materials, the stockpiled memory and artificial buying unwinding could cause another blip or return to a weaker environment.
The stocks
We think that most semi equipment stocks in the US should see benefit with Lam being perhaps one of the biggest winners as it had also been the biggest loser on the way down. KLA in the US and ASML in Europe are perhaps the least impacted as there is minimal Japanese competition.
Applied Materials will also clearly benefit as it does not yet own Kokusai and is not seen as a Japanese company in Korea. Perhaps KKR is the lucky one here unloading a largely commodity company just before a trade war may cut off one of Kokusai's largest markets.  It certainly makes the Kokusai deal look even more costly than it already looked….maybe Applied can back out or re-negotiate.
We think that we may already hear of positive benefit when companies report their current, September quarter. Although we are still far away from a memory recovery a pick up from share shift in Korea could help define a bottom to the current cycle which would make investors as well as companies happy.
We would be net buyers of the stocks.  For those more adventurous investors we think strategies such as long Lam, short Tokyo Electron might be an interesting pair trade.
Share this post via: