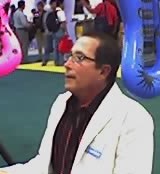 Things are going quite well in the Valley, ESPECIALLY if traffic is any indication. I still remember the BUST with the empty office buildings and light traffic, back in the early 2000's…while I wish for traffic like that always, I certainly prefer the busy times, guess you cannot have it all. The more traffic, the more jobs; they invariably go hand in hand as a sign.
As for ARM Techcon, it seemed busy enough, though with the new layout and location made it somewhat difficult to compare to previous years. This year, the conference moved to the San Jose Convention Center, which is a much larger footprint than the Santa Clara CC, where it has been previously held, for many years. The show did seem larger and attendance was robust with most of the folks I chatted with telling me, they were having a good show. Daniel Nenni, famed top dog at SemiWiki, signed so many of his new book (his 6[SUP]th[/SUP] I think), that he would not even give me one for fear of running out…so I just took one when he wasn't looking. I will make him sign it next time and then sell it on EBAY.
Needless to say that IOT devices, Software, Hardware and all the functionality and issues associated with them, are going through the roof. Security is essential, and we picked up a new client doing just that, and needing new people. Obviously, DAC is far more in my wheelhouse (with my 21[SUP]st[/SUP] coming up), but I must say that we are moving far quicker into IOT, than I could have imagined and quite happy about the add-on business. The reality is, there are several connections between EDA/Semi and IOT and not only do some of the skills often blend, but many people that left EDA, have moved into IOT. Most of the skill-sets are obviously different, but fortunately for me, I have had several friends who have moved over and given me the opportunity to help them find new people. Now that I have been doing IOT placements for the last several years, and having numerous placements under my belt, I understand the domain so much better and am learning more about this new area, every day. I think the same can be said for domains like AI and Machine Learning.
Hiring is still strong and the H-1 Visa situations (and there are many) have complicated hiring. Engineers on H-1s and thinking about changing jobs, have more to consider in this climate of uncertainty.
As for hiring, the reality is that right now, we are on the high side of what I call the PENDULAM SWING, and that swing changes every several years. I have seen many! The PENDULAM SWING is when either the momentum, advantage is on the Company or Candidates side…right now, the pendulum is at its highest point, with companies needing people and the candidates having more control of their destiny, without the pressure or fear that the opportunity in front of them, is their only option. Companies must take note of this and make sure they do not lose a viable candidate in hopes of finding someone better…it is quite the risk to take today with no guarantees if they will or how long that can take.
I was swamped in back to back meetings preparing for next year. By all indications, next year will start strong, as strong as this year is ending. I for one certainly hope so.
Share this post via: