The arrival of fall seems to typically raise the number of conferences hosted by semiconductor ecosystem companies. The conferences may go by different names. But whether called a forum, summit, conference, or by some other creative name, the purpose is the same. It is to bring together technologists and business people together to share ideas. More specifically, to discuss industry opportunities and challenges and of course to tout the respective ecosystem partners' accomplishments. Samsung Foundry Forum and Global Foundries Technology Summit were held in September. October has some interesting ones too.
As important as it is for everyone within the industry to participate in these conferences, the value for smaller companies is potentially much higher. Why? Because, where else and how else would a smaller company with smaller financial resources be able to get this, compressed into a few days, all happening in one location? Of course, nowadays, that one location happens to be a virtual one, in many cases. That is even better.
Just because something is free and you can attend it without even leaving your home or office does not mean you should or could attend all these conferences. So, how do you go about choosing? Well, to some extent it depends on who you are, where you are in terms of your product idea and what kind of assistance and insights you would need for that stage.
Leveraging Conference Opportunities
Arm Dev Summit
One that is in the immediate offing is the Arm Dev Summit, scheduled as a virtual event for Oct 19-Oct 21, 2021. There, you will get a chance to network with Arm's global community of hardware designers and software developers. And an opportunity to hone your ideas, whether it is in AI, IoT, 5G, wired communications or super-computing. It's a 3-day virtual event and the agenda is extensive. Whether you are just starting up, simply crazy about autonomous vehicles, a myth buster type or for that matter a 5G Campfire kind of person, there is something of value for everyone. Arm's entire ethos is about creating diverse, multi-participant ecosystem to unlock new possibilities.
Register and attend all sessions that are relevant to your areas of interest. If you are a startup, you would certainly want to check out the following back-to-back sessions. Attend a live panel session that will focus on helping startups succeed, followed by a networking session with the same theme.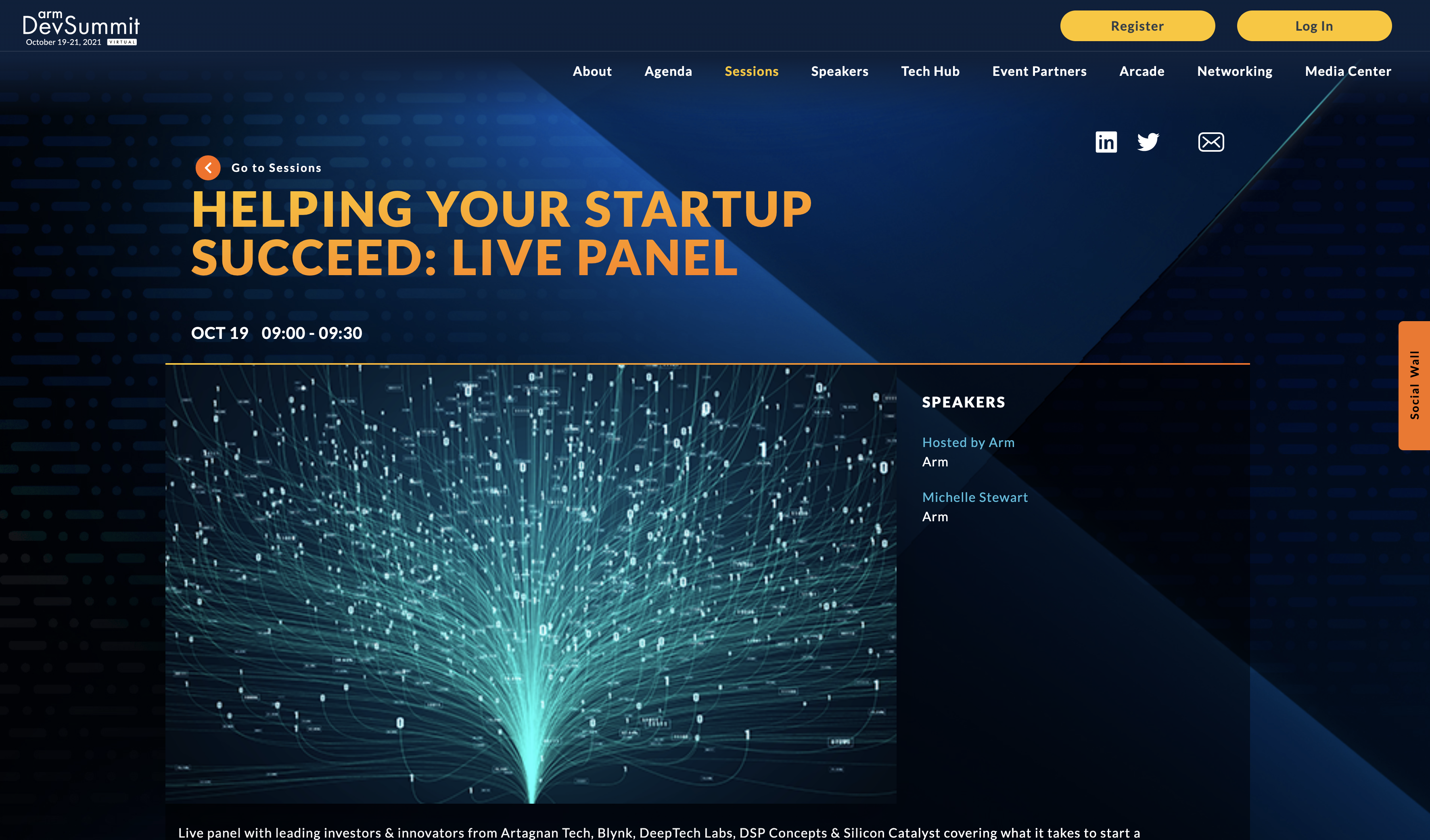 Of course, navigating a startup to market success demands lot more than just attending developer conferences. Building investor confidence for securing early rounds of funding is key. Innovating while keeping costs down is essential. Flexibility to test and iterate without overrunning the budget would be a big advantage. Reducing the risk in the project and product schedules cannot be understated. Getting a product to market faster than the competition is crucial. A series of future blogs will tackle these topics and how Arm and Silicon Catalyst could be of help.
TSMC OIP Forum
If you're looking at the siliconization aspects of your products, you would want to register for the TSMC Open Innovation Platform (OIP) Forum. This one is scheduled for Oct 26, 2021 for the Americas Time Zone and for Oct 27, 2021 for Europe and Asia Time Zones. You can register for TSMC OIP Forum using this link.
Snapshot of some Sessions: TSMC OIP Forum, Oct 26, 2021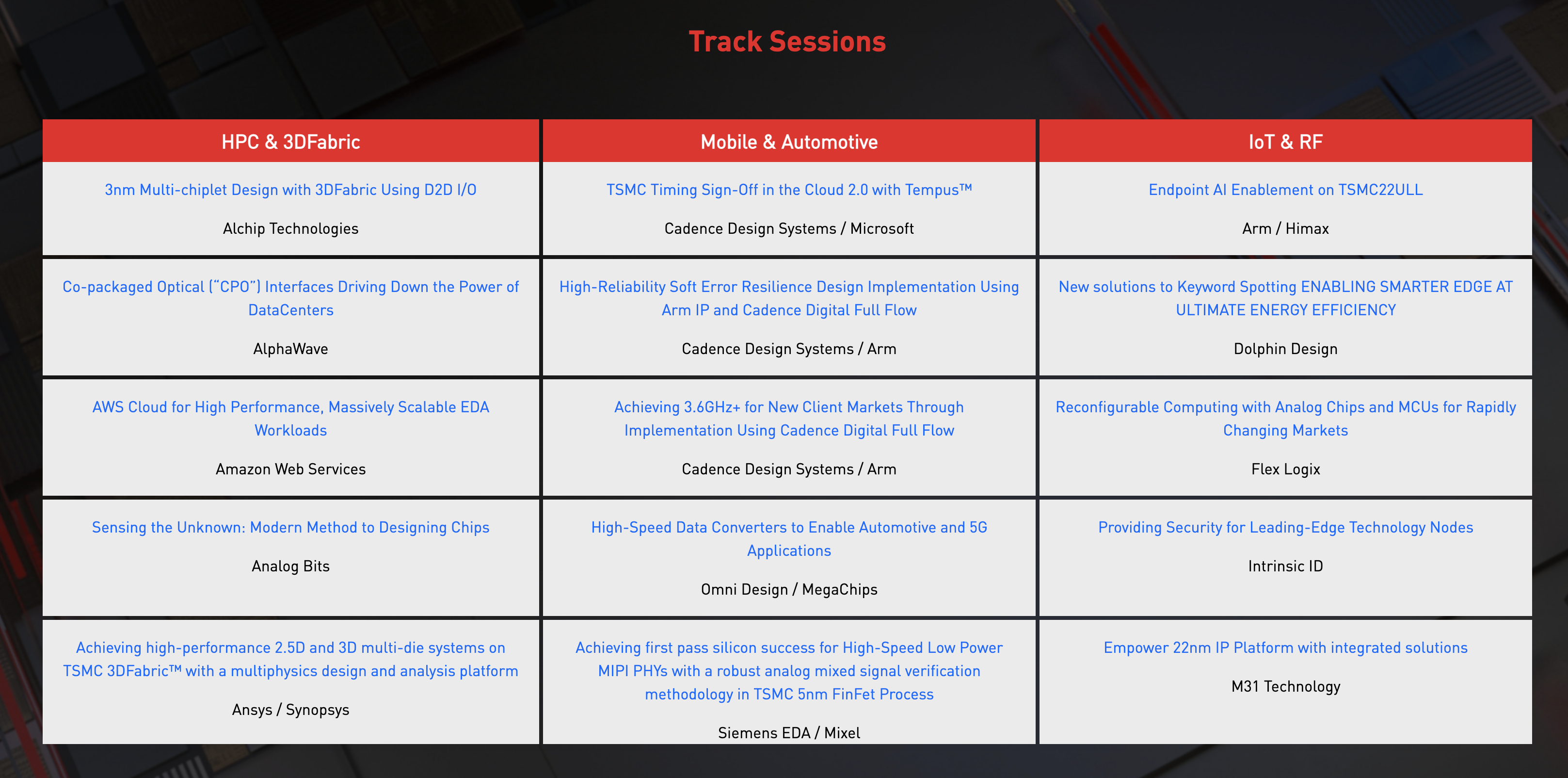 Catalyzing Your Business
Attending the right conferences certainly is helpful. But if you're an emerging startup, you could benefit from more help on an ongoing basis, at least until you gain escape velocity.
Silicon Valley is known all over the world and semiconductors are the life force behind all electronics. All the modern conveniences we take for granted are powered by advanced and complex chips. And designing, manufacturing and producing these chips in high volumes are challenging tasks. Yet, there are no incubators focused on semiconductors. Although hard to believe, it is true.
Silicon Catalyst is the world's only incubator focused on semiconductor solutions, including MEMS, sensors and intellectual property. Silicon Catalyst's mission is to help semiconductor startups succeed. Through a coalition of in-kind and strategic partners, investors and advisors, Silicon Catalyst helps startups accelerate their ideas through prototypes, and onto a path to volume production.
As a strategic and in-kind partner, Arm participates in the incubation selection process and actively looks for opportunities to partner with these startups. As an in-kind partner, TSMC provides MPW shuttles for companies in the incubator. The Silicon Catalyst coalition provides everything startups need to design, fabricate, and market semiconductor solutions. The startups gain millions of dollars' worth of EDA tools, IP, PDKs, prototypes, design and test services, packaging and business solutions and expert guidance from accomplished advisors. For more details, check out the full list of Silicon Catalyst partners.
Upcoming Blog Series
This blog is the first piece in a series of blogs to follow. The future blogs will cover challenges and opportunities that silicon startups commonly face and how the Silicon Catalyst ecosystem can be of significant help in accelerating their growth. The primary goal of the blog series is to identify tried-and-true solutions to the many problems to be faced, ultimately helping accelerate a silicon startup's transformation from the initial conceptual stage to business success in the market.
Also Read:
WEBINAR: Maximizing Exit Valuations for Technology Companies
Silicon Catalyst and Cornell University Are Expanding Opportunities for Startups Like Geegah
Silicon Catalyst is Bringing Its Unique Startup Platform to the UK
Share this post via: