The foundry business is a tough one. The golden age of semiconductors is clearly over and what remains is a highly competitive marketplace. This blog follows up my original TSMC vs Global Foundries which is the single most viewed page on my site.
Case in point #1: Founded in 2000, SMIC Semiconductor Manufacturing International Corporation is billed as one of the leading semiconductor foundries in the world and the largest and most advanced foundry in Mainland China. Harvard Business School even wrote a case study on SMIC's business model, characterized as a Reverse Build-Operate-Transfer (BOT). Unfortunately cheap labor does not a foundry make. It takes highly experienced workers, advanced manufacturing technology, strategic marketing, and an ultra competitive business model. The semiconductor foundry business is a marathon, not a sprint. Also see TSMC vs SMIC.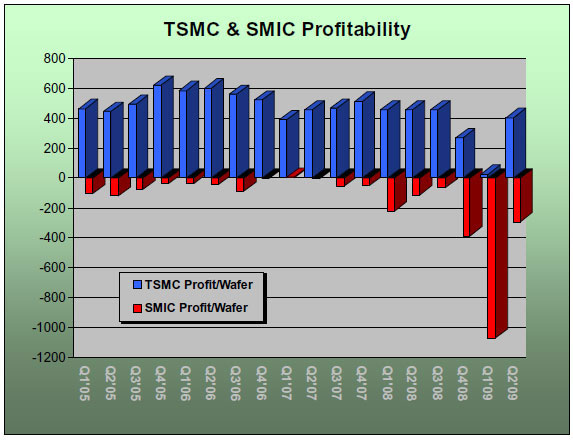 Case in point #2: Chartered Semiconductor was created in 1987 as one of the world's dedicated semiconductor foundries. Chartered Semiconductor continued a string of losing quarters until the Abu Dhabi government-owned Advanced Technology Investment Company (ATIC) acquisition was passed by investors in a majority vote. Shareholders bought Chartered shares at the 1999 initial public offering (IPO) price of S$3.34, the shares were later consolidated at 10 for 1, so they effectively cost S$33.40 each. ATIC paid S$2.68 a share. Chartered had experienced workers and strategic marketing (Common Platform), but lacked the advanced manufacturing technology and competitive business model to be successful.
2010 brings us a truly global foundry with the ATIC acquisitions of the manufacturing arm of AMD and Chartered Semiconductor. Global Foundries now employs 10,000+ people spanning 3 continents and 12 locations with manufacturing operations in Singapore, Dresden, Germany, and a new leading-edge fab under construction in Saratoga County, New York. Global Foundries was founded with $4.5 billion in cash, with future backing going up to $7B. The New York fab alone will cost an estimated $4.5B.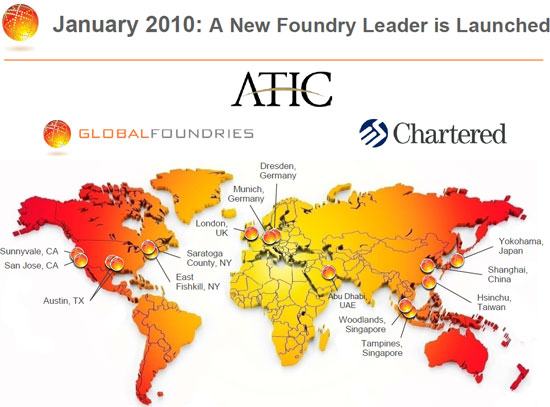 GFI now has about $3B in revenues from more than 150 customers that include many of the world's top fabless and fab-lite companies, such as AMD, Qualcomm, STMicro, IBM, and Toshiba. Process geometries in production are: .5um, .35um, .25um, .13um, .18um, 90nm, 65nm, and 45/40nm. Process geometries in planning are: 32/28nm and 22/20nm. Planned capacity is 1.6 million 300mm wafers annually by 2014, supplemented by 2.2 million 200mm wafers a year. Global Foundries has highly experienced workers from Chartered Semiconductor and AMD, cutting edge manufacturing technology from AMD and IBM, strategic marketing from Common Platform, add in a competitive business model and you will have the #2 foundry in the world.
In comparison TSMC has 23,000+ employees and will add 3,000 more in 2010. With $10B+ in annual revenues, TSMC accounts for 50% of the foundry market revenue and 80% of the profits. TSMC is considered a first source for semiconductor manufacture, meaning that leading fabless semiconductor companies work with TSMC first, then replicate manufacturing at the other foundries for redundancy and cost reductions. Global Foundries will challenge TSMC for first sourcing with AMD manufacturing technology and a manufacturing process partnership with IBM. In fact the first production 28nm wafers by a foundry were displayed by GFI at the Consumer Electronics show in Las Vegas this month. At least one of the wafers contained AMD/ATI GPUs.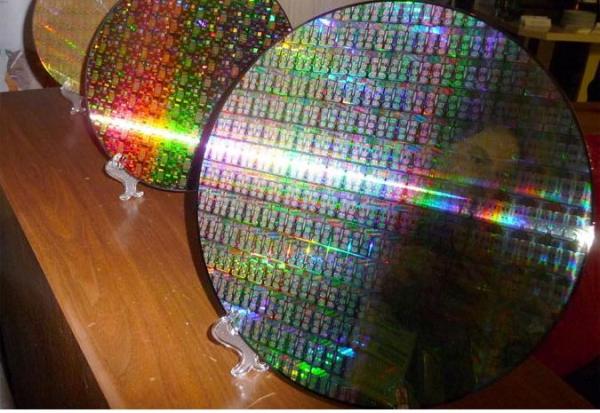 Unfortunately the semiconductor foundry market is a maturing industry and likely to experience single digit annual growth in coming years. To diversify, TSMC is investing heavily in solar power and light-emitting diodes. Both are fast growing markets, have technological overlap with chip production, and offer far better margins and upside potential. There is a reason why TSMC is the #1 foundry in the world and I don't see that changing anytime soon. But competition breeds innovation so the foundry business will be much more interesting to watch with GFI challenging TSMC.
Share this post via: