The 17[SUP]th[/SUP] Annual TSMC Technology Symposium will be held in San Jose California on April 5[SUP]th[/SUP], 2011. Dr. Morris Chang will again be the keynote speaker. The theme this year is "Trusted Technology and Capacity Provider"and I think it's important to not only hear what people are saying but also understand why they are saying it, so that is what this blog is all about.
You can bet TSMC spent a lot of time on this theme, crafting every word. When dealing with TSMC you have to factor in the Taiwanese culture which is quite humble and reserved. Add in the recent semiconductor industry developments that I have been tweeting and I offer you an Americanized translation for "Trusted Technology and Capacity Provider", a phrase made famous by the legendary rock band Queen "We are the Champions!"



DanielNenni #TSMC said to make 40nm Chipset for #INTEL's Ivy Bridge CPU:
http://tinyurl.com/46qk89b March 5
DanielNenni #AMD contracts #TSMC to make another CPU Product:
http://tinyurl.com/4lel5zy March 2
DanielNenni #Apple moves #SAMSUNG designs to #TSMC:
http://tinyurl.com/64ofq67 February 15
DanielNenni #TSMC 2011 capacity 2 rise 20%
http://tinyurl.com/4j5v6qtFebruary 15
DanielNenni #SAMSUNG orders 1M #NVIDIA #TEGRA2 (#TSMC) chips:
http://tinyurl.com/4aa2xo6February 15

DanielNenni #TSMC and #NVIDIA ship one-billionth GPU:
http://tinyurl.com/4juzdvd January 13
TRUST in the semiconductor industry is something you earn by telling people what you are going to do then doing it. After inventing and leading the pure-lay foundry business for the past 21 years you have to give them this one: TSMC is the most trusted semiconductor foundry in the world today.
TECHNOLOGY today is 40nm, 28nm, and 20nm geometries. Being first to a semiconductor process node is a technical challenge, but also a valuable learning experience, and there is no substitute for experience. TSMC is the semiconductor foundry technology leader.
CAPACITY is manufacturing efficiency. Capacity is yield. Capacity is the ability to ship massive quantities of wafers. From MiniFab to MegaFab to GigaFab,TSMC is first in semiconductor foundry capacity.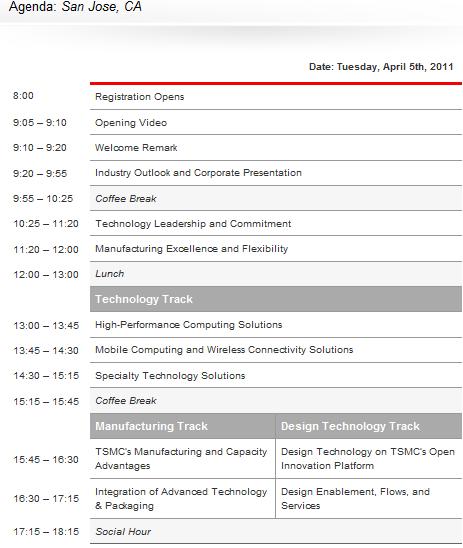 Now that you have read the blog let me tell you why I wrote it. The semiconductor foundry business is highly competitive which breeds innovation. Innovation is good, I like innovation, and would like to see more of it. Other foundries take note, the foundry business is all about TRUST, TECHNOLOGY, and CAPACITY.
Right now I'm sitting across from Tom Quan, TSMC Design Methodology & Service Marketing, in the EVA Airways executive lounge. Both Tom and I are flying back from Taiwan to San Jose early to participate in tomorrow's Design Technology Forum. Tom is giving a presentation on "Successful Mixed Signal Design on Advanced Nodes". I will be moderating a panel on "Enabling True Collaboration Across the Ecosystem to Deliver Maximum Innovation". I hope to see you there.
Share this post via: