TSMC also covered manufacturing excellence. The TSMC "Trusted Foundry" tagline has many aspects to it, but manufacturing is a critical one. TSMC is the foundry capacity leader but there is a lot more to manufacturing as you will read here. Which brings us to the manufacturing accomplishments from the briefing:
To meet customers' growing demand, TSMC has accelerated its fab expansion rate:
From 2017 to 2019, TSMC built around 2 phases of fabs on average per year.
From 2020 to 2023, the average will significantly increase to around 5
In the past two years, TSMC started the construction of 10 new phases in total, including 5 phases of wafer fabs in Taiwan, 2 phases of advanced packaging fabs in Taiwan, and 3 phases of wafer fabs overseas.

The overseas capacity of 28nm technology and below will be 3X larger in 2024 than it was in 2020.
In Taiwan, phases 5, 6, and 8 of Fab 18 in Tainan are the base of TSMC's N3 volume production. In addition, TSMC is preparing new fabs, Fab 20 in Hsinchu and a new site in Taichung, for N2 production.
In the US, TSMC is planning for 2 fabs in Arizona.

The first fab for N4 has started tools move-in, and volume production will be in 2024.
The second fab is under construction now and is planned for N3 production.
Combined capacity for both fabs will reach 600K wafers per year.

In Japan, TSMC is building a fab in Kumamoto to provide foundry services for 16/12nm and 28nm family technologies to address strong global market demand for specialty technologies. Construction of this fab has begun and volume production will be in 2024.
In China, a new phase for 28nm technology started volume production in 2022.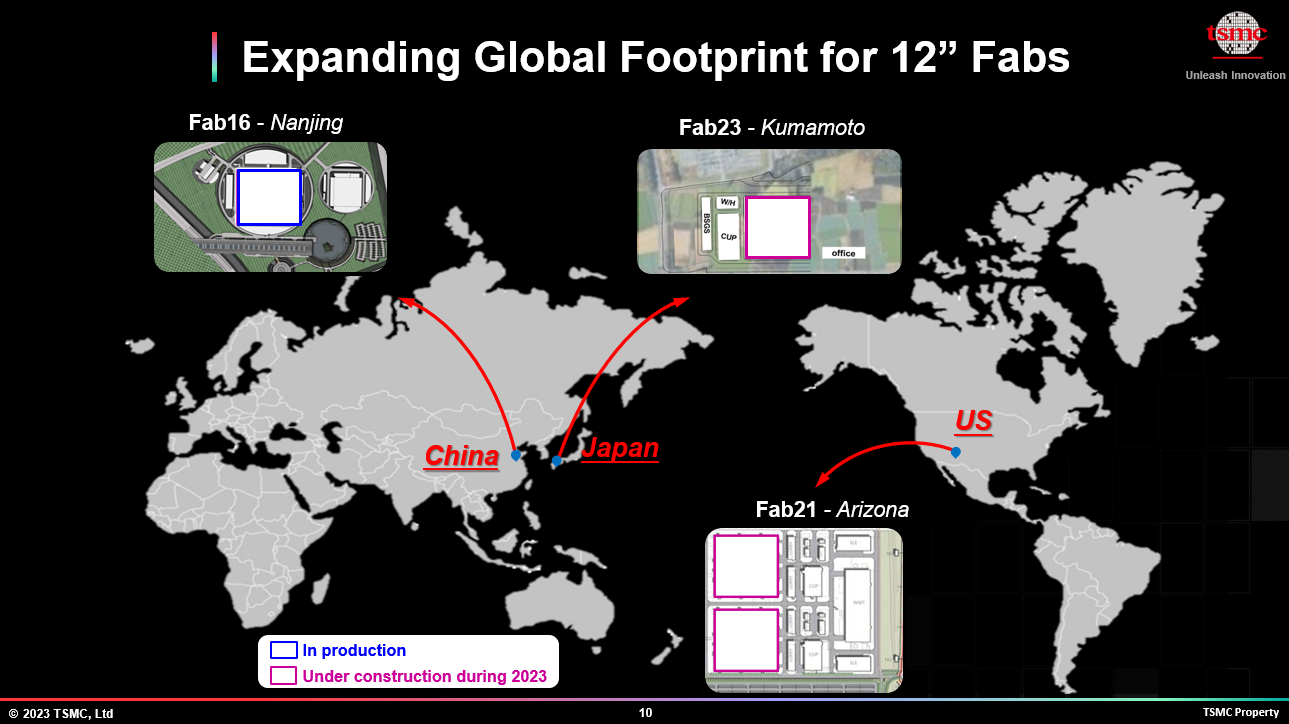 TSMC's leadership on advanced technology defect density (D0) and defective parts per million (DPPM) has demonstrated its manufacturing excellence.
The process complexity of N5 is much higher than N7, but N5's yield improvement is even better than N7 at the same stage.
TSMC's N3 technology has demonstrated industry-leading yield in high-volume production, and its D0 performance is already on par with N5 at the same stage.

TSMC's N7 and N5 technologies have demonstrated industry-leading DPPM, including smartphones, computers, and cars, and TSMC is confident that N3 DPPM will catch up with N5 very soon.
3DFabric™ Manufacturing
By leveraging TSMC's industry-leading 3DFabric™ manufacturing, customers can overcome the challenges of system-level design complexity and speed up product innovation.
CoWoS and InFO families have reached fairly high-level yields very soon after their volume productions.
The integrated yield of SoIC and advanced packaging will achieve the same level as the CoWoS and InFO families.
Green Manufacturing
To achieve the goal of net zero emissions by 2050, TSMC continues to evaluate and invest in all types of opportunities to reduce greenhouse gas emissions.
In 2022, TSMC's direct greenhouse gas emissions have significantly dropped to 32% from 2010 levels.
This was achieved through reducing process gas consumption, replacing global warming potential gases, installing on-site abatement systems, and improving gas removal efficiency.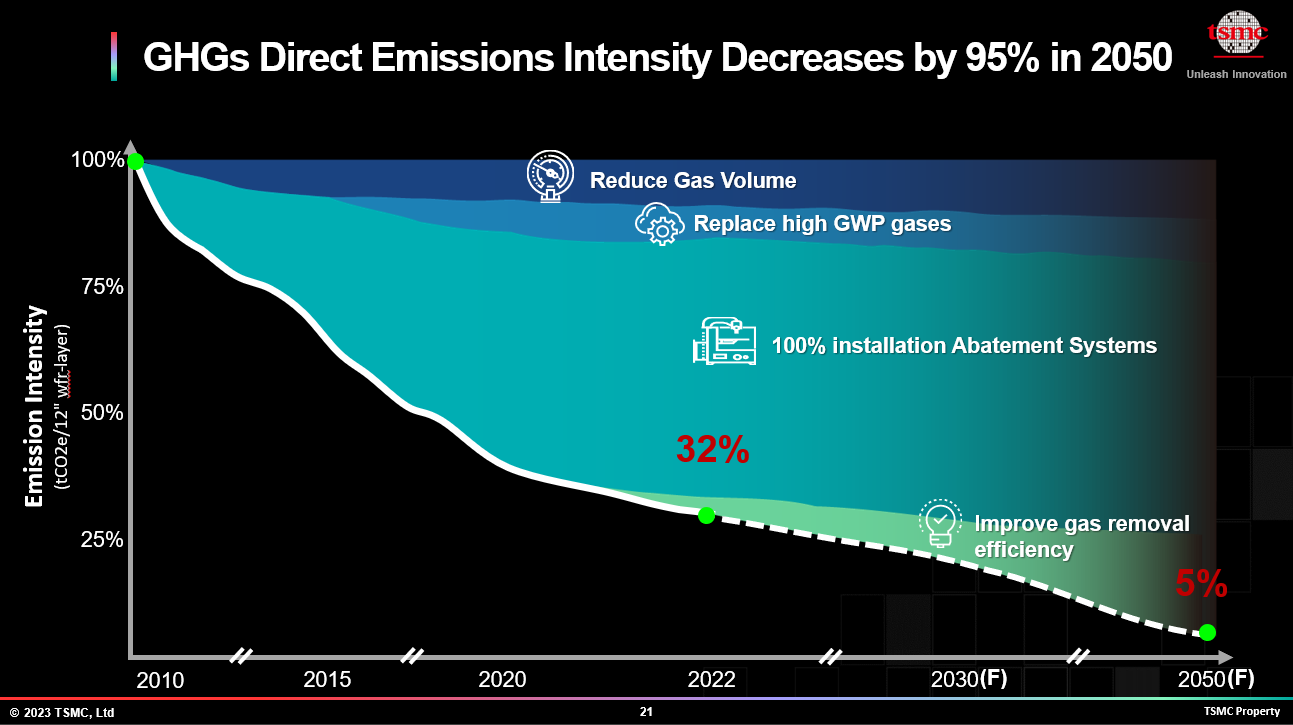 TSMC aims to double production energy efficiency for every process node after five years of volume production.
For N7 technology, the energy efficiency improved by 5X in the fifth year of its volume production.
For N5 technology, TSMC expects to see energy efficiency improvement by 5X by 2024.
TSMC has built an innovative chiller system with AI capabilities, which significantly contributed to improving cooling energy efficiency.
Last year, TSMC's first water reclamation plant in southern Taiwan started supplying 5,000 metric tons of water per day. Today, it's 20,000 tons per day.
By 2030, TSMC's tap water consumption per unit of production will be reduced to 60% of 2020 level.
At TSMC Arizona, TSMC plans to build an industrial water reclamation plant to help the company reach near-zero liquid discharge. When completed, TSMC Arizona will be the greenest semiconductor manufacturing facility in the U.S.
After attending a handful of conferences in 2023 I must say that the TSMC Technical Symposium was by far the best. I don't know the final attendance numbers but more than 1,600 people registered to attend this event. The exhibit hall was very busy and well stocked with food. Quite a few of the companies we work with on SemiWiki were exhibiting and I was told that for the cost it had by far the best ROI of semiconductor conferences.
The TSMC Technical Symposium will next go to Austin, Boston, Taiwan, Europe, Israel, China, and Japan. TSMC certainly knows how to build an ecosystem of customers, partners, and suppliers, absolutely.
Also Read:
TSMC 2023 North America Technology Symposium Overview Part 1
TSMC 2023 North America Technology Symposium Overview Part 2
TSMC 2023 North America Technology Symposium Overview Part 3
TSMC 2023 North America Technology Symposium Overview Part 4
Share this post via: