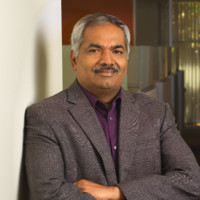 Mobiveil Marks 11th Anniversary
Ravi Thummarukudy is Mobiveil's Chief Executive Officer and a founder. He and I recently spent an enjoyable afternoon getting acquainted as I learned more about Mobiveil. It's an inspiring story of a technology company in the semiconductor space helping customers and prospering.
Eleven-year-old Mobiveil is noted for its silicon IP, application platforms and engineering services for Flash Storage, data center, 5G, AI/ML, automotive and IoT applications. In those 11 years, Mobiveil thrived and continues to do so with around 500 employees located around the world – Mobiveil has R&D centers in Silicon Valley, Bangalore, Chennai, Hyderabad, and Rajkot in India.
Product Development teams at the world's largest product companies in U.S., Europe, China, Japan, Korea, Israel, and Taiwan have leveraged Mobiveil's IP blocks, hardware platforms or its specialized engineering services to accelerate their innovation and product development schedule. Mobiveil is unique in its business by continuously investing in R&D to develop reusable components and platforms to increase the value add for its engineering capabilities.
What's your background? What about your co-founders' backgrounds?
All the founders of Mobiveil have electronics engineering background with 20 plus   years' experience in the electronic product development marketplace working for either System OEMs or their supply chains like EDA or Semiconductor companies. Another thing in common among the founders is our passion for new product development and the opportunity to accelerate this process.
This is the second company we founded together as a leadership team. We founded GDA Technologies in the late 1990s and grew to a more than 600 employee organization before being acquired by L&T Infotech.
I received a Master of Science degree in electrical engineering from IIT Chennai and MBA from Santa Clara University and worked at Indian Space Research Organization (ISRO), Tata Consulting Services and Cadence Design Systems before venturing into entrepreneurship.
Did you see yourself as an entrepreneur?
Like many people working in Silicon Valley, becoming an entrepreneur was always in my mind and my co-founders also had similar aspirations. At that time, I was at Cadence, I learned the contours of the electronics industry as well as customer-centered business practices. I also established deep working relationships in the EDA and Semiconductor industry. The industry was prime for growth due to standardization of design languages and the advent of IP centric-SoC design methodologies. When we started the first company, it was a boom time in the Silicon Valley where VCs were funding several semiconductor startups and there was tremendous demand for outsourced engineering – This helped us scale the business with no external investment. This jumpstart allowed us to chart our own destiny with our engineering intuitions and scale the business targeting our investments toward the disruptions that were taking place in the marketplace.
After we had a successful exit from our first venture, we worked at large public companies but again came together for this venture we named Mobiveil. I would say that we are passionate about this business and enjoy being serial entrepreneurs.
What convinced you and your co-founders to start Mobiveil?
It's our firm conviction that no company big or small can do their entire R&D by themselves. There was a time when product companies were fully vertically integrated from product definition to manufacturing. Cost and efficiency offered by specialized companies drove product companies to slowly outsource manufacturing, chip development, EDA tools and finally IP. And once the industry became standardized, outsourcing EDA tools, IP and engineering services became a no-brainer. We helped this process by offering capabilities in the U.S. as well as from India that met the needs for our customers at affordable cost then and continues even today.
Mobiveil began by targeting the mobile apps space and later moved into the storage area? Why the shift?
Our first company got acquired in 2008 and when we started to look for a restart several years later, the main theme of the time was mobility and smart phones and we wanted to contribute to this space. However, we soon realized that our passion belonged in product development and soon pivoted back to silicon IP, platforms, and engineering services.
During this time, storage technology was transforming from hard disks to Flash storage and the NVM Express standard emerged. We quickly developed the NVM Express IP and got it certified by the University of New Hampshire (UNH). That enabled us to help many of our customers accelerate this hard disk to flash or SATA to NVMe transformation for them. This trend was further accelerated by the exponential growth of data center and cloud service providers who needed the latency and throughput that PCI Express and NVM Express offered. Over the years, we developed many IP blocks as well as acquired IP assets in data storage and augmented it by standard platforms and specialized engineering services.
One other example is CXL technologies. We were one of the first companies to develop CXL design IP and get interoperability with Intel's Sapphire Rapids platform. Today we have several silicon IP blocks around high-speed interfaces and error-correction technologies for memory and storage along with several readymade FPGA platforms. We also hold a few important patents in this space.
How has the SIP market changed and evolved over the past 10 years? How much have the market dynamics changed?
One of my first jobs at Cadence in the 1990s was to work with companies like NEC, LSI Logic, Toshiba to convince them to use Cadence EDA tools instead of their internally developed tools and methodologies. Even though these customers loved their fully customized and locally supported EDA tools, these tools did not stand a chance against more sophisticated and ever-improving third- party EDA tools and the economies of scale that they offered.
When we started the first company, we were convinced that SoC customers sooner or later would outsource standard IP to third parties and ventured into standards-based IP like Hyper Transport, RapidIO and PCI Express Today using third-party IP and engineering services is as common a practice as getting a chip manufactured at TSMC or Samsung foundries.
While the IP industry grew as a separate segment, it was quickly absorbed by the EDA companies as it was an adjacent market for them. They started offering many of the standards-based IP along with their EDA tools. Conversely, independent IP companies became specialized and are offering highly complex IP to differentiate themselves from the EDA companies.
Our approach is to focus on technology verticals like data storage and 5G and offer a portfolio of digital IP combined with engineering services as our major differentiator.
How important are industry standards for IP? Is Mobiveil active in standards organizations?
Standardization is extremely important for IP. In fact, standardization is the main reason the EDA and SIP industries were created. The huge success of Verilog and VHDL design languages and PCIe, USB, DDR, Ethernet protocols and electrical standards fueled the growth of EDA and IP business along with outsourced engineering services.
Standardization allows engineers working from anywhere in the world the ability to design standard IP components in an EDA environment that could be quickly integrated to SoCs easily.  The democratization of the semiconductor industry was further strengthened by the advent of open-source initiatives like RISC-V and availability of lower cost manufacturing and engineering talent available in primarily Asian countries.
Mobiveil currently participates in several standard bodies such as PCIe SIG, MIPI Alliance and the NVM Express Consortium. Being part of these standard bodies and accelerating the adoption of these technologies early is a critical strategy for our growth.
What's next for Mobiveil?
For Mobiveil, we continue to be passionate about helping our customers realize their products faster and cheaper. And to that extent, we continue to invest in innovation that creates standards-based IP blocks and platforms augmented by specialty services. We are confident of the growth of this industry and our ability to scale the company for greater success in the years to come. We have had several successes in entering a new space like Flash storage and making valuable contributions.
Looking forward, I see Mobiveil growing and becoming a major contributor of IP and services in 5G wireless where we have an initiative to develop mathematics-based data path IP like data encoding, decoding and transformation. We are also developing a platform for offering 5G services for private cells (licensed and unlicensed band) and gateways.  On the AI front, we focus on computer vision, image recognition and processing. For geographic expansion, we will soon open our office in Munich, Germany, where we plan to focus on 5G wireless, automotive, and industrial automation including robotics.
Also Read:
Developing the Lowest Power IoT Devices with Russell Mohn
CTO Interview: Dr. Zakir Hussain Syed of Infinisim
CEO Interview: Axel Kloth of Abacus
Share this post via: