In an era defined by digital transformation and data-intensive applications, the solid-state device (SSD) market has emerged as a critical player in reshaping storage solutions. While there are several types of non-volatile memories, each with its own unique characteristics and use cases, Flash memory is increasingly overtaking other types of solid-state devices. This is due to its unique combination of characteristics and advantages that align with the evolving needs of modern computing and storage applications. While Flash memories gained their popularity in consumer applications, they are making significant inroads into enterprise applications. In addition to the obvious benefits over hard disk drives (HDD), flash memories can be scaled up to accommodate larger capacities, better than alternate non-volatile solutions. This scalability allows for high-density storage solutions and is vital for data centers, cloud storage, and other enterprise-level applications. Flash memory, particularly NAND Flash, is being increasingly adopted in enterprise storage systems to provide high performance and scalability for mission-critical applications.
Enterprise Flash Controller (EFC) and ONFI PHY
Enterprise Flash Controller IP refers to the core component responsible for managing the data flow between a host system and Enterprise NAND flash memory storage. Enterprise NAND flash devices are a type of NAND flash memory-based storage solution designed specifically for enterprise-level applications. These devices are optimized to meet the high-performance, reliability, and endurance demands of data center environments, servers, and mission-critical enterprise applications. An enterprise-grade flash controller is optimized for high-speed data transfer, error correction, wear leveling, and other crucial functions, ensuring the seamless operation of flash storage in demanding applications.
The ONFI PHY IP (Open NAND Flash Interface Physical Layer Intellectual Property) is a critical component of NAND flash memory systems. It refers to the implementation of the physical layer interface as defined by the ONFI specification, which governs the communication between a NAND flash memory controller and the NAND flash memory devices. The ONFI specification standardizes how data is transferred to and from NAND flash memory chips, ensuring compatibility and interoperability between different manufacturers' products.
The ONFI 5.1 PHY specification is the latest revision of the ONFI PHY and extends NV-DDR3 and NV-LPDDR4 I/O speeds up to 3600MT/s. To support the faster data rates, ONFI5.1 introduces Write Duty Cycle Adjustment (WDCA), Per-Pin VrefQ Adjustment, Equalization and Unmatched DQS options for NAND vendors. ONFI 5.1 also adds ESD specifications, makes adjustments to tDQSRE and tDQSRH specifications and relaxes data input/output pre-amble timings for NV-DDR2/3 to tWPRE2/tRPRE2.
Empowering the Future
Enterprise flash controllers and ONFI 5.1 PHY IP are an ideal match for several fast-growing markets that prioritize high-speed data storage and transfer solutions.
Mobiveil's EFC Design IP
Mobiveil is the first company to develop an extremely configurable EFC. Mobiveil's EFC Design IP offers seamless access to external NAND flash memory, enabling high-speed transactions that capitalize on the pipeline performance of modern enterprise NAND flash devices. Among its many features, the Mobiveil EFC supports ONFI 5.1 specification with NV-LPDDR4 mode of operation, supports various datapath widths, and offers robust support for volume addressing, suspend and resume functions, multi-plan and asynchronous plane read commands, and more. Its configurable features adapt to diverse device needs, while its independent and pipelined interfaces streamline command, data, and report phases. Its architecture allows flexible control of ONFI 5.1 and toggle devices, ensuring compatibility and efficient addressing schemes. With its versatile architecture, the EFC Design IP delivers high performance while allowing software-defined control over device command sequences.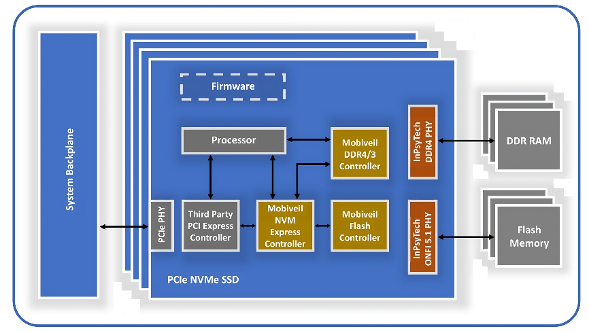 InPsytech's ONFI 5.1 PHY IP
InPsytech is an IP company focused on high-speed source synchronous DDR architecture, SerDes interfaces, special I/Os and high-speed and low power standard cell offerings. Currently, InPsytech's ONFI 5.1 PHY IP has undergone silicon validation across processes from N6/N7 to N28 and has already been delivered to customers. Volume production of customer products incorporating the ONFI PHY IP is expected to commence in 2H2023.
Successful Inter-Op Verification
Mobiveil and InPsytech recently announced the successful Inter-Op verification of Mobiveil's EFC IP with InPsytech's ONFI 5.1 PHY IP. Inter-op verification, short for interoperability verification, is the process of ensuring that two or more different components, systems, or technologies can work seamlessly together as intended. In this case, it involves testing the compatibility and interaction between Mobiveil's EFC Design IP (which manages data transfers to and from NAND flash memory) and InPsytech's ONFI 5.1 PHY IP (which handles the physical layer communication to NAND flash memory chips). The successful Inter-Op verification signifies that an integrated solution can effectively address the demands of the enterprise flash storage market while delivering the promised performance, reliability and compatibility.
Summary
While this post is about an SSD-focused solution, Mobiveil also announced a partnership recently with Winbond to deliver HyperRAM IP controller solution for SoC designs. HyperRAM offers much higher density than embedded SRAM and lower power compared to typical DRAMs. Since Mobiveil already offers a PSRAM controller solution, it was easy to adapt to HyperRAM. An earlier post on SemiWiki covered Mobiveil's PSRAM controller solution in partnership with AP Memory.
Mobiveil is a fast-growing technology company that specializes in the development of Silicon Intellectual Properties, platforms and solutions for various fast growing markets. Its strategy is to grow with fast burgeoning markets by offering its customers valuable IPs that are easy to integrate into SoCs. It offers a wide range of IP solutions for various market and application needs.
To learn more, visit www.mobiveil.com.
Share this post via: