What a great interview! Xilinx CEO Moshe Gavrielov is right on the money HERE where he credits the high 28nm yields to the "very intimate" linkage in process development with TSMC.

This is something I have seen evolving since the 90nm node. Now the big fabless companies have Process Technology Groups, Lithography Groups, Test and Yield Groups, etc… just like the IDMs. The Foundries, Fabless Companies, EDA and IP Companies all intimately collaborating, this is crowd sourcing at its finest! Don't EVER bet against the crowd!
"28nm is turning out to be a great node for Xilinx. It is absolutely fabulous for us," Xilinx CEO Moshe Gavrielov, "it's the node which is getting us the fastest number of design wins and transferring to revenue quicker than any other node. We're shipping $10m in Q2. I expect it will be the largest node ever for our business."
Even more incredible is that some of the 28nm yield alarmists have now started eating crow. Well the ones with integrity anyway. I spoke to 20+ people at DAC 2012 last week about 28nm yield and they all confirmed that it was very good, ahead of expectations, etc… This is from the people who are actually designing at 28nm, not the pundits who scrape information from the internet and spin it.
Capacity is still a problem but that will be a fading memory in Q3 and Q4 due to TSMC engineers working around the clock and other Fab's 28nm processes coming online. Congratulations to you all. What a fabulous node!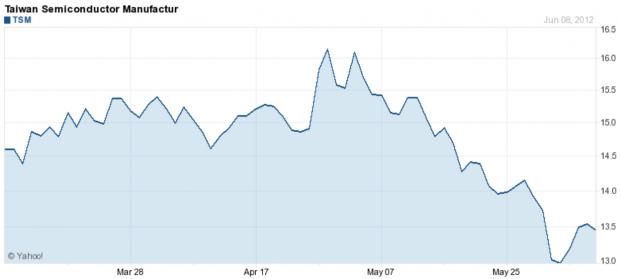 TSMC Q2 2012 28nm revenue will be 2X Q1 2012 (my opinion) so the $13.50 question is why all of the downgrades!?!?!?! I'm polling my financial friends and should have a more complete answer soon, but I have to tell you, this does not pass the sniff test. Something is rotten on Wall Street!
Goldman Sachs downgraded Taiwan Semiconductor (NYSE: TSM) from Buy to Neutral, price target lowered from $16 to $13.50.
"After the strong wafer shipment growth in 2Q12 and 3Q12, we believe foundry demand would start to decline in 4Q12 due to weakening end-demand in Europe and China and rising supply chain inventory."
BofA/Merrill Lynch downgraded TSM from Buy to Neutral. Deutsche Bank made a number of rating changes in Taiwan Semi stocks, downgrading TSM from Buy to Hold. Etc…
Meanwhile, back in the real world, TSMC announced net sales for May 2012: On an unconsolidated basis, an increase of 9 percent over April 2012 and an increase of 21.3 percent over May 2011. Revenues for January through May 2012 an increase of 7.5 percent compared to the same period in 2011. NICE!
TSMC is my economic bellwether so downgrading TSM is the same as downgrading the world economy and I'm not ready to accept that today. The sky is not falling Chicken Little, not yet. But I'm just a internationally recognized industry blogger so what do I know.

Share this post via: