Samsung hosted its first-ever Samsung Tech Week Oct 3-5 with some insightful keynotes and great food. The week led off with Samsung Foundry Forum and a keynote from Foundry president, Si-Young Choi. Attendees at Samsung Foundry's SAFE Forum were welcomed by Ryan Lee, head of the business' Design Enablement team. John In-Young Park, President of Samsung's System LSI, welcomed guests to System LSI Tech Day. Finally, Memory President, Jung-Bae Lee, gave an industry keynote at the Memory Tech Day to round out the week. The most memorable (pun intended) presentation from Samsung this year, in my opinion, was from the Memory group.
"One trillion gigabytes is the total amount of memory Samsung has made since its beginning over 40 years ago. About half of that trillion was produced in the last three years alone, indicating just how fast digital transformation is progressing," said Jung-bae Lee, President and Head of Memory Business at Samsung Electronics. "As advances in memory bandwidth, capacity and power efficiency enable new platforms and these, in turn, stimulate more semiconductor innovations, we will increasingly push for a higher level of integration on the journey toward digital coevolution."
Jim Elliott has been in the memory business for 25 years, 20 of those with Samsung. This alone is an impressive feat in Silicon Valley. Jim was engaging and presented a nice landscape for the memory business moving forward.
Jim highlighted the industry drivers with the PC, phones, and now the data driven (availability and reliability) era we are in today. According to reports 90% of the worlds data was created in the last two years and that hypergrowth will continue.
For growth trends Jim mentioned the Metaverse, automotive, and robotics with AI. I would argue that for memory and logic both AI will be the underlying growth driver for most semiconductor market segments and will require massive amounts of leading-edge memory and logic. To be clear, AI will touch an enormous amount of chips that will never have enough logic or memory performance and density.
The seven hundred billion dollar question is: "Can memory technology keep up with the data explosion demand?" The answer of course is yes and Jim explained why.
According to Jim the memory node transition has increased from 7-9 quarters at 90nm to 26 quarters at 10nm. To address the coming challenges Jim talked in more detail about Samsung memory.
Samsung unveiled its fifth-generation 10nm-class DRAM as well as eighth- and ninth-generation Vertical NAND (V-NAND). Today Samsung has 567 DRAM engagements and 617 NAND engagements. Let's face it, Samsung is the #1 semiconductor company for a reason and memory is the driver behind the Samsung semiconductor dynasty so I don't see that changing anytime soon.
Jim's presentation covered partnerships, alternative business models, and the coming Open Innovation Samsung Memory Research Centers. He also presented the roadmaps for DRAM and NAND:


Jim concluded with application notes on mobile, server, cloud, and moving forward with automotive (server on wheels). Samsung currently has 400 automotive projects on the way and are in mass production with 60+ automotive customers.
The other presentation that caught my interest was from Synopsys. Sassine Ghazi, the president and COO of Synopsys, kicked off Samsung SAFE with an engaging keynote on unlocking innovation potential. Sassine began his presentation with the statement, semiconductor chips and software have been the most uplifting phenomena in the history of humankind. Quite a bold statement. He went on to focus on the pivotal role hardware (chips) have made and he observed three fundamental obstacles that must be overcome to reach the next level of innovation.
Balance complexity and energy
Scale for workload-optimized chips
Optimize talent and productivity
He expanded on each item and provided concrete examples of solutions developed through collaboration between Synopsys and Samsung. He concluded with some eye-opening information about the deployment of AI technology to design chips at Samsung. The impact appears to be quite significant. Sassine stated, AI is the only way forward. This is an area to watch. Absolutely.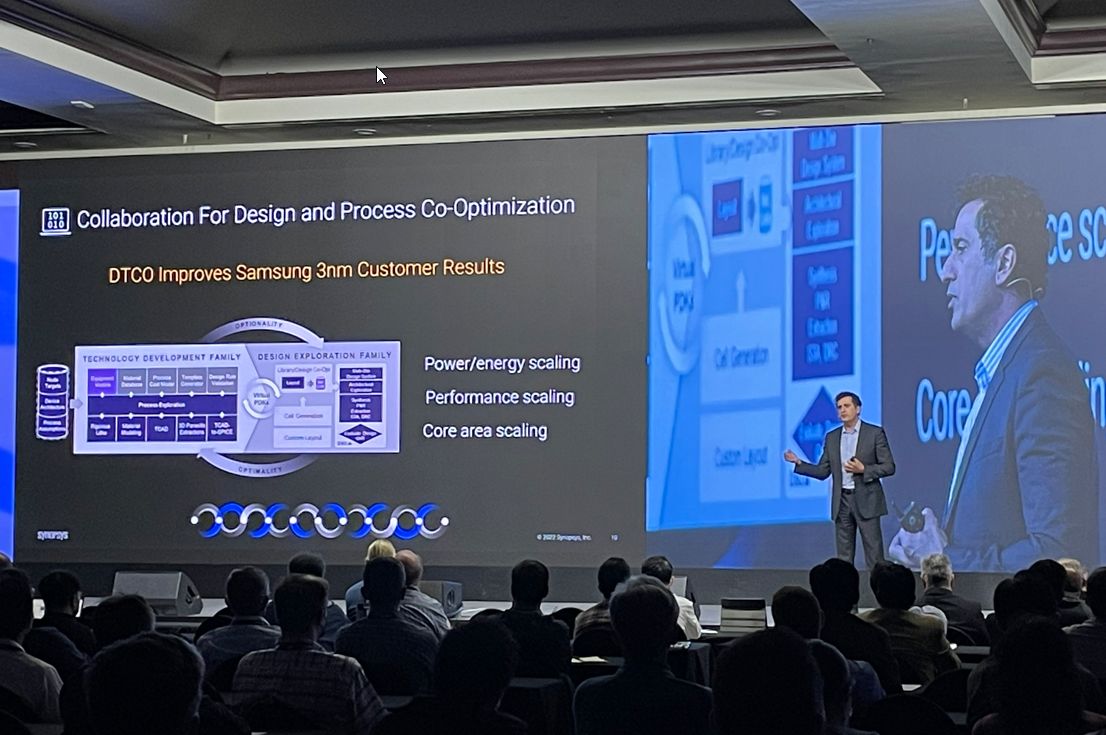 Also Read:
Webinar: Semifore Offers Three Perspectives on System Design Challenges
WEBINAR: Taking eFPGA Security to the Next Level
WEBINAR: How to Accelerate Ansys RedHawk-SC in the Cloud
Share this post via: