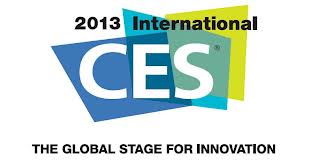 Time to pack up for the 2013 Consumer Electronics Show in Las Vegas, I will be driving down with my beautiful wife Shushana because she does not like to fly. The drive takes the better part of a day so we will leave early and see the sunrise over the desert. She is great company, the time will fly by. We will be 2 of the more than 150,000 people to attend this year. Wow!
Last year's celebrities included: Basketball bad boy Dennis Rodman, Fitness guru Jillian Michaels, Gadget fan boy Justin Bieber, Rapper 50 Cent, Reality stars PaulyD and Snooki, Actor Will Smith, Singer Kelly Clarkson, Ryan Seacrest, Rapper/Actor LL Cool J, and Justin Timberlake, just to name the most famous ones. No telling what CES has in store for us this year. Rumor has it Bill Clinton will be here (surrounded by booth babes I will bet) which would be worth the wait.
Since I'm on the CES press list I have been pelted with emails on what to expect this year. Last year the OLED HD TV's were the coolest. Unfortunately I need a 63" to replace my current plasma screen and OLEDs only come in 55" so I will wait. Same thing with Apple TVs I'm told, 55" is the sweet spot. Ultrabooks were big last year but I have yet to buy one. I recently bought (2) HP laptops since they were half the cost of Ultrabooks. We are a smartphone/tablet family now so laptops are only for work that is easier on a laptop like blogging and QuickBooks. Samsung had the biggest booth last year with the most impressive collection of phones and tablets. It will be interesting to see who challenges Samsung this time (Apple doesn't go to CES).
This year it's TV Tablets, Google TVs, and a new Smart TV from Samsung that all other TVs are rushing to see:
One of the most interesting new products will be flexible screens from Samsung which will be 5.5″ bendy displays with a resolution of 1280 x 720 HD and a pixel count of 267 ppi. Nothing like getting twisted in Las Vegas!
A Red Ridge Tablet from Intel? Red Ridge is Intel's Medfield-based tablet platform, which is definitely blog worthy and from what I have read it is already in production. More on that after I get to see/touch one.
Intel will also talk in detail about actual 22nm mobile SoCs. The Bay Trail-T is rumored to be a quad-core scheduled for a 2014 launch and the Valleyview-T which will take on NVIDIA's Tegra 3 and Qualcomm's S4.
In a counter announcement, NVIDIA will show the Tegra 4 which is TSMC 28nm (my all time favorite process node). Tegra 3 is TSMC 40nm and has done quite well in the HTC One X+ and tablets such as Google's Nexus 7 and Microsoft's Surface. Tegra 4 is a quad core ARM A15 SoC with monster graphic capabilities. I would bet there will be Tegra 4 based tablets at the show.
Cars were pretty big last year but this week even more so. Audi, Chrysler, Ford, General Motors, Hyundai, Kia, Subaru and more than 100 auto tech companies displaying the latest in-car technology. Lots of fitness and health related products too making bio engineering and robot people even closer to reality.
OK, that's my 600 words for today. It would be a pleasure to meet you if you are in Las Vegas this week. I will definitely be at the GOLBALFOUNDRIES party on Wednesday night. This is their third year at CES and I congratulate them for bringing the fabless semiconductor ecosystem to Las Vegas. After all, this is where our customers are.
Joinn the CES 2013 discussion HERE.

Share this post via: