TSMC is the bellwether for not just the semiconductor industry but the worldwide economy. TSMC makes semiconductors, semiconductors are where electronics begin and electronics are the foundation of modern life, absolutely.
Apple is also a key economic indicator and as we all know Apple is a strategic partner of TSMC. The Apple TSMC relationship started with the iPhone 6 and other iProducts (20nm in 2014) and continues to this day. The recently introduced iPhone 12 is based on TSMC 5nm. Next year Apple will use an enhanced version of 5nm and in 2022 it will be 3nm.
TSMC raised its 2020 revenue forecast for a second time this year (10% -> 20% -> 30%) with strong demand for 5G and high-performance computing (HPC). The pandemic has resulted in a much stronger emphasis on mobile and cloud computing which should continue in Q4. IoT is also up but Automotive and DCE is down, again due largely to the pandemic. TSMC's HPC (cloud) content will also benefit from additional AMD and Intel wafer agreements from 7nm down to 3nm over the next five years.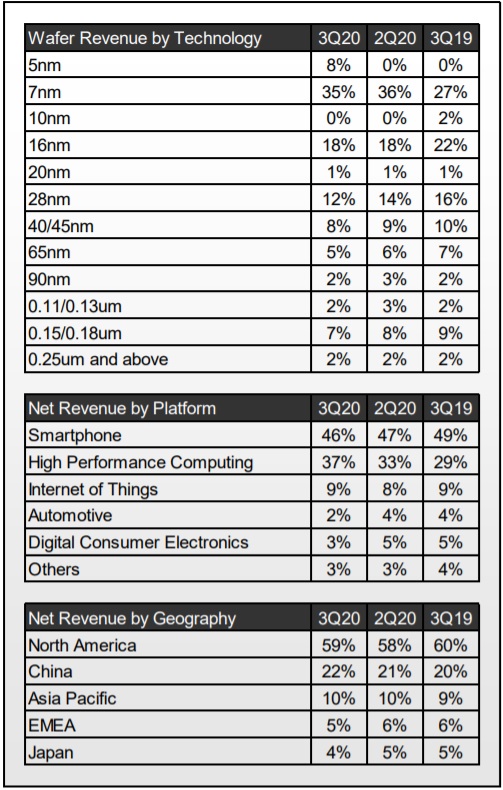 In my opinion AI and the cloud will be the key semiconductor drivers moving forward. Vast amounts of data is being generated by our electronic devices. The data is now moving to the cloud for harvesting and monetization. Cars are an easy example. I can assure you that Tesla will be using data from their cars to make more money than from the selling the cars. Think Google and search, Facebook and personal information, or Amazon and shopping, it is all about the data.
It's interesting to note the process node breakout:
38% of revenue is from mature CMOS nodes. Those nodes were cloned by UMC, SMIC, and GLOBALFOUNDRIES so there is strong competition where designs can be moved from one fab to another with relative ease. That is not the case with FinFET based designs so TSMC's strong market position will continue to evolve in the future.
For 20nm and 10nm Apple was the only customer to hit HVM thus the shrinkage. TSMC moved 20nm fabs to 16nm and 12nm. The 10nm fabs were moved to 7nm and 6nm. Let's call it the yield learning two-step where TSMC takes smaller process steps each year versus the much larger traditional semiconductor process steps.  For example, TSMC started EUV with a mature 7nm node then went full EUV at 5nm. Intel on the other hand is expected to go from zero EUV at 10nm to full EUV at 7nm.
Notable C. C. Wei quotes from the Q3 2020 Earnings Call:
"For TSMC, our technology leadership position enabled us to capture the industry megatrend of 5G and HPC. We expect to outperform the foundry revenue growth and grow by about 30% in 2020 in U.S. dollar terms."
"This is pretty hard for me to answer, because I cannot release all the information I got from my customer. But let me say that, on the average, the 5G phone have about 30% to 40% more silicon content as compared with 4G."
"We are complying full year with the regulations and so and we also notice that there is report saying that the TSMC got the (Huawei)  license. We are not going to comment on this unfounded speculation. And we also don't want to comment on our status right now. For the 4Q shipment to Huawei, the ban, the regulation already say that after September 17th, zero."
"Certainly TSMC is working with all the customers and view them as our partners. And so we don't using this opportunity to raise our 8″ wafer price."
"We are engaging with more customer at N3 as compared with the N5 and N7 at the similar stage. So there's a lot of customers are working with us. And now, which one in the second half of 2022, which one would be the first product? Actually in smartphone and HPC applications, both."
Bottom Line: TSMC and the rest of the semiconductor ecosystem seems to be somewhat COVID resistant. The new "work and learn from home" life style is accelerating the digital transformation and that means more semiconductors now and in the future.
About TSMC
TSMC pioneered the pure-play foundry business model when it was founded in 1987, and has been the world's largest dedicated semiconductor foundry ever since. The Company supports a thriving ecosystem of global customers and partners with the industry's leading process technologies and portfolio of design enablement solutions to unleash innovation for the global semiconductor industry. With global operations spanning Asia, Europe, and North America, TSMC serves as a committed corporate citizen around the world.
TSMC deployed 272 distinct process technologies, and manufactured 10,761 products for 499 customers in 2019 by providing broadest range of advanced, specialty and advanced packaging technology services. TSMC is the first foundry to provide 5-nanometer production capabilities, the most advanced semiconductor process technology available in the world. The Company is headquartered in Hsinchu, Taiwan. For more information please visit https://www.tsmc.com.
Share this post via: