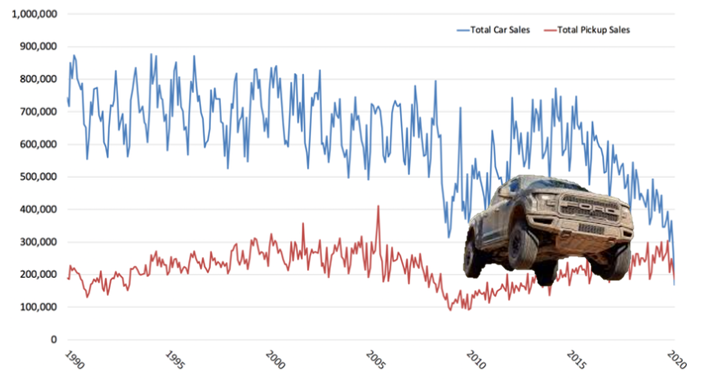 From a legislative squabble, to a COVID-19 superspreader event, to claims of fraud and deception, the race to bring a pickup truck to market with an electrified powertrain went into overdrive last week. At the heart of the contest is the pursuit of ridiculous profit margins and impressive sales with Ford Motor Company's F-Series of pickups serving as the main focal point.
Ford's F-150 pickup truck is one of the best-selling vehicles of all time with combined sales for all of its variants amounting to 34M units, according to Wikipedia. It is for this reason that the F-150, the perennial best-seller in North America, is cited as a target for competing pickup makers. (It's worth noting that though the F-150 remains a best-seller, GM and FCA sell comparable quantities of pickup trucks.)
This is especially true for wannabe makers of electric vehicles intimidated by the success of Tesla Motors in the luxury sedan segment and seeking blue ocean opportunities that offer potential for both sales volume and profit. The pickup segment, indeed, offers both, with sales volume exceeding sedans for the first time in 2020 (according to Motor Intelligence) and with five-figure profit margins, according to recent auto maker earnings reports.
The frenetic activity in the pickup sector has attracted a crowd including most Japanese auto makers contending for sales of traditional internal combustion engine pickups. And General Motors and FCA have risen to challenge Ford – while all three have tipped plans to pare back or abandon sedans entirely.
A host of EV pickup makers have now stepped forward with new models arriving in the next few years. In the vanguard of EV pickup makers is Tesla itself with its Cybertruck, Rivian with its R1T, Lordstown Motors and the Endurance, and Nikola Motors' Badger – all of which made headlines last week with the exception of Tesla.
Nikola Motors perhaps gained the greatest amount of attention with its announced tie up with GM. GM agreed to take an 11% stake in Nikola in exchange for providing product development and manufacturing support along with powertrain technology to help Nikola deliver its Badger EV pickup to market. The two companies remain locked in negotiations after Nikola's past claims were challenged by short-sellers, the U.S. Justice Department and Securities and Exchange Commissions opened probes, and Nikola founder Trevor Milton stepped down.
Lordstown Motors grabbed the spotlight in the wake of U.S. President Donald Trump's positive COVID-19 test and hospitalization. Among the many events attended by the President where he may have either been infected or infectious was a campaign visit at the White House from executives from Lordstown Motors, the nascent Ohio-based EV pickup maker, attended by the Governor of Ohio and multiple congressmen from the state. The company plans to build as many as 100,000 of its Endurance pickups in plants in Ohio where GM previously manufactured the Chevy Cruze sedan.
Finally, the Michigan legislature spun up a major imbroglio over legislation intended to prevent the direct sales of electric vehicles in the state – a modification of an existing ban for which a workaround already exists for Tesla. Leading the EV industry in opposition was Rivian, which employs more than 800 people in the state. They were joined by other EV startups—Lucid, Lordstown and Bollinger—as well as a coalition encompassing fleft-wing environmental groups, right-wing free market groups, and consumer advocacy groups. The Michigan Auto Dealers Association was the lone organization supporting the bill.
The single thread that unites all three of these stories, though, is General Motors' fundamental struggle with electrification. In spite of GM's EV leadership with the EV-1 – leased to consumers from 1996-1999 – and the extended range EV Volt – discontinued in 2019 – the company seems incapable of driving EV adoption.
The debacle of the GM-Nikola Motors tie up – now darkened by a declining stock price and investigations – came in the wake of GM's decision not to invest in Rivian. Notably, Ford opted to invest $500M in Rivian despite that company's plans to take on Ford in the pickup segment where Ford has its own EV pickup plans.
Lordstown Motors stepped into taking over GM's former Ohio manufacturing facility – with financial assistance from GM – to make its own EV pickups while GM set up a new plant nearby in a joint venture with LG Chem to make EV batteries. GM had walked away from Lordstown and a $60M local tax incentive package – agreeing to a $12M "clawback" – enduring a gale of presidential opprobrium. President Trump then turned the blade a bit on GM with the White House visit last week from Lordstown Motors execs.
Finally, the new car dealer opposition to direct EV sales in Michigan creates an odd dynamic for Michigan-based auto makers. Ford, for one, is invested in Rivian, which is Michigan based. GM has big plans for EV sales and is already battling dealers over facilities and personnel investments required to support EV sales. FCA has yet to reveal its own plans.
It is crystal clear that EV pickups are coming to market in a wide range of shapes and sizes. It's sad that the segment is caught up in politics and posturing when there are serious challenges to overcome in shifting to electric powertrains for vehicles of this type that are used in stressful commercial and recreational applications posing unique power management issues.
GM appears to be uniquely fraught by the prospect of electrification hitting its most profitable segment. The tie up with Nikola coming in the wake of the Lordstown shutdown and the passed-on Rivian investment increasingly looks like a decision made on the rebound.
It's not too late for all three Detroit-based auto makers to make a statement.  General Motors did make a statement opposing the legislation, but a collective rejection of the dealer-driven Michigan legislation limiting EV sales by startups in the state would be a better approach. It's time for the Big Three to send a signal, loud and clear, that Michigan is the home of automotive innovation. It makes no sense that Michigan, of all states, should erect sales barriers to vehicles with advanced EV powertrains in whatever form they may take and from whatever company might make them.
Share this post via: