One of the more interesting markets that I cover is FPGA Prototyping. Interesting because it is fast growing ($150-250M) and interesting because it is all about design starts and design starts are the lifeblood of the semiconductor industry.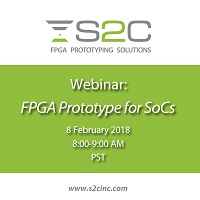 If you are interested in FPGA prototyping you might want to start with the 30+ S2C Inc blogs we have done over the last three years. You can also read our eBook Prototypical. Even better, you can sign up for the upcoming S2C webinar:
The Emergence of FPGA Prototyping for ASIC/SoC Design
FPGA prototyping has become a dominant part of the ASIC and SoC design and validation flow by significantly speeding up the progress of your project. This webinar will provide a brief overview of FPGA prototyping and address the key points on system selection. We will analyze how the flow changes on single or multiple FPGA systems and how prototyping software participates in the verification flow.

Thu, Feb 8, 2018 8:00 AM – 9:00 AM PST
Agenda:
S2C Prototyping Solutions Overview

How to Quickly Build and Target FPGA Prototyping

The Importance of Daughter Cards

Demonstration Image processor on VUS/VUD

Questions and Answers
Presenters:
Daniel Nenni Founder of SemiWiki.com
Richard Chang Vice President of Engineering, S2C Inc.
I've recently started doing business development work with S2C and have been impressed with not just the products and employees, but also the diverse markets they serve. China, for example, has more than 900 fabless chip and systems companies doing designs, most of which will be using FPGA prototyping for chip verification and software development. FPGA prototyping is a front row seat to the future of semiconductor devices with S2C and China leading the way, absolutely.

About S2C
Founded and headquartered in San Jose, California, S2C has been successfully delivering rapid SoC prototyping solutions since 2003. S2C provides:
With over 200 customers and more than 800 systems installed, S2C's focus is on SoC/ASIC development to reduce the SoC design cycle. Our highly qualified engineering team and customer-centric sales force understand our users' SoC development needs. S2C systems have been deployed by leaders in consumer electronics, communications, computing, image processing, data storage, research, defense, education, automotive, medical, design services, and silicon IP. S2C is headquartered in San Jose, CA with offices and distributors around the globe including the UK, Israel, China, Taiwan, Korea, and Japan. For more information, visit www.s2cinc.com.
Share this post via: