To ensure the reliability of automotive electronics, standards like AEC-Q100 and ISO 26262 have helped tremendously. They have created rational and explicit steps for developing and testing the electronic systems that go into our cars. These are not some abstract future requirement for fully autonomous cars, rather they are needed for critical systems in almost all cars today. Modern cars use significant electronics for engine systems, as well as braking and numerous safety systems such as impact sensors and airbags.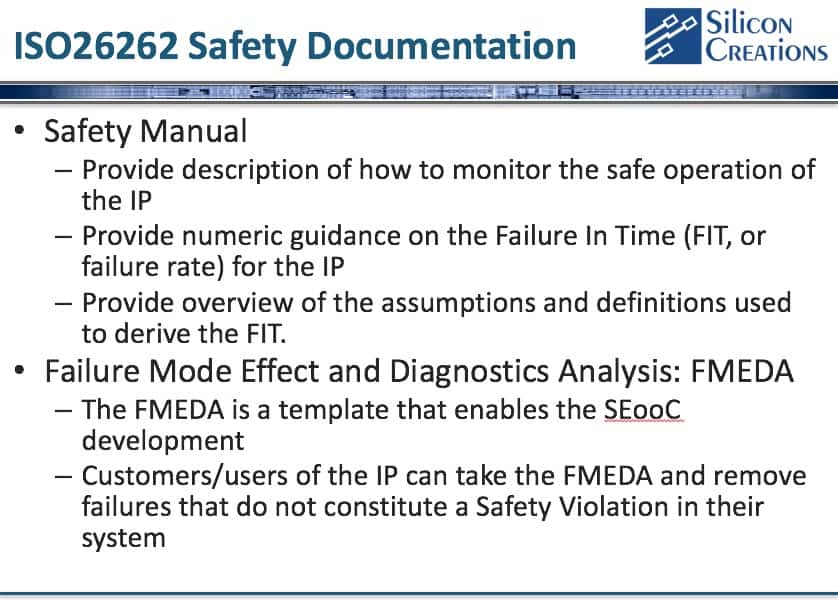 It can be easy to understand how an airbag system might be documented and tested before use in a car design. However, it is important to realize that a sensor or actuator is really part of a larger network of devices, where the reliability of the entire system is critical. Within each of the elements we can find components that enable communication, such as a SERDES. With designs moving to 7nm, the complexity of designing a SERDES is becoming even more complicated. This is further compounded by the overlaying of safety requirements. Yet, no matter how difficult, these added requirements are essential.
As you have read in my writing before, a standard like ISO 26262 does not allow the certification of the pieces of a system. Instead the final completed system can be qualified once it is built and its application is fully defined. The smaller components are what are known as a safety element out of context. They can be built with the final system level qualification in mind, but they themselves can never be certified.
The question remains, how should a component such as a SERDES be designed and evaluated to ensure that it is suitable for inclusion in a system that will be qualified. Silicon Creations, a leader in analog IP development, will be speaking on this topic at the upcoming REUSE 2017 conference on December 14[SUP]th[/SUP] in Santa Clara. Andrew Cole, Vice President of Business Development at Silicon Creations will present a talk called "Developing 7nm IP for Safety Critical Automotive Applications". In addition to talking about steps necessary for ISO 26262 qualification, he will talk about AEC-Q100 pre-qualification through testing of completed parts.

His talk will be held at 11:15 AM on December 14[SUP]th[/SUP]. If you would like to register for this event please go to the event website for more information on the full agenda and registration. During the event, there will be talks given by Samsung, Intel Arm and many other key players in the IP arena. The event looks like it will provide an informative day for those interested in developing systems that employ IP.
Share this post via: