Many startups set out with the goal of accomplishing a technical feat that was previously considered impossible. Quite frankly most do not succeed. Yet, occasionally a company comes along that succeeds with a game changing breakthrough. ETA Compute has done just this. Yet, even more impressively, this 3-year-old company has done more than just develop one "impossible" technological achievement, they have developed two. The best part is that they already have working products that incorporate them. Consequently, they are positioned to radically change artificial intelligence processing on edge devices.
Eta Compute has announced their TENSAI AI platform, which is based on the ARM Cortex M3 processor, and has demonstrated a 30X reduction in energy consumption for image classification. Using only 0.4 mJ per image, it has bested previously a published energy consumption figure for a different processor that used 30mJ for the same task. The unique technology enabling this is Eta Compute's delay insensitive asynchronous logic (DIAL). Not only does it save tremendous amounts of power, but it enables dynamic voltage and frequency scaling, and near threshold voltage operation.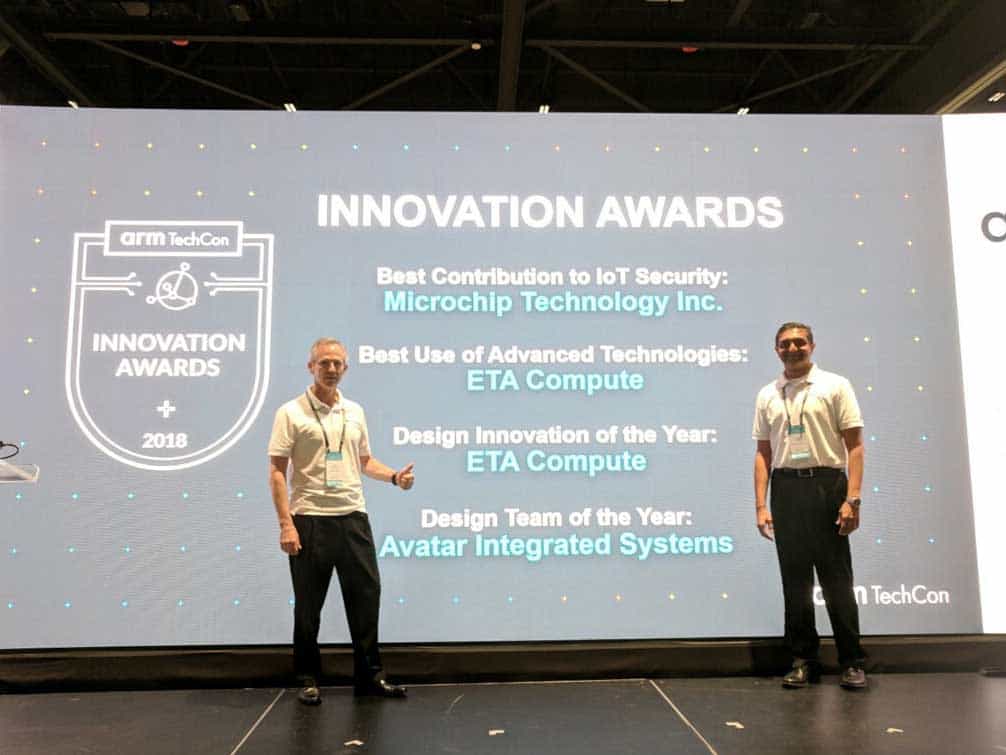 Their novel processor, based on their asynchronous logic, won them two awards at the ARM TechCon, the Design Innovation of the Year and the Best Use of Advanced Technologies awards. By implementing the extremely popular and proven Cortex M3 processor with dramatically improved power efficiency, they have opened up opportunities for applying more comprehensive AI processing on edge devices. When edge devices can efficiently run neural networks a large number of new applications open up. At the same there are reductions in overall power consumption, latency, and bandwidth.
The TENSAI processor offers a Cortex M3 running at up to 100MHz, with sub 1uA sleep current, 512K Flash and 128K SRAM. It has an 8/16 bit dual MAC DSP. It also has independent SRAM for the M3 and DSP. Lastly, it has DMA engines to ensure efficient data transfer to memory from IO. Its highly efficient PMIC adjusts voltage to keep operating frequency constant despite process and voltage variations. An interesting characteristic of the device performance is the attractive scaling of current per Mhz. For instance, running Coremark at 3.3V and 10MHz the processor draws 13.3 uA/MHz. At 100MHz it draws 18.1uA/Mhz.
The second technical accomplishment that Eta Compute has under their belt is implementation of a Spiking Neural Network (SNN). This kind of network works more closely to their biological analogues than traditional CNNs. SNNs require fewer neurons and only require addition operations. This can make them 100X more efficient than traditional CNNs. ETA Compute says that their SNN is capable of doing unsupervised learning with no data labels. This makes it ideal for anomaly detection applications.
Eta Compute is actively exploring new application areas for their technology. For instance, always-on wake-up features are familiar to anyone who uses Google Home or Alexa. This is an ideal edge operation, as it needs to run fast and not require sending large amounts of raw data to the cloud. Data reduction at the edge is another promising technique. Edge neural networks can crop and filter data intelligently so smaller data sets are sent to the cloud for more intensive processing. Eta Compute says they already have a number of novel engagements to apply their technology in agriculture, retail, factories and even in data centers where there are large numbers of sensors deployed to monitor environmental parameters.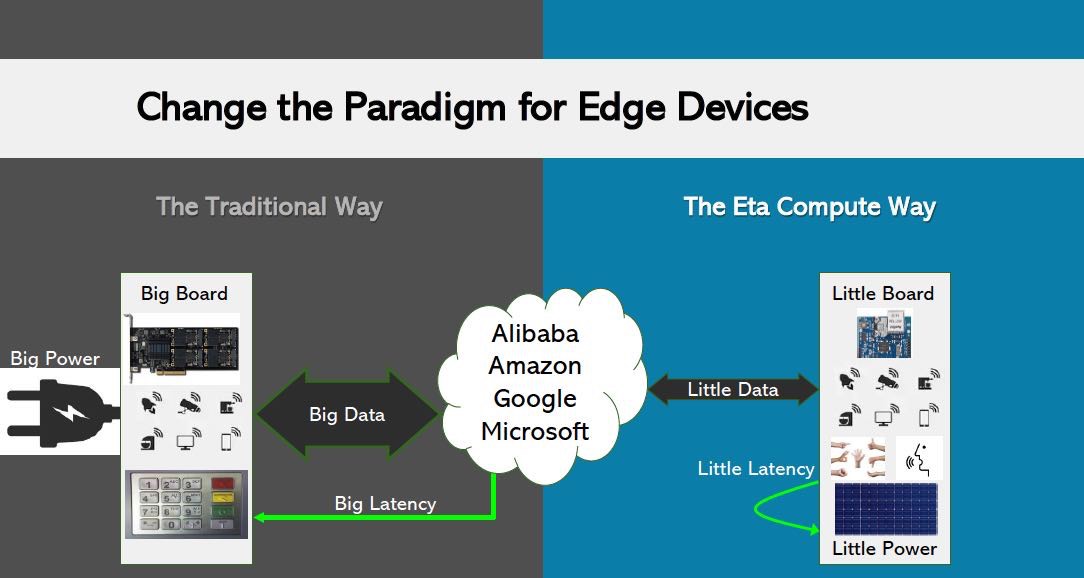 By combining their hardware and software advantages, it seems that Eta Computing is in a strong position for the move to enable AI at the edge, where its impacts will be significant in the coming years. We have already seen the changes brought about by pervasive connectivity. Anyone looking at what is ahead can see that there will be even more dramatic changes coming from pervasive AI. More information on Eta Compute's technology and product can be found on their website.
Share this post via: