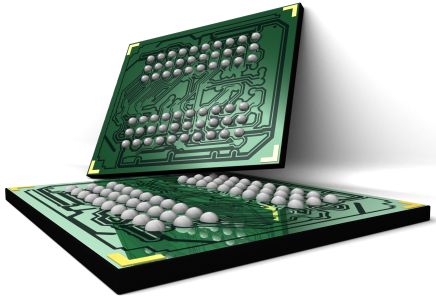 To the surprise of nearly all observers and due to no extraordinary technological advancement, there is one true mobile winner of the past year and that is Micron, whose stock has soared in 2013 from $5 to $21. I know, you're probably saying, "Micron, you can't be serious." Let's run through the facts. For analysts who recall, it was 1995 when DRAM was basking in the sun under the then gargantuan demands of Windows 95 and when PC makers fretted about finding enough memory to load their machines in time for the September 1995 launch from Redmond to the blaring Rolling Stone tune "Start me up." Looking back in time, it was peak DRAM. Then and thereafter, for nearly 20 years, there was one processor vendor who reigned profitably as its stock soared under the command of Andy Grove. We now may be witnessing an unbelievable trading places scenario as smart mobile kicks into high volume and memory (DRAM and Flash) will be worth significantly more than the apps processor. Who's the real commodity silicon now?
Intel is going all out to win the mobile wars with Atom running in its 22nm process. The company has one unique feature that makes the coming months a rather interesting one for processor watchers. Intel is the only true IDM that ships its own silicon as far and wide as possible. An empty fab is a terrible thing to waste and it is at this point that Intel is most dangerous. The equipment has been paid for and the lights and air conditioning must remain on. Time to load the plant with Atom wafers and sell the parts for dimes above the cost of the sand, packaging material and assembly. Intel can go scorched earth if needed and take some ARM merchants with them to the single digit pricing realm. No one ever survives unscathed in a price war with Intel.
I was trading emails with an analyst friend who has lived semiconductors since the early 1990s. It was then that we came across the idea that how remarkable it was that we have flipped from a playing field of 20 years ago when a dozen DRAM vendors fought it out to sit next to the Intel socket to now where there are a dozen mobile processor vendors fighting to be next to the Micron or Samsung DRAM socket. Pricing power goes to the few who can play the game. When Micron bought the then bankrupt Elpida for a song at the height of the Japanese Yen valuation and Hyundai's DRAM fab blew up, the tables turned to what has forever been considered a commodity but now prints real dollars.
The wandering years from 1995 to now when profitability was less important than cash flow, only Samsung and Micron were able to carry on to the finish. My prediction is that in the coming year, mobile processor commoditization continues. Rumors abound that Intel is offering $10 atoms. Can a $5, 32 bit ARM processor be far behind? Meanwhile DRAM and NAND pricing look to be much more stable. Ken Fisher, the financial columnist for Forbes magazine refers to the stock market as the great humiliator. Moore's Law has through the years done a number on many semiconductor company's but none is so great as when a market as large as mobile is overwhelmed with a multitude of suppliers all wanting to grasp nary a minority share believing that it will be profitable. No, history again shows it is better to be alone or no more than second in a field of two in order to retain significance with profits.
What next for Intel? Perhaps they should return to their roots. Their x86 franchise in the Data Center and the PC will offer plenty of profits to sustain them in the near future, however with mobile, maybe it is time to size up the value that lies in the memory portion of the platform relative to the dwindling dollars that occupy the application processor space. Right now memory is looking like it is top dog by a wide margin in the mobile platform and under less assault than Qualcomm's baseband chip. It is interesting to recall, Intel did put in production the DRAM, the EPROM and the Microprocessor all in the first three years of the company – A remarkable feat. Returning to the abandoned DRAM and Flash (the successor to EPROM) could be a better play for the company as Micron proved in 2013. Could it be that we are, for the first time in 20 years, on the verge of a Memory Dominant Semiconductor Market?
lang: en_US

Share this post via: