I'm in a Twitter conversation with some friends, with the subject: how many phones can Apple ship in the 4th quarter?
A respected analyst said 52M is "an easy mark" for Apple; others are saying 58M is the target for just the iPhone 5 in 4Q. However, the start for the iPhone 5 has been anything but easy. Oh, the orders are probably there – 2M iPhone 5 orders in 24 hours indicates really strong demand.
It's been a good year. Apple's 1Q iPhone shipments were 35M units, 2Q were 26M units, and we're obviously waiting on a figure for 3Q.
The questions for 4Q are two-fold, however. One is supply, the other is demand.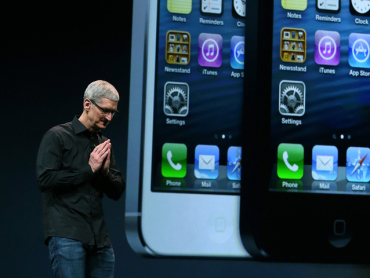 Apple's supply problem is pointing to their selection of a Sharp 4″ LCD display, at least for the initial build. Rumors have it the yield at Sharp is less than 40%. Other sources are LG and Japan Display, but no word on how well they will ramp up. Sources say capacity of each supplier is something like 7M units per month, if everything goes right. There are also unspoken concerns about the A6 chip inside, but my guess is Samsung has that pretty well in hand. Since the display and memory have been taken away for the iPhone 5, Samsung doesn't want to be the long pole in the tent on the A6.
Then there's demand. Apple is now saying they are 3 to 4 weeks from filling the initial orders. I'd also question how prior demand for iPhone 4S units will hold up in the face of iPhone 5 availability. Both those factors may slow down the frenzied pace of orders just a bit. One thing that might help would be if Lucy Koh somehow puts the kibosh on shipments of the Samsung Galaxy SIII. There's also the remote possibility that the Nokia Lumia 920 and the just announced HTC 8x will ship as expected in time for the holidays, Microsoft willing, and might actually take some demand.
The numbers being tossed around for Apple are huge, to the point where one has to question if they can ship as many orders as they can book. I have no doubt this gets worked out in 2013, but the pressure is on and I think 4Q12 is in some doubt.
I say "under" 52M, with new, untested suppliers in the critical path. Discuss.

Share this post via: