One of my favorite EDA disruptions is the Siemens acquisition of Mentor, pure genius. Joe Sawicki now runs the Mentor IC EDA business for Siemens so we will be seeing him at more conferences and events than ever before. Joe did a very nice keynote at the recent U2U conference that I would like to talk about before we head to the 56thDAC in Las Vegas. You will see more of Joe there for sure.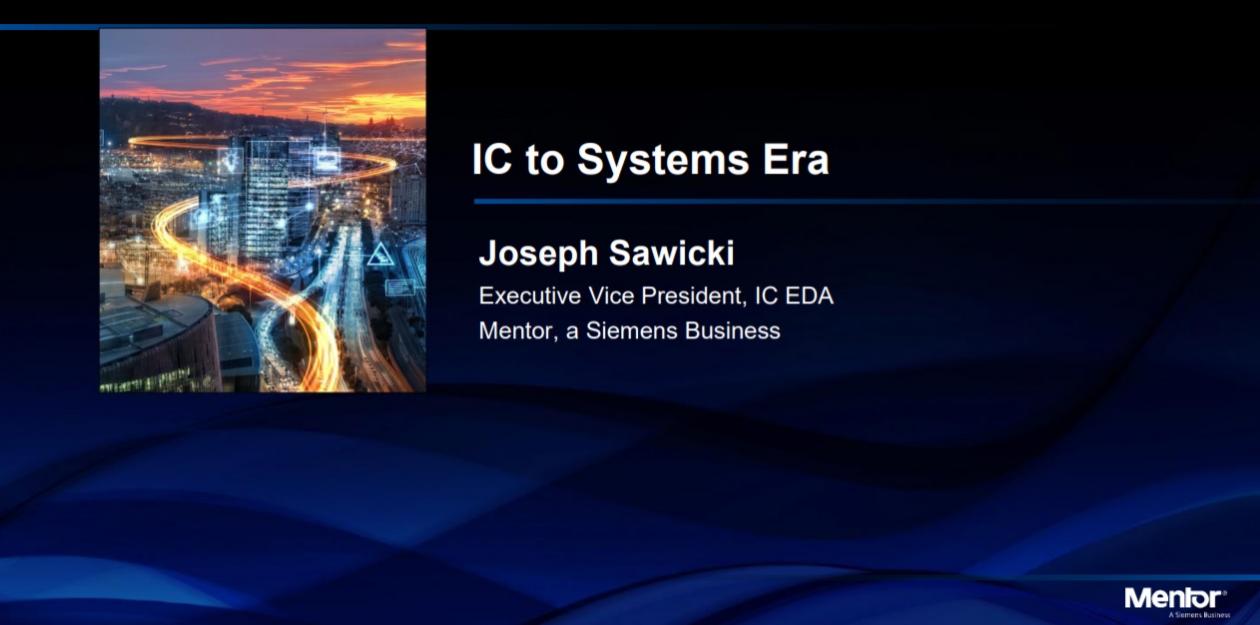 Joe covered quite a bit of material over 47 slides so I will talk to my top 5:
Apple's Domain-Specific Processor Evolution
The Apple Ax SoC progression slide. Apple started with TSMC in 2014 on the 20nm process delivering the A8 inside the iPhone 6. I bought six of them for my family and it was a great Apple experience. Apple packed about 2B transistors inside a 89mm2 die. Four years later we have the iPhone 10xs with a TSMC 7nm A12 SoC with an 83mm2 die and close to 7B transistors. Simply amazing. And one thing I can tell you that Joe cannot is that Apple could not have done it without Mentor and the rest of EDA.
Physical Design Complexity Continues
The average DRC operations and rules slide. 28/22nm context sensitivity and smart fill, 16/14nm FinFET and Double Patterning, 10/7nm cutOD and pattern matching, 5/3nm EUV + DP and SADP Opt. This right here is an example of EDA ingenuity. I cannot count how many times in my 35 year career that I heard the next process node couldn't be done or would be too expensive (7 customers for 7nm and 5 for 5nm). Complete and utter nonsense.
3nm Node Manufacturing Technology Challenges
EUV Multi-Patterning required for achieving pattern resolution, gate all-around transistors trigger new extraction requirements and physical failure modes, PPA metrics drives accuracy of lithography process model below 0.3nm RMS, and multi-beam mask writing enables curvilinear masks for most advanced lithography. We got a more detailed look at 3nm GAA technology at the Samsung Foundry Forum this week. Tom Dillinger will write in more detail about it but Joe is right on the money here. Samsung announced PDK availability for 3nm and I can tell you that Mentor was a big part of that effort as well.
Systems Companies Growing Percent of Foundry Sales 5-Year CAGR +70%
Another significant EDA change that has evolved over the previous six years is the customer mix. Following Apple, systems companies are now taking control over their silicon destiny and developing their own chips. In 2018, according to Joe, systems companies contributed 17% to foundry sales. IDMs 16% and fabless companies 67%. Ten years ago it would have been all IDM and fabless companies.
Mentor Safe IC
The most complete functional safety IC solution automating the path to compliance: Lifecycle management, safety analysis, safety verification, design for safety. Here is my concern, when I first started in semiconductors, TVs and minicomputers were the semiconductor drivers and those products were built to last many years. The mobile era changed all that. We can reboot our phones with impunity or buy a new one just about anywhere if it stops working. Transportation related semiconductors are a different story. The average ownership for a new car is more than 10 years and you can't reboot your semiconductor laden auto with impunity. Truly autonomous cars will require massive amounts of validation and verification (another one of Joe's slides) before I will trust my family's life with one.
Joe also did an overview of the Siemens software leadership and commitment to EDA. My former employer Solido was used as an example. Solido was the first EDA acquisition after Mentor became part of Siemens. I can tell you from personal experience that it was the best acquisition integration I have ever seen, absolutely.
Share this post via: