The EDA CEO outlook took an interesting turn last night but before I get into that I will offer a few comments about the start of the show. I attend this event every year for the content but also for the networking. It isn't everyday you get to hang out with semiconductor industry elite and have candid conversations over food and drinks. I always come prepared with questions for this blog but also for my other work inside the fabless semiconductor ecosystem.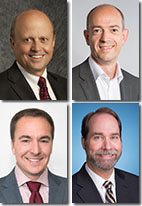 Join us on April 5, 2018 for the 2018 ESD Alliance CEO Outlook!At this important event, the CEOs of four leading ESD Alliance member companies will discuss their views of where our industry – the semiconductor design ecosystem – is heading.
The distinguished panel will discuss major new trends they see, with the potential opportunities they anticipate. Panelists for the evening are Dean Drako(IC Manage), Grant Pierce (Sonics), Wally Rhines (Mentor, A Siemens Company) and Simon Segars (Arm). Ed Sperling (Semiconductor Engineering) will moderate the panel. Each CEO will present a brief opening statement about the future of the industry, followed by an interactive, moderated audience discussion.
It was mostly attended by people who I know but I did make some new friends. People who read SemiWiki introduced themselves and one person even said they had SemiWiki bookmarked in their browser which to me is a very high compliment.
Missing was Synopsys CEO Aart de Geus and Cadence CEO Lip-Bu Tan. In the past the CEO panel was CEO's of publicly traded companies who either were in their quiet period so they could not comment on forecast questions or they would simpley take the fifth. This time there were CEOs of a very small EDA and IP company and two CEOs of companies that were acquired by much larger companies so they were technically no longer CEOs of publicly traded companies.
Prior to the event there was a lot of discussion about the pending trade war with China. I participated in an article last week for the Chicago Tribune (Trump may win the trade battle with China but lose the war – Chicago Tribune), my quote is at the bottom of the article:
"I don't think tariffs will be a long-term thing, but they will accelerate (China's) campaign to become independent," said Daniel Nenni, CEO, and founder of Silicon Valley-based SemiWiki.com, an open forum for semiconductor professionals. "You have to control silicon to control your destiny."
The point being that a country has to have their own fabs and design their own chips to ensure supply and security. The same goes for systems companies in a sense which is why Apple is now the most powerful fabless systems company. And based on the SemiWiki analytics, literally thousands of systems companies will follow Apple into the fabless systems business model. If you are interested in how Apple became a semiconductor force of nature read chapter seven of our book Mobile Unleashed.
The pre programmed questions were kind of tame but I understand how hard it is to moderate a panel like this because I did it many years ago. The first question was positive and negatives in regards to outlook. Simon was quite positive of course noting that we are now transitioning from mobile as a driver to a much more diverse ecosystem with Cryptocurrency, IoT, AI, Automotive, etc… and he did not see any barriers to future growth citing that mobile had everyone pulling their hair out (big laugh here since Wally and Simon are both hairline challenged) but we persevered.
Wally said that VC money is back for semiconductor start-ups and the semiconductor industry will continue to grow.
More than $900M was invested in 2017 with AI playing a role in the majority if not all of them. Deja veu of the dot com bubble maybe. Successful or not, they all have to buy EDA tools so Wally is more than happy to help.
Last year we saw 20% growth with about half being memory. Wally expects non memory to grow another 10% in 2018. Automotive was discussed and Wally compared today's automotive burst to the one in the early 1900s where there were 285 car companies that narrowed down to 3 and now we are back up to more than 300 car companies suggesting history will repeat itself sooner than later.
When talking about the possible outlook downside the best line was from Wally when people casted doubt "There are always things to worry about if you want to worry" but clearly Wally is not worried.
I will blog about the "interesting turn" of the event next…
Share this post via: