I was at the Linley Mobile Microprocessor conference earlier in the week. Well, just the first day since the second day overlapped with the GSA Silicon Summit. The first surprise was seeing Mike Demler in a suit. It turns out that he has joined the Linley Group as a full-time analyst in the mobile space.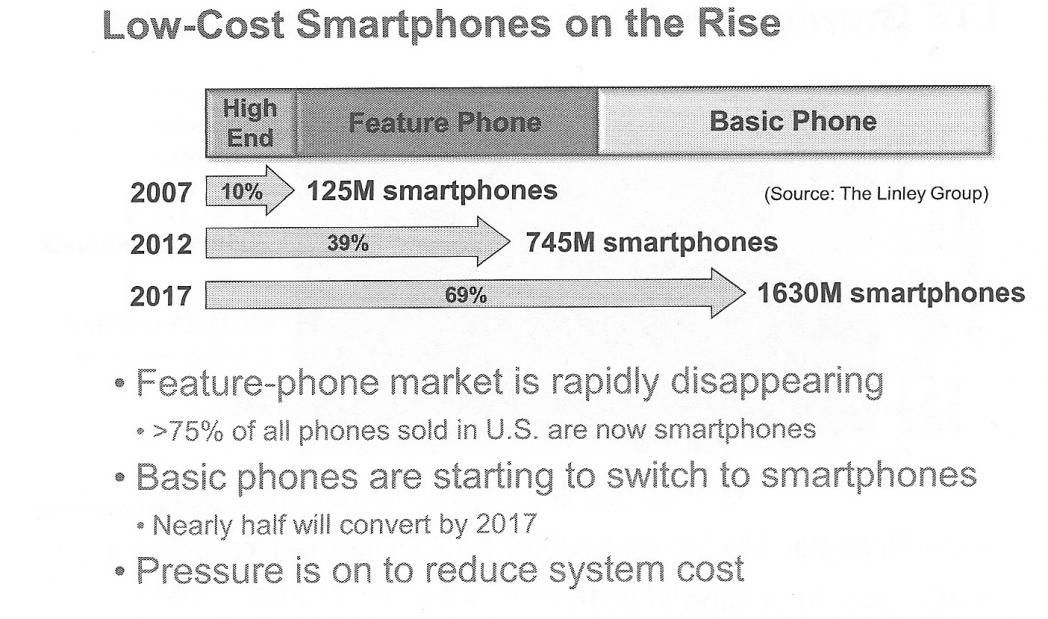 Linley Gwennap started the day with his overview of the whole space. Smartphone forecast is increasing but there is a lot of growth in low-cost (sub $100 BOM) smartphones. By 2017 these will even be cannibalizing basic phones with about half of basic phones switched. So the smartphone market has a sort of "dumbbell" shaped distribution, with the high end (iPhone, Galaxy) part of the market already approaching saturation, and with a lot of future growth at the low end of the market.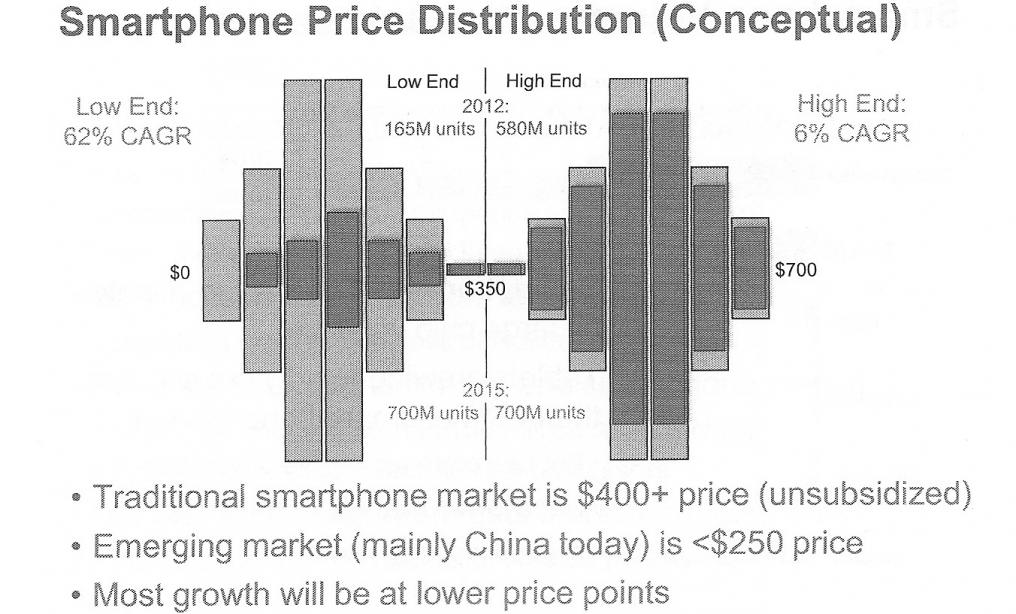 Vendor consolidation is continuing as the standalone application processor (AP) model collapses. Although high end designs like iPhone have a separate application processor, Apple designs it themselves and so they are not a customer for merchant AP chips. The merchant market is almost entirely integrated baseband (BB) and perhaps more (wireless, GPS etc).
TI and Freescale exited the smartphone and tablet markets. ST Ericsson finally collapsed, unable to survive the loss of Nokia to Qualcomm. Mediatek shipped more than 100 million AP+BB chips. Spreadtrum released their first integrated AP+BB. In a break with trend, Intel got some smartphone AP wins (without integrated BB). They have not yet announced any roadmap for AP+BB (which they can do using the Infineon Wireless technology they acquired a few years ago).
The two big winners at present seem to be Qualcomm at the high end, replacing TI (and ST) at Nokia and Marvell at RIM. And at the low end, Mediatek is gaining market share fast.
While the high end top-selling phones like iPhone and Galaxy use a best-of-breed approach, picking and choosing vendors for various components, most others use a single vendor reference design. Obviously this reduces R&D cost for lower-volume models but only vendors with a complete portfolio can offer a complete reference design.
[TABLE] align="left" class="cms_table_grid" style="width: 480px"
|- class="cms_table_grid_tr"
| class="cms_table_grid_td" |
| class="cms_table_grid_td" | AP
| class="cms_table_grid_td" | WCDMA
| class="cms_table_grid_td" | LTE
| class="cms_table_grid_td" | WiFi
| class="cms_table_grid_td" | GPS
| class="cms_table_grid_td" | NFC
|- class="cms_table_grid_tr"
| class="cms_table_grid_td" | Qualcomm
| class="cms_table_grid_td" | Y
| class="cms_table_grid_td" | Y
| class="cms_table_grid_td" | Y
| class="cms_table_grid_td" | Y
| class="cms_table_grid_td" | Y
| class="cms_table_grid_td" | Sampling
|- class="cms_table_grid_tr"
| class="cms_table_grid_td" | Marvell
| class="cms_table_grid_td" | Y
| class="cms_table_grid_td" | Y
| class="cms_table_grid_td" | In Qual
| class="cms_table_grid_td" | Y
| class="cms_table_grid_td" | Y
| class="cms_table_grid_td" | Y
|- class="cms_table_grid_tr"
| class="cms_table_grid_td" | Broadcom
| class="cms_table_grid_td" | Y
| class="cms_table_grid_td" | Y
| class="cms_table_grid_td" | Sampling
| class="cms_table_grid_td" | Y
| class="cms_table_grid_td" | Y
| class="cms_table_grid_td" | Y
|- class="cms_table_grid_tr"
| class="cms_table_grid_td" | Mediatek
| class="cms_table_grid_td" | Y
| class="cms_table_grid_td" | Y
| class="cms_table_grid_td" | Licensed
| class="cms_table_grid_td" | Y
| class="cms_table_grid_td" | Y
| class="cms_table_grid_td" | N
|- class="cms_table_grid_tr"
| class="cms_table_grid_td" | nVidia
| class="cms_table_grid_td" | Y
| class="cms_table_grid_td" | Y
| class="cms_table_grid_td" | AT&T
| class="cms_table_grid_td" | N
| class="cms_table_grid_td" | N
| class="cms_table_grid_td" | N
|- class="cms_table_grid_tr"
| class="cms_table_grid_td" | Intel
| class="cms_table_grid_td" | Y
| class="cms_table_grid_td" | Y
| class="cms_table_grid_td" | Sampling
| class="cms_table_grid_td" | N
| class="cms_table_grid_td" | N
| class="cms_table_grid_td" | N
|-


Share this post via: