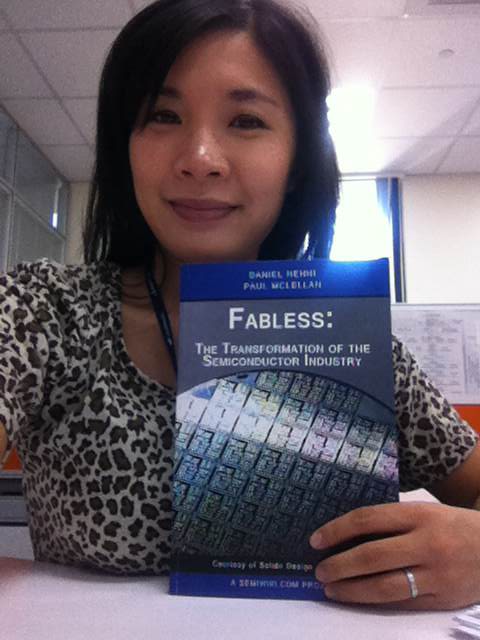 Even though the flight to Taiwan is somewhat difficult, I really do enjoy my trips to Hsinchu. In addition to the top two pure-play foundries being there, one of the top SoC companies (MediaTek) and many of the leading semiconductor design companies are there as well. All are a quick taxi ride from my home away from home, the Hotel Royal.
This trip was with the CEO of Solido Design Automation. Solido even provided copies of "Fabless: The Transformation of the Semiconductor Industry" for the people we had meetings with. If you look closely at the bottom of the book in the picture the black stripe says "Compliments of Solido Design Automation". You probably didn't even notice the book since a beautiful girl is holding it. That is Etta Pincham, one of the best EDA sales people I have had the pleasure to work with.
Traveling the world with the CEOs of emerging technology companies is what I do during the day. I've done this with more than a dozen companies in the last 6 years and let me tell you it is quite an experience. Watching these entrepreneurs present their companies to the foundries and the top fabless semiconductor companies is an education in itself. One of the more interesting things I discovered during this trip is the coming SPICE simulation crisis. I will write about this in more detail later but here is the one paragraph version: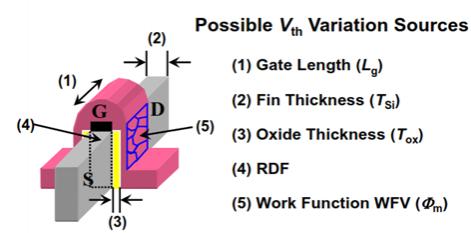 With the acquisitions of Magma (FineSim) and Berkeley Design Automation (AFS), SPICE licenses are more difficult to come by. These acquisitions coupled with the increasing amounts of simulations and longer simulation times required for double patterning and FinFETs mean companies will not be simulating as much as they should. Solido is already one of the beneficiaries of this crisis since their Variation Designer tool dramatically reduces the amount of simulations for memory, standard cell, analog, RF, and custom digital design. If you don't believe me I can point you to solido customers who will tell you the same.
Solido will also be presenting and exhibiting at the TSMC OIP Forum on September 30[SUP]th[/SUP] at the San Jose Convention Center this month if you would like to meet them. Speaking of the TSMC OIP Forum, the detailed agenda is HERE. If you haven't already registered you should do so immediately as this event will definitely fill up if it hasn't already. I hope to see you there. Let me know if you will be there in the comments section and I will bring you a book, compliments of Solido of course.
The TSMC Open Innovation Platform® Ecosystem Forum brings together TSMC's design ecosystem companies and our customers to share real case solutions to today's design challenges. Success stories that illustrate best practice in TSMC's design ecosystem will highlight the event.
More than 90% of last year's attendees last year said that the Forum helped them "better understand TSMC's Open Innovation Platform" and that "they found it effective to hear directly from TSMC OIP member companies."
This year's event will prove equally valuable as you hear directly from TSMC OIP companies about how to leverage their technology to your design challenges!
This year, the forum is a day-long conference kicking-off withTrend-setting addresses and announcements from TSMC executives.
The technical sessions are dedicated 30 selected technical papers from TSMC's EDA, IP, Design Center Alliance and Value Chain Aggregator member companies, and an Ecosystem Pavilion featuring up to 80 member companies showcasing their products and services.
Share this post via: