For those of you who follow the market and play EDA stocks this will be a shocker! Jim Cramer, former Hedge Fund Manager, co-founder of TheStreet.com, and host of the CNBC's Mad Money did a piece last week on Cadence. Apparently he did NOT read my piece on EDA being DEAD: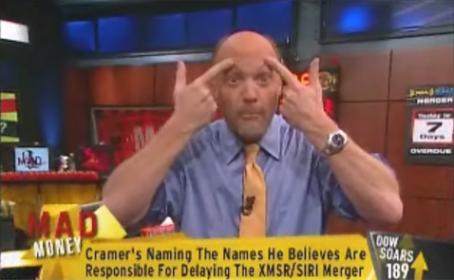 Cramer's Wednesday "Tech Spec" pickswas Cadence Design Systems(CDNS Quote), which he said could follow Taiwan Semiconductor's(TSM Quote) 27% rise since he'd last recommended that stock.
Cramer led off his show with stocks that have been"busted down to private, dishonorably discharged, beaten down stocks from some of the most tarnished companies".

CADENCE!
Cramer said"Cadence doesn't have much competition in its business of making tools that help create smaller, faster microchips."

CADENCE?
Oh Jim, and you started off so well! EDA is one of the most competitive, cut throat industries known to man. In fact it's a flat $4B market due to just that. Magma's proverbial pricing pants are still around their ankles.
Cramer says" its management made big mistakes in 2008, but that's all in the past, and the company has a new chairman and CFO who's been buying shares."

FISTER!
How about mistakes made 2004 through 2008! Good at collecting shoes, bad at running an EDA company, Michael J. Fister.
If you looked at the company's 2008 performance. The exhaustive list of what went wrong would have been enough to scare off even the most daring of stock speculators. Investors would have seen tons of risk and virtually no chance for reward.

CADENCE!
Also, "companies tend to renew contracts with their EDA client of choice 99.9% of the time, so Cadence rarely has to worry about losing clients."

CADENCE?
According to Synopsys and Mentor sales insiders they are picking off Cadence customers like Somalia pirates in a life boat! (Too soon for that?)
What about the bad stuff? Here's one point: This is a $5 stock, and share prices don't drop that low for no reason. Cadence fell from about $17 in early 2008 to $3.66 by year's end. In between, the company's 30.5% 2007 operating margins dropped to –3%, management was fired, the Nasdaq threatened a delisting for failure to file a 10-Q for the September quarter, and an accounting probe caused a delay in SEC filings. Worst of all, Cadence changed some of its own accounting procedures, and that made revenues look lower than they actually were.

CADENCE!

The next logical question then is, why on earth would anyone want to buy this stock? Well, because Cramer sees the beginnings of a turn. Cadence beat Street earnings estimates when it reported on April 29. And while the company is still losing money, execution improvements seem to indicate that next quarter's revenue and operating margins will be up.

CADENCE?
Clearly Jim Cramer does not understand the EDA market but his short term financial analysis is fair at face value. I'm bullish on Cadence but for different reasons. For me there are (5) data points why Cadence will regain its value in the long term:
(1) Lip-Bu Tan, knows finance and EDA, has the golden touch, so confident that he bought CDN stock to augment his options for a total of 551k shares.
(2) Charlie Huang is definitely one of the top 10 executives this industry has ever seen. Charlie also bought CDN shares in December, his total is 344k.
(3) Chi-Ping Hsu , a pioneer of IC physical design (implementation) and customer relationships. Implementation has always been the jewel in the crown of EDA and the primary driver of semiconductor design methodologies.
(4) Jim Hogan, the God Father of EDA, rumor has it Jim Hogan will re-join Cadence. If so, look for some aggressive M&A activities in the near future, offers they can't refuse.
(5) Cadence holds $2.20 of cash and equivalents per share so they have a decent bank roll to work with.
My personal opinion is that Jim Cramer is in fact an "infotainer" and prone to pump and dump groupies, in regards to CDN however he got lucky, for a long term play.
Share this post via: