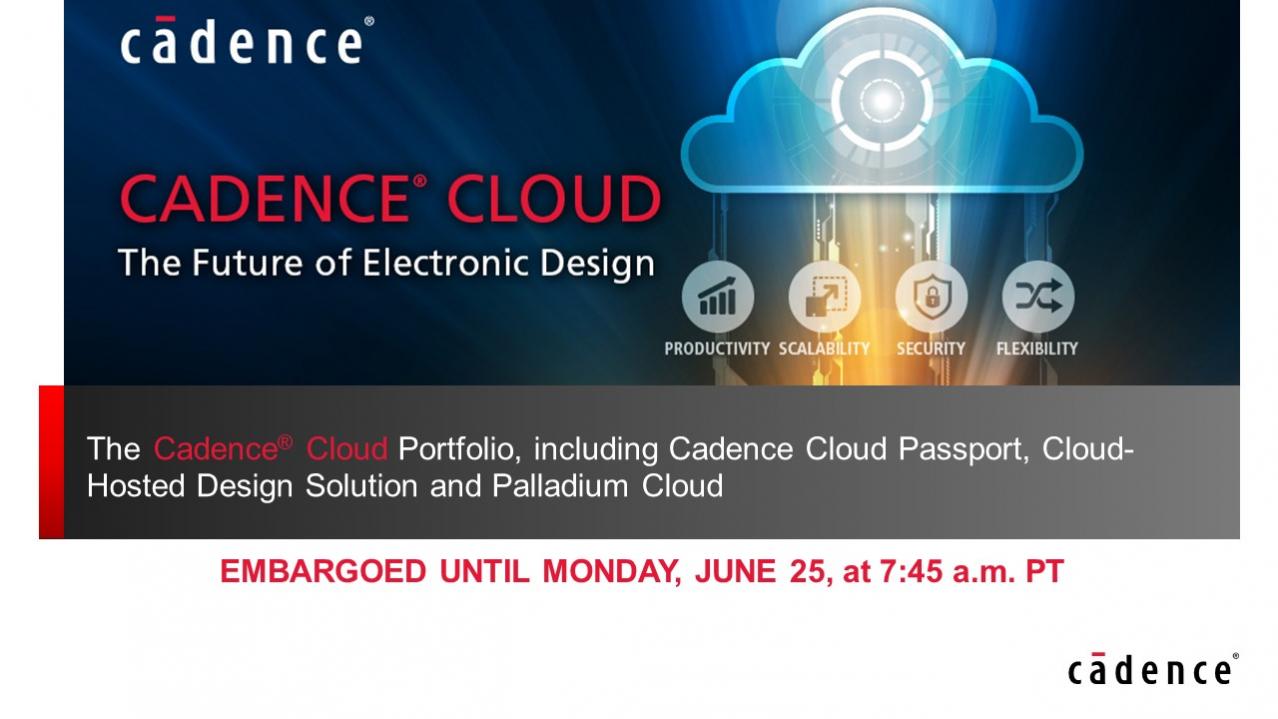 The first clue was cloud vendors (Amazon, Google, IBM, etc…) at 55DAC for the first time ever with lots of cloud content including a Design on Cloud Pavilion. The second clue was the pre-briefing from Cadence last week. There has also been a lot of cloud chatter in the semiconductor ecosystem so yes, I saw this coming and EDA will get even more cloudy in the very near future.
Cadence disclosed that they have been actively working on cloud solutions with customers over the past ten years and felt they are at a point now that security is no longer an issue. Pricing is still a bit cloudy but that will be much easier to address based on specific customer needs.
Example: When I worked for Solido Design we experimented with token based pricing where the customer bought one time-based license and usage tokens. As it turned out it was like feeding a slot machine. Customers bought many more tokens than expected and Solido made much more money than originally forecast, all for the greater good of course!
Bottom line:My bet is that customers will actually spend more on EDA in the cloud and get better designs as a result, absolutely!
"We've delivered the Cadence Cloud portfolio to address the challenges our customers face—the unsustainable peak compute needs created by complex chip designs and exponentially increasing design data," said Dr. Anirudh Devgan, president of Cadence. "By leading this industry shift to the cloud, we're enabling our customers to adopt the cloud quickly and easily and are further executing upon our System Design Enablement vision, which enables our customers to be more productive and get to market faster."
I have a 1:1 with Anirudh at DAC this week so I will talk cloud more with him then. The nice thing about the pre-brief this time were the people on it. Carl Siva is a long time IT guy who is now the VP of IT for Cadence. Honestly, I think this is the first time I have been on a call with an IT executive. Craig Johnson was also on the call, Craig spent the first half of his 20+ year career at Intel and the second half at Cadence. I really liked these guys and got a lot from the call which is not always the case.
Here are the Highlights from the press release:
The Cadence Cloud portfolio includes customer-managed and Cadence-managed cloud environments providing productivity, scalability, security and flexibility benefits that enable engineers to achieve electronic product design goals

Customers establishing and maintaining their own cloud environments can now use the Cadence Cloud Passport, a model that provides easy access to cloud-ready Cadence tools and a cloud-based license server for high reliability

Cadence offers the Cloud Hosted Design Solution, a managed, EDA-optimized cloud environment built on Amazon Web Services or Microsoft Azure that supports customers' peak or entire design environments

Cadence introduces the Palladium Cloud, a fully-managed emulation solution that can be deployed in combination with other Cadence Cloud offerings, freeing customers from installation and operational responsibilities
Cadence also included two white papers and a slide deck. The first white paper "Cadence Cloud—The Future of Electronic Design Automation" is a nice 6 page overview written by Carl:
Design complexity and competitive pressures are driving electronics developers to seek innovative solutions to gain competitive advantage. A key area of investigation is applying the power of the cloud to electronic design automation (EDA) to dramatically boost productivity. Grounded in its long history of providing hosted design solutions (HDS) and internal experience with cloudbased design, Cadence has taken a leadership position in moving EDA to the cloud. Cadence has developed a deep expertise in the requirements and unique challenges of EDA cloud users. That expertise has resulted in Cadence® Cloud, a productive, scalable, secure, and flexible approach to design, and one that embodies the future of EDA.
The second one "Accelerating SoC Time to Market with Cloud-Based Verification" is a 7 page cloud case study written by Michael A. Lucente, Cadence Product Management Director:
This paper discusses the growing use of cloud and hybrid cloud environments among semiconductor design and verification teams. The schedule and efficiency benefits seen by verification teams using cloud are specifically highlighted, due to the considerable compute requirements associated with verification of advanced node SoCs, and the significant impact verification has on the overall SoC project schedule. The readiness of public cloud environments for use in semiconductor design and verification workflows is discussed, along with factors to consider when choosing EDA technology for use in the cloud. Cadence® offerings for selfmanaged and fully managed EDA cloud solutions are also outlined.
As soon as I get the links for the papers I will add them. In the mean time you can request them directly from Cadence. They really are worth the read. An article I wrote was even referenced in the first one which is a nice touch.
Share this post via: