I remember meeting John Durbetaki at Intel where we both worked in 1980, it was an exciting time and something called the Personal Computer had just been introduced by companies like Commodore, Apple and Radio Shack (yes, Radio Shack). IBM was rather late to the party with their PC in 1981, however when IBM entered the market then the business world decided that personal computers could be used for business and even scientific purposes. I bought a Radio Shack TRS-80 home computer, but my Intel friend John Durbetaki bought the IBM PC and soon started coding what would become a PCB schematic capture system called SDT under the company name of OrCAD in 1985. The growth of the PC and OrCAD continued and OrCAD went IPO in 1995, then was acquired by Cadence in 1999. What impresses me most is that Cadence has continued to invest in OrCAD over the years, so to learn more I talked with Kishore Karnane in February and discovered that OrCAD had now jumped from just the desktop into the cloud.
Back in 2017 the OrCAD Capture Cloud tool was introduced as a subset of the desktop version, providing lots of benefits like:
No need to install software on your desktop, instead just use a web browser with an account
Search the Arrow parts catalog
Platform independent design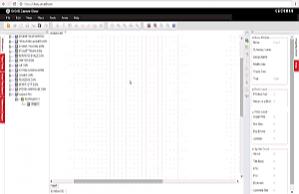 So what's brand new for 2018 is something they've dubbed OrCAD Entrepreneur, and you get lots of useful features for front-end PCB design like:
Schematic capture in the cloud
Arrow parts catalog with some 4,000,000 parts and symbols
Quickly create a BOM
Find out lead times for each component
See if the parts are in stock
All for just $99/year as a time-based license (TBL)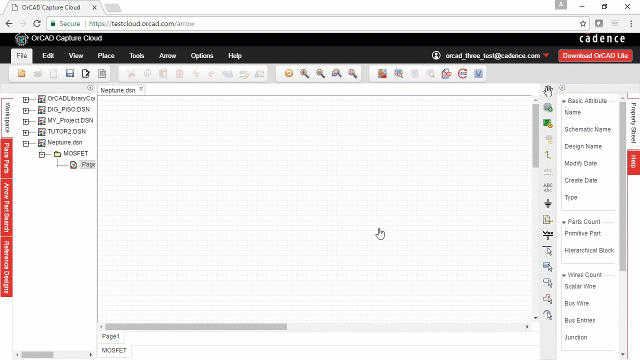 When you browse the Arrow catalog you'll quickly notice that parts not in stock are shown in bright red, so it's a best practice to find another comparable part early in your design process instead of much later when it becomes harder to make changes.
So the Cloud is where you do all of the schematic capture, then when it looks OK it's time to do some simulation on the desktop along with PCB layout on the desktop. In the future you can expect PCB layout in the cloud too, so stay tuned. If you are doing IoT design, then spending just $99/year for schematic capture in the cloud sounds like a bargain, plus it's backed up with the Arrow parts catalog and 12,000+ reference designs that Arrow has assembled so you don't need to start with a blank schematic for your next design.
I was curious, so created a free account at https://orcad.arrow.com/arrow/signin to see what OrCAD Capture Cloud was like, and was pleasantly surprised to see a reference design appear using the venerable 80C51 microprocessor:
I was able to move components around, add components, wire between pins, and get a parts report, pretty slick and simply intuitive. Here's a quick comparison between OrCAD Capture Cloud (free) and the new OrCAD Entrepreneur ($99/year):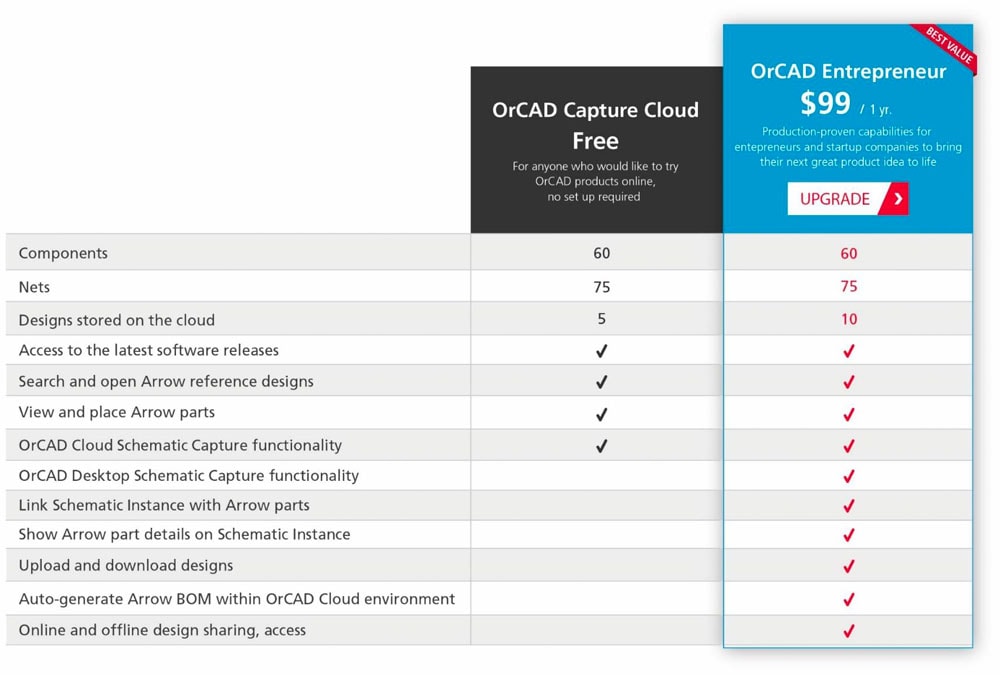 So when you choose Cadence tools like OrCAD Entrepreneur you can scale up to using OrCAD on the desktop, or even Allegro for the most sophisticated PCB layout, Analog Mixed signal simulation, signal integrity analysis, or even FPGA design. You can even ask for some expert advise by hiring Arrow for consulting on design services, another way to reduce risk for a new product introduction. The free version of OrCAD Cloud already has 7,000 users, so you can expect a lot of those engineers and students will be upgrading to the OrCAD Entrepreneur version soon.
You can read the original press release about OrCAD Entrepreneur from January 29, 2018 here online.
Summary
If you're doing system-level design or IoT design and want to start working in the cloud to save time, effort and money, then consider checking out what Arrow Electronics and Cadence have done with the new OrCAD Entrepreneur approach that uses the convenience of the cloud at just $99/year.

Related Articles
Share this post via: