At the early days of Semiwiki (March 2011), I wrote about ThunderBolt, predicting low market adoption of the protocol, for various reasons. One of these reasons was the cost associated with ThunderBolt integration by the OEM. Even if the protocol (associating PCI Express and DisplayPort) was offering better data bandwidth than competitors, the over-cost was too high. Why the cost of ownership was prohibitive? Because an OEM could not just buy an IP and integrate it into an application processor but had instead to buy a ThunderBolt IC to a chip maker who had licensed the technology. This strategy (and probably other factors) has killed ThunderBolt adoption on a wide scale.
Let's have a look at a 20 years old success story (still going on), the massive, ubiquitous pervasion of USB protocol. USB has been with Ethernet at the source of the so-called Interface IP market (weighting $500 million in 2015). The recent launch of USB Type C could illustrate the Italian proverb: "Chi va piano va sano, chi va sano va lantano"… Between 1995 and 2015, the bandwidth delivered by USB has moved from 12 Mbps to 10 Gbps!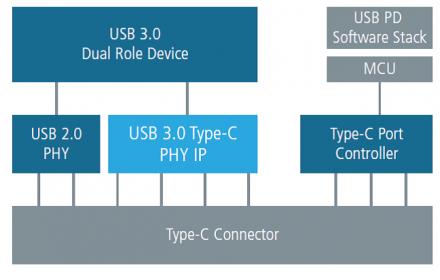 As any interface layered protocol, USB is made of a digital part (Controller) and a mixed-signal physical function (PHY), both interfacing by the means of the PHY Interface for PCI Express (PIPE) function in this case. The new Type-C connector is defined to support USB 2.0, USB 3.0, USB 3.1 or a combination of two. In the above example, Type-C supports USB 3.0 compliant protocol, backward compatible with USB 2.0, so the integration of the two PHY. But the revolution is with Type-C new capabilities, one being the connector-agnostic capability: everybody has once failed plugging USB connector right the first time and turns it to finally succeed…
The power delivery is specified up to 100W on a Type-C external connector, such a feature should be highly appreciated in the mobile application world as it's going with scalable power charging, which means that power consumption may dynamically change depending on the application's needs. USB Type-C complete features list
Reversible plugs with two-way insertion; the host and device connectors are the same
Higher data rates, up to 10Gbps for USB Type-C 3.1 Gen2
Increased power, up to 100W through support for the USB Power Delivery 2.0 specification
Bi-directionality, so that devices can provide and consume power
Scalable power charging
Capitalizing on this USB Type-C revolution, Cadence has developed an IP subsystem going further, offering the industry's first IP subsystem with pre-verified components including a single-chip port controller IP that integrates USB Type-C™, USB Power Delivery and DisplayPort™ Alternate Mode (Alt Mode). The IP subsystem architecture clearly shows the IP organization, including Tensilica Xtensa CPU to offload USB Type-C Port Controller:
The integration of the IP as a single-chip solution is important for mobile and cost-sensitive consumer devices where a single connector, lower bill of materials (BOM) costs and reduced board size can provide significant competitive advantages. The complete IP subsystem includes:
USB 3.0 xHCI Host and Device certified controller IP, which can be combined into a Dual Role Device Controller
USB Type-C Port controller (TCPC) IP
DisplayPort 1.2a Transmitter (Tx) controller IP
Embedded Tensilica® Xtensa® CPU
Multi-protocol USB 3.0 and DisplayPort 1.2a PHY IP for 28nm
USB 2.0 certified PHY IP for 28nm
Drivers for embedded systems and Linux OS
In consumer market, integrating a connector has always been a burden. I still remember this mature guy telling me (in 1990) about his first experience as marketing engineer in charge of Philips Razor, the rule was "no connector", and the main reason was cost!
The rule is obviously false for mobile products developed today for the consumer market, but if you look a smartphone, the space available on product edges is limited, adding a connector will always increase overall cost. USB Type-C connector will soon become ubiquitous and combining audio, video, USB data and USB Power Delivery, will enhance the USB functionality, and provide a very cost effective solution.
Just remember ThunderBolt, the idea was good, but wide market adoption has failed, and the main reason was prohibitive cost (inducing low number of available peripherals), as well as the ban of IP sourcing has prevented integration and de-facto lowering the overall cost. USB Type-C connector adoption will help escaping these issues and products like this IP subsystem from Cadence will provide similar performance… at a fraction of ThunderBolt cost.
By Eric Esteve from IPNEST

More articles from Eric…
Share this post via: