If you think that the sound atmosphere created by Dolby or Surround–sound audio is the best you can achieve today by using complexes algorithms on DSP, like I thought before knowing about "Object-Based Audio", you must read these lines! In fact Surround-sound Audio is limited by the number of speakers installed in a room, or a car, and the number of available channels. With Object-Based Audio, the sounds can be moved around the listening space regardless of the number of speakers. Just take a look at the picture, the numerous grey dots represent the perceived sound sources. Such a technique is already magic if the listening space is a room. Imagine your perception of the sounds when Object-Based Audio will be installed in an automobile, a listening space where adding speakers is quickly limited by some obvious factors…
Object-Based Audio sounds magic, but I will unveil the trick. The trick's name is HiFi 4, the latest DSP core from Tensilica/Cadence. As you need high performance for such emerging audio, this HiFi 4 DSP support four 32×32-bit MAC per cycle with 72-bit accumulators then a single HiFi 4 DSP IP core can replace multiple DSPs, for example in high-end DTV and STB applications. With Object-Based Audio, control and signal processing loads have significantly increased, and HiFi 4 has been specifically tailored to make sure that a single DSP IP will support these extra loads, including an optional vector floating point unit.
It was not by chance if Cadence has grown DSP IP revenue from $6M in 2012 to more than $48M in 2013, allowing the IP vendor to be ranked #1 in this segment by Garner. Cadence claims counting more than 65 licensees to date, for the HiFi Audio DSP IP only, not integrating Tensilica Dataplane product. You can find HiFi Audio DSP IP integrated into Mobile Phones, Consumer Electronics, PC and Tablets, STB, Blu-ray Disc, AVRs and Automotive Entertainment. If you take a look at the various logos printed below, you can see that HiFi DSP is popular with Tier 1 semiconductor companies like Intel, Samsung, ST, NXP, Renesas, Fujitsu or Dialog and also with many system companies like Huawei, Wolfson or LG, to name a few.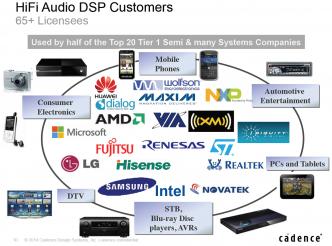 The first and large application field for DSP has been the baseband for mobile phone since 2000, allowing the chip makers to familiarize with the DSP IP core concept and integration (before 2000, the semiconductor companies targeting wireless market tend to use their own DSP, think about Motorola or Texas Instruments). But a DSP can be used to support much more than convolutional coding or Viterbi algorithms! Audio has been a long time (almost) captive market for Motorola, thanks to their 24-bit DSP standard products. This explains why the first HiFi and HiFi 2 introduced by Tensilica at the beginning of the 2000's were integrating 24-bit Dual MAC: potential customers using Motorola DSP would accept to move to a DSP IP solution, but only if they could stay with the familiar 24-bit DSP architecture, and reuse the S/W base.
At the end of the 2000's, Tensilica has introduced the first 32-bit architecture (still with a 24-bit dual MAC), allowing a better pre and post processing, but the next product was based on a dual 32-bit architecture. Audio applications were developing fast and the most the performance improved, the more attractive could be the audio solutions. You can easily draw a parallel with Video, HiFi 3 was launched at the same time than 2K video, and we could say that HiFi 4 represents a performance jump equivalent to the move from 2K Video to 4K. The difference is that the HiFi 4 DSP can support a revolutionary audio concept, Object-Based Audio, and the DSP ecosystem includes more than 140 software packages compatible across all the Hi Fi cores.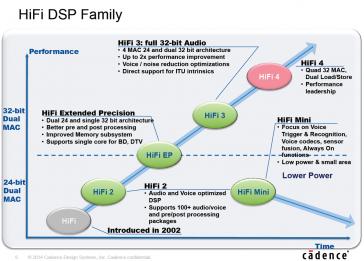 If we want to synthesize Cadence/Tensilica HiFi DSP IP family offer, we could say that the HiFi 3 target markets are Mobile, Home Entertainment and Automotive, when HiFi 4 is more dedicated to Home Entertainment and Automotive high end applications, like Object-Based Audio. In fact for Mobile applications the balance between power and performance would push to use HiFi 3. Just like implementing 4K video resolution on a smartphone does not really make sense (except maybe as a pure marketing argument!). Interesting to notice, the HiFi Mini is specially tailored to support Voice Trigger & Recognition, sensor fusion, Always-on functions… sounds like this is the right DSP IP product to support IoT, exhibiting the lowest power of the WiFi family.
By Eric Esteve from IPNEST
Share this post via: