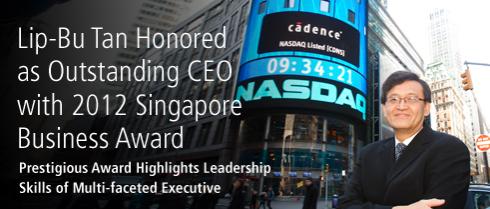 Lip-Bu Tan, the CEO of Cadence, has been named by the Singapore Business Awards as Outstanding CEO (overseas) last week. These awards were launched in 1985 by the Business Times and DHL, so this year is the 27th year of the award, created to recognize business leaders in Singapore and abroad.
As it happens, Cadence flew me first class to Singapore and put me up in the top hotel in town to cover this event…I wish. But as it happens I am indeed in Singapore but under my own steam.
I don't know Lip-Bu's history personally, but he has an undergraduate degree from Nanyang University in Singapore and then an MS in Nuclear Engineering from MIT and an MBA from USF. So I guess like so many people he came to the US to do his master's degree and, whatever plans he might have had, he ended up staying here (I came to the US in 1982 for "a couple of years" with the plan to then return to Britain. Doesn't seem to have worked out that way).
Singapore is an interesting country. Of course as a small city state it is comparatively easy to govern but it has many of the problems of larger countries: it is muticultural, with large Chinese, Malaysian and Indian populations. But nevertheless it has gone from having sub-Saharan African levels of per-capita GDP to be in the top ranks ahead of many European countries. It is generally regarded as having one of the best civil services in the world, and they famously encourage really bright people to join by paying some people 7 figure salaries at the highest ranks.
I think Li-Bu has done a good job under very difficult circumstances taking over Cadence after the Intel team blew it up, and getting it back to health. So I don't want to take anything away from him by wondering how many Singapore expatriates are running overseas companies. Again, Singapore is a small country (5M people) and so it is not surprising that when you think of CEOs in the US who came from overseas there are lots of Indians and Chinese (which are both over a billion people so encompass between them nearly 1/3 of the world).
And surprisingly, Switzerland, at nearly 8M people another small country not noted for the large number over overseas CEOs, nonetheless was the origin of Aart de Geus, the CEO of Synopsys.
As I like to point out, I genuinely believe that one of the US's biggest advantages, one no other country can match and one that currently our politicians are doing as much as they can to squander, is the ability to take the best and brightest from all over the world and have them work effectively and together in ways that never happen elsewhere (the last company I worked full-time for was founded by an Israeli with an Iranian CTO, try doing that in any other country).

Share this post via: