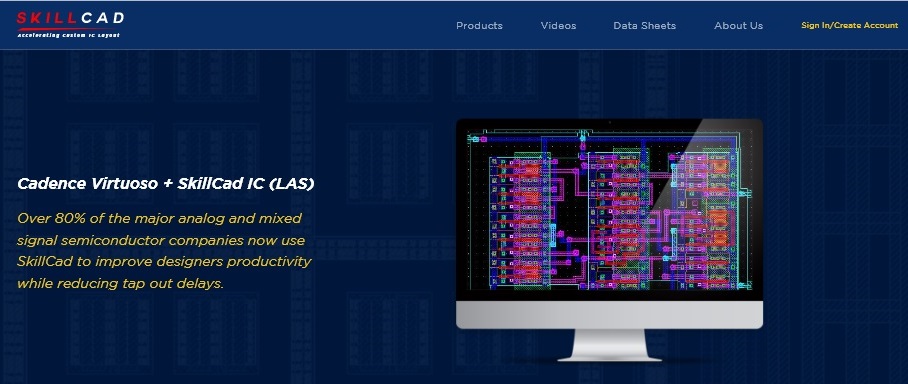 Despite the large role of place and route in IC design, there will always be a need for custom layout design. This is particularly true in radio frequency (RF), power management (PM) and power amplifier (PA) circuits, among others. Cadence Virtuoso is by far the leading tool for creating these custom designs. Virtuoso has a sophisticated data model that includes connectivity and wide range of objects for use in advanced design layout. Yet, creating many design elements in Virtuoso can become extremely repetitive, increasing the time required and the likelihood of error. SkillCad is a provider of tools written in SKILL to make creating custom designs faster and more reliably. Their developers, who are experts in layout design and SKILL language coding, have been working with custom design teams at leading IC companies for many years to refine new commands for custom layout.
WEBINAR: Increase Your Layout Team's Productivity with SkillCAD
The nice thing about  SkillCAD  is their product IC (LAS) runs seamlessly within the  Virtuoso environment.   The layout produced is completely compatible with all the built in Virtuoso commands. This means user never have to leave Virtuoso environment to use SkillCAD commands, the layout created by SkillCAD tools can be edited like any other layout data generated by Virtuoso. With over 120 commands not offered by Virtuoso,  SkillCAD address many specific design styles and common tasks that designers must perform. 
SkillCAD can also be easily integrated into a layout teams design methodology.  Whatever layout design approach is used, bottom-up, top-down, or any combination of approaches, the power and versatility of the SkillCAD tools will significantly shorten layout cycle times.
The powerful pin placement and modifying tools can take the placement of hundreds of pins, from hours to a matter of a few minutes.
The many metal routing and bus routing tools make routing and editing metal routes, easy and efficient. Running wide power and ground metals and creating mesh ground metal planes with the slotted metal tools, is as easy as routing a single metal wire.
The dummy fill and density checking tools, make generating matched dummy metals over critical circuit areas and quickly checking density percentages in circuit blocks, as easy as specifying the layers and identifying a circuit region.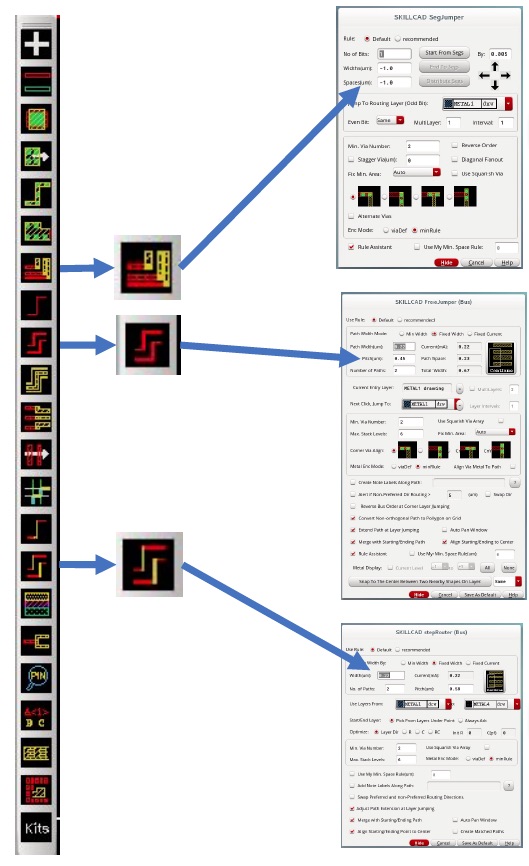 In addition to these commonly used tools, SkillCAD also provides powerful tools for generating and editing guard rings around devices, circuit elements, and even entire circuit blocks.  There are tools for generating shielding around sensitive metal signals, and even creating the complex twisted metal structures, with shielding, that are common for sensitive RF (Radio Frequency) transmission lines.  SkillCAD also includes tools for measuring circuit data, comparison viewing of old versus new circuit data, viewing cross sections of MOS devices, and many other tools not mentioned here.
Cadence provides the base tools and the design framework.  SkillCAD provides the versatility, ease of use, and automation.  Together Cadence plus SkillCAD provides a powerful, versatile, and easy to use design environment for custom Integrated Circuit layout. More information is available on the SkillCAD website.
Also Read:
SkillCAD Layout Automation Suite has Over 120 Commands Backed by 60 Customers
CEO Interview: Pengwei Qian of SkillCAD
Webinar: A Practical Approach to FinFET Layout Automation That Really Works
Share this post via: