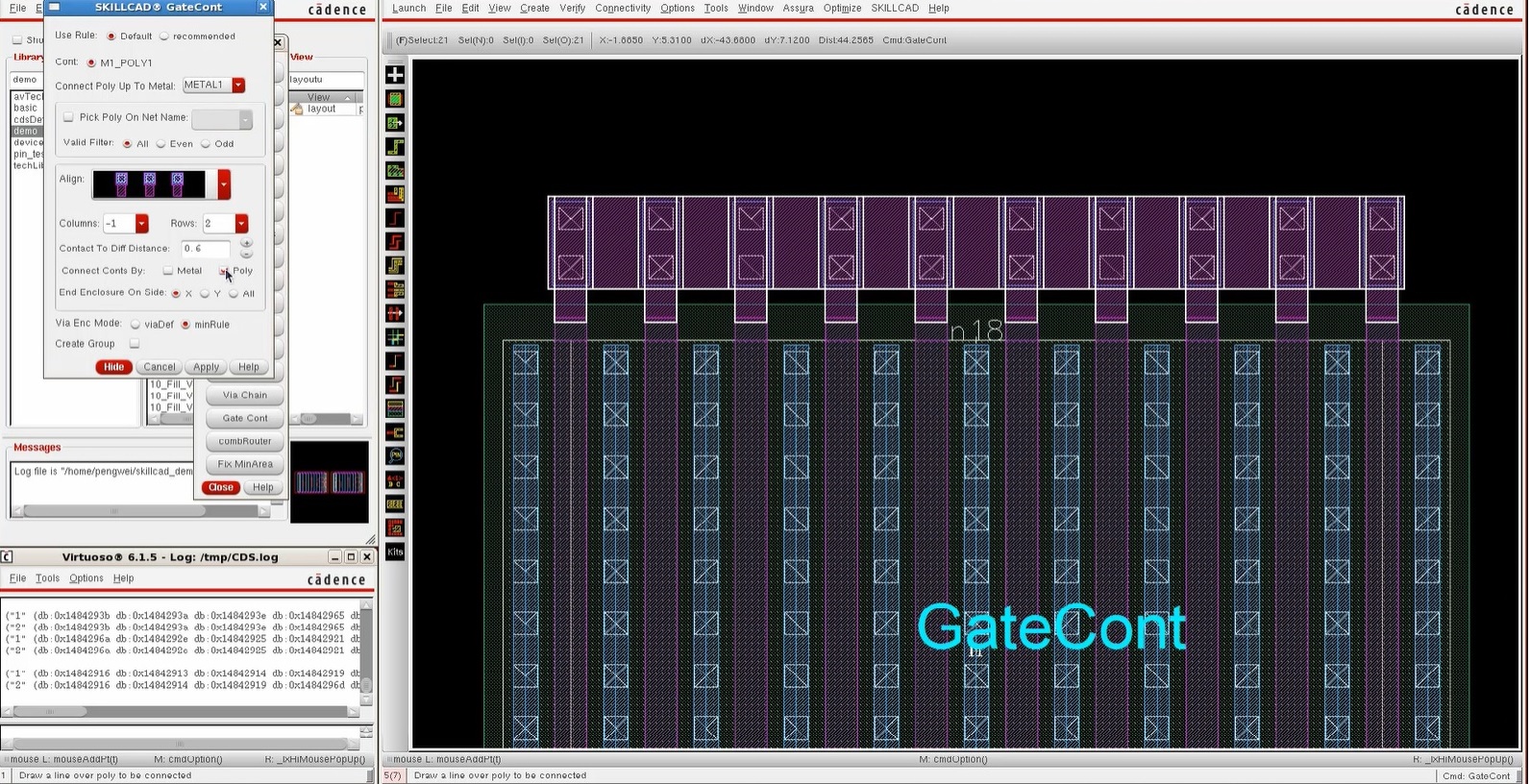 Cadence Virtuoso is by far the most popular layout tool for IC design. This is especially true at advanced process nodes. In my opinion one of the key reasons for this is its built-in extension language, SKILL. SKILL is a powerful tool to add time saving and customized functionality to the Virtuoso layout editor. For analog and custom design the command features developed in SKILL can really enhance the layout editing experience.
There is a long history and even a precedent for including an extension language in layout editors. Calma's GDSI and GDSII each had built in languages going back to the late 1970's. Back then, as is still the case, parts of the vendor's own product offering were developed in the editor's extension language. However, customers widely use extension language development to add a competitive edge to their layout environment.
In the early days of layout editing software, chip companies themselves developed their own layout editors and other EDA software. As time went on this shifted to the point where chip companies pretty much all now buy commercial software instead of developing it on their own. The same, it seems, is the  case for SKILL code to enhance layout editing features. Many chip companies used internally developed customized SKILL code. However,  as each new process was adopted   it became cost prohibited to both develop and support these layout extensions written in SKILL. Chip companies then began to buy commercial software packages written in SKILL to enhance their flows. This  lead to significant cost savings as these tools  leverages the SKILL commands developed  and tested  in conjunctions with foundries and the top semiconductor customers around the world.  In a nutshell, that is the SkillCAD advantage.
SkillCad develops SKILL code to improve layout design efficiency based on their customers' design requirements. Because they have a single focus, they can produce SKILL code that can make many of the design tasks required in analog, RF and custom design easy and fast for designers. Advanced node design often call for complex structures, such as shielding, twisted lines or matched wires to minimize signal integrity issues. At the same time, there are a myriad of design rules that have to be followed when creating custom layout. SkillCad's products can create these complex constrained structures rapidly and easily while ensuring they are correct by design.
Their Layout Automation Suite (LAS) has over 120 commands that help with the following operations:
array manipulation, bus routing, calculation and measurement, connecting metal to devices, density checks, device placement, dummy fill, labels, layer handling, metal path and path segments, metal coloring, multi-part path and guard rings, nets, pins, shape handling, slotted metal, track routing, vias, and viewing.
One subset of their commands deals with managing the layout environment to make it easier to use. Setting layer viewing colors and visibility can be tiresome when done manually. SkillCad LAS offers a rich set of commands to control these and other settings.
The SkillCad LAS commands for bus routing, array handling and connecting metal to devices speed up what are usually repetitive and slow tasks. Even just turning a bus structure 90 degrees can become a complex error prone operation if done manually. SkillCad offers a comprehensive set of connectivity driven commands for manipulating buses and connecting to instance pins. There are specific features for inductor design. These include via fill operations, guard ring generation, smart shape editing functions, etc. Last but not least, several command groups address requirements for 20nm and below, such as dummy fill and density checks, routing tracks and color-aware routing. In all there are over 120 commands that have been developed over the last 12 years in close consultation with analog, custom and RF design teams at leading chip companies.
SkillCad has put together user guides  that shows tutorials and how to use videos for every command in LAS. It is clear from watching it that due to their large customer base and disciplined development that LAS is optimized to offer complex functionality with an easy to use interface. The commands appear to work seamlessly in the Virtuoso environment,   the videos shows the commands going through their paces. More information and the video can be found on the SkillCad website. www.skillcad.com
Also Read:
CEO Interview: Pengwei Qian of SkillCAD
Webinar: A Practical Approach to FinFET Layout Automation That Really Works
WEBINAR: SkillCAD now supports advanced nodes!
Share this post via: