At the Jasper Users' Group meeting, Kathryn presented the state of Jasper. The numbers are impressive. The company has grown at a CAGR of over 35% since 2007, which is 6 times faster than EDA as a whole. They have been profitable at 15-20% EBITDA for 14 consecutive quarters.


Jasper is focused on engaging deeply with a small number of customers who are committed to proliferating formal approaches (as opposed to selling a couple of licenses to everyone). This shows up in some other metrics. Since 2010, while revenue has grown at a CAGR of 35%, the number of customer logos has only grown at 11%, the number of users has grown at 79% and the number of licenses has grown 129% (and that is a CAGR, so the number of licenses in use has gone up by something like a factor of 10 since 2010). So basically customers are spending more each year and spreading formal methods across their companies. The price per license is going down with volume, so customers are getting huge value.
The growth in the size of designs that formal approaches can cope with has been growing faster than Moore's law with a CAGR of over 100% compares to Moore's Law which is around 40%. As a result of this, plus having seen something similar before when she was at Verisity, Kathryn concludes that: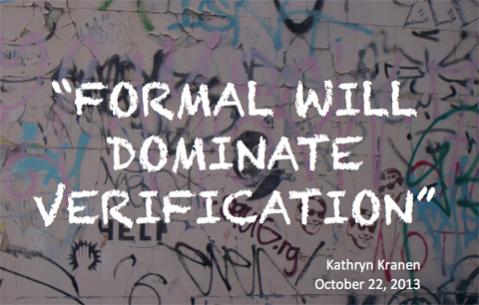 What makes her so sure?
a scalable technical strategy has been reached
market acceptance has reached critical mass
ROI is understood and clear
areas of applicability continue to expand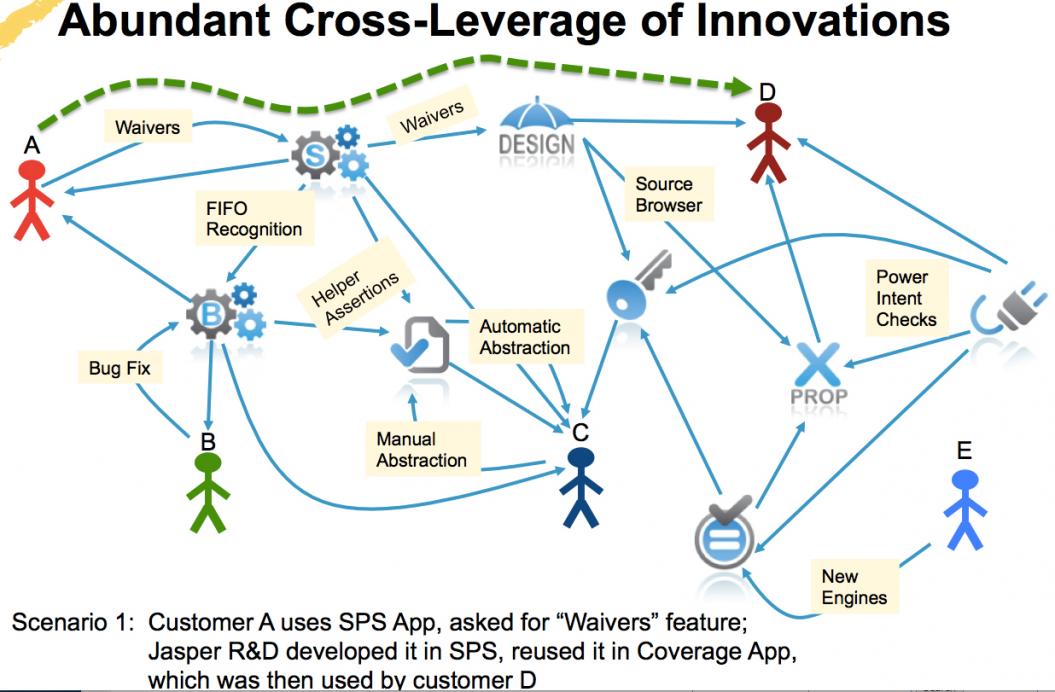 Jasper themselves have also reached a sort of critical mass, whereby they have enough customers doing enough different types of design, that they can leverage requests from one customer into more generally applicable apps that can be used by everyone. This is Jasper's Open Innovation Framework. This name comes from a book by Henry Chesborogh. The core principle is:



JasperGold's underlying architecture enables experimentation, exploration, customization and feedback. Analolgous to agile software development, this allows rapid delivery of partial solutions.
JasperGold's architecture:
has multiple representations of the design netlist within a single database
operations stack to allow reversible actions
full programmmable API that exposes transformations and traversals at multiple levels
direct connection of waveform view to the engines and the design representation (Visualize)
engine collaboration and multi-tasking through ProofGrid
Apps architecture to encapsulate methodologies for specific solutions.
We are not there yet, of course. But at some point in the future, formal will be the default choice for every verification task in the way that simulation/emulation is today. The tool will have the capability to selectively apply the right heuristics for each situation. As a result, engineering productivity will skyrocket.

More Articles by Paul McLellan…
Share this post via: