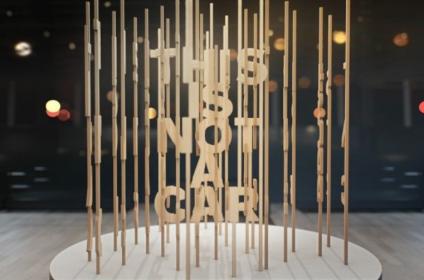 Sweden has embraced the movement toward a cashless society with banks no longer taking cash deposits and retailers, like Ikea, experimenting with cashlessness. Perhaps taking a cue from the Swedish financial sector, Volvo Cars last week revealed its plans for a car-less stand at this week's L.A. Auto Show – and the co-located AutomobilityLA.
Volvo's announcement shines a light on Swedish thought leadership at a time when competing car companies babble incoherently about so-called "mobility." The car-less stance is in keeping with Volvo's visionary past which emphasized safety before it was sexy and years-ago gave a yet-unmatched promise to accept crash liability once autonomous driving is achieved.
From General Motors to Ford Motor Company to Toyota and Volkswagen, auto CEOs struggle to redefine their missions in an industry on the cusp of massive disruption. Simultaneously, politicians are at war with cars, car owners and car makers around the world (water cannons and tear gas in Paris this past weekend along over higher fuel taxes) putting pressure on car makers to pave the path to peace.
For Volvo, that path means exploring alternatives to vehicle ownership along with developing creative ways of using cars. "We are trying to shift our focus from doing what we have done for the last 90 years," Volvo Senior Vice President of Corporate Strategy Marten Levenstam, purported mastermind behind the Volvo exhibit, told Automotive News.
The Automotive News reported that Volvo will use its display area for interactive demonstrations of connectivity services, such as in-car delivery, its vision for autonomous driving and its Care by Volvo vehicle subscription service. The stand will also show Volvo's plans for car sharing.
Volvo's CEO, Hakan Samuelsen, added that the company wants to move beyond simply building and selling cars. In its quest for redefinition, Volvo has partnered with Amazon, Google, Nvidia, Luminar and Zenuity.
It is difficult to overstate the significance of Volvo's move coming at the L.A. Auto Show. At a time when car companies are reconsidering their participation in car shows in Paris, Frankfurt, Geneva and elsewhere, the U.S. continues to host half a dozen prominent car shows including Detroit, Los Angeles, New York, Chicago and Washington. The Los Angeles and Detroit events are the largest and most popular and those cities each have a unique relationship with cars.
Detroit, Motown, is seen as the epicenter and birthplace of the North American automotive industry with General Motors' headquarters located downtown and Ford and FCA based in the suburbs. L.A., on the other hand, is the ultimate embodiment of North American automotive culture blending Hollywood, and hundreds of miles of freeways and ocean-front beaches.
Detroit and L.A. also share a tortured relationship with public transportation. L.A., at least, has the benefit of mass transit including rail running above and below ground to go along with an extensive bus transit system. Detroit has little or no mass transit for stitching together the city with surrounding suburbs. In fact, Detroit crashed out of contention for Amazon's HQ2 sweepstakes thanks in large part to its lack of mass transit infrastructure.
General Motors bears more than a little of the blame for having cutoff Detroit's transit oxygen. Now, would be a good time for the General to reverse course especially in the context of the current "mobility" push.
The birthplace of the car in North America, faces the prospect of becoming an automotive cemetery due to the city and the State of Michigan's inability to craft an attractive transit program better integrating the city with the suburbs. In spite of GM's prominent downtown location, it is Dan Gilbert, CEO of Quicken Loans, also headquartered downtown, who has taken a leadership role in fostering the fledgling Qline trolley limping along Woodward Avenue.
Disruptive times demand bold moves. Volvo may not have all the answers, but the company is making a statement in L.A. that the time has come to think differently about cars and transportation. (Even Tesla Motors CEO Elon Musk has taken on the transit challenge with his Hyperloop and Boring Company initiatives.)
It is clear that no single company, in fact no company, has the answers today. But the challenge of moving people into and around cities and suburbs in the safest, cleanest and most efficient manner possible is the goal. It may require cars or it may require something entirely different. Volvo is pointing the way to new possibilities. Car companies need to get into the game.
Share this post via: