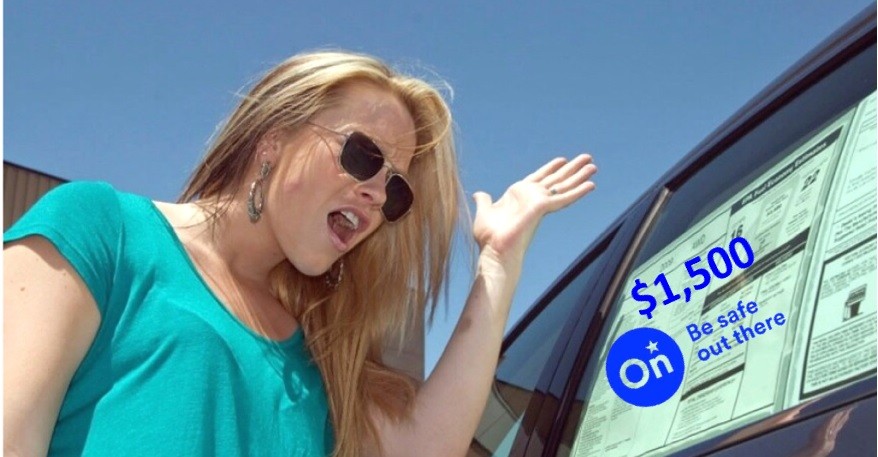 How does a General Motors executive react when they get a transfer to work at OnStar? "What am I going to tell my partner?"
Twenty-six years after its founding, OnStar remains an appendage to GM – a team set apart from the heart and soul of the larger company. Team members assert that the group is profitable, thanks to millions of GM subscribers, but it has less control over its destiny as hardware responsibilities were removed years ago.
Though profitable, the group's revenue is not sufficiently material to GM's results to merit a mention on earnings calls. Not a one. Sure, Cruise may be burning $550M a quarter gumming up traffic in San Francisco, but a profitable OnStar? Ghosted.
The "otherness" of the OnStar organization was made apparent during GM's journey through chapter 11 bankruptcy after the "great recession." As the company looked to potentially sell assets the one division that attracted avid attention was, in fact, OnStar – with Verizon being one of the potentially interested buyers.
OnStar is one of the most powerful brands – globally – in the connected car space and, yet, its parent company continues to hold the group at arm's length. A service that should long ago have become synonymous with GM and a brand defining gem somehow retains the status of an albatross.
The latest evidence of this is rife in recent announcements. OnStar announced a new "cleaner" logo – whatever that means – and is venturing beyond cars to offer safety and security services to pedestrians, hikers, and motorcyclists while offering in-home services via Alexa.
Meanwhile, news arrives this week that GM is making OnStar a non-optional $1,500 three-year subscription on Buick and GMC vehicles. According to the GM Authority newsletter, "the automaker will equip all new 2022 and 2023 model year Buick and GMC vehicles with a three-year OnStar and Connected Services Plan. The plans cost between $905 and $1,675, depending on the chosen trim level."
The newsletter indicates that the cost is to be included in the vehicles' MSRP "however the online configurator tools for the Buick and GMC brands suggest these charges are added on top of the MSRP, for the time being," The services include remote keyfob, Wi-Fi data,, and OnStar safety services.
Making OnStar a non-optional option sends some powerful and unfortunate marketing messages to the car-buying public including:
A)    GM is removing the power of choice from your connected car decision-making.
The news is a sad echo of GM's announcement in 2011 under then-OnStar president Linda Marshall that the company would reserve the right to compile and sell information about drivers' habits even after users discontinue the service – unless a user explicitly opts out. The announcement led to Congressional calls for an investigation by the Federal Trade Commission and likely contributed to Marshall's early exit from her leadership role at OnStar in the following year.
B)    GM has failed to find a sufficiently compelling application or combination of applications to drive OnStar adoption organically.
In the early days of OnStar, before smartphones, the fear factor was a powerful motivator for selling the service to consumers. If you're OnStar-equipped GM vehicle was involved in a crash, OnStar would automatically summon assistance. It is a capability that was ultimately mandated in Europe as so-called eCall in all cars.
In a post-smartphone world, the average driver doesn't think they are going to be involved in a crash and, even if they are, they are convinced they'll be able to call for assistance on their own – provided they are conscious. OnStar has tried to enhance this automated crash functionality with built-in Wi-Fi services and, more recently, access to Alexa. But the enhancements are insufficiently compelling.
C)    The built-in connection in the car is some sort of add-on device that must be paid for separately.
It is no mystery that building connectivity into cars is an expensive business. The hardware and software is expensive and the back-end secure network operating center is a further source of cost and liability. To that can be added the dedicated call center and, of course, the wireless service itself.
The reality is that no one can buy a new car in the U.S. today – or Europe or China, for that matter – that isn't equipped with a wireless connection. Wireless connectivity is a comes-with proposition in the auto industry today. Some amount of cost for the hardware, software, service, and infrastructure has to be built into every car. GM is the first auto maker brazenly putting a price to it and shoving it in the customer's face. It's not a promising strategy.
The value proposition of the in-car connection long ago shifted from the customer to the car maker and the dealer. Auto makers stand to benefit mightily from being connected to their cars and their customers. Auto makers should never give consumers any reason to think twice about the connectivity devices in their cars.
Via connectivity, car companies can anticipate vehicle maintenance issues and possibly prevent failures; they can respond to crashes and breakdowns in a timely manner; and maybe they can more readily identify and remedy vehicles with outstanding recalls. Car makers are entitled to compensation for providing vehicle-centric cell service and the vast majority of consumers are willing to pay.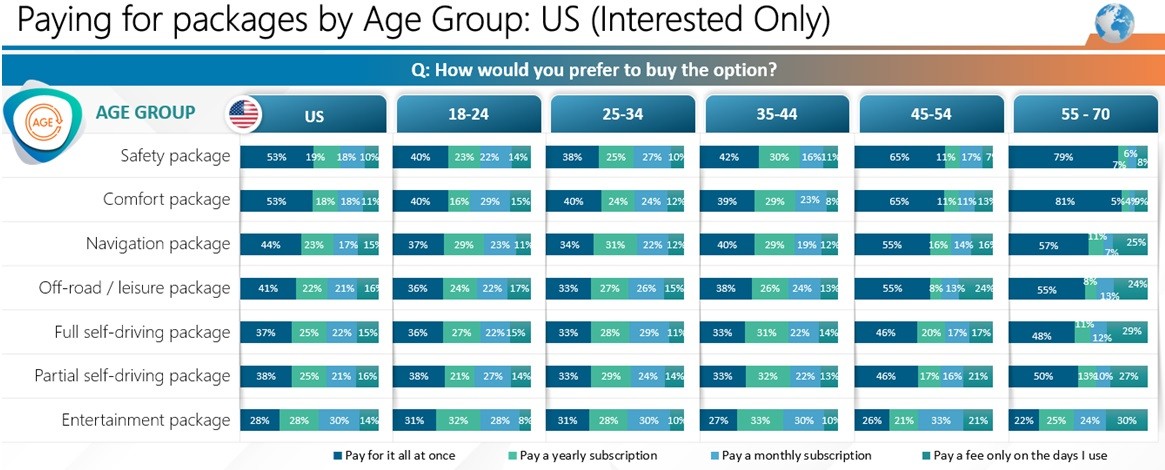 SOURCE: Strategy Analytics consumer survey results from upcoming report.
Soon to be published Strategy Analytics research shows a strong inclination among cosumers to pay for service packages associated with their cars. In fact, a majority of those consumers across a range of demographics and regions are willing to pay upfront. But not all.
GM's announcement is an inelegant approach to solving a problem facing the entire industry. Simply put, car companies can no longer afford to sell cars for a one-time price and be done. Cars must be connected. Software must be protected and updated. A long-term subscription-centric strategy is unavoidable.
GM is putting all the onus for subscription collection on OnStar which is more or less walled off from the rest of GM. OnStar is not intimately integrated into the customer-dealer relationship and the latest initiatives from OnStar – focused on extra-vehicular use cases – suggest further straying from a focus on connected cars.
A big question looms over GM and the industry: What is the strategy for monetizing vehicle connectivity? Will it be jacking up OnStar/telematics subscriptions, building the cost into cars upfront, charging for features on demand?
To achieve long-term vehicle=based revenue production will necessitate more smoothly integrating OnStar into the GM vehicle ownership and dealer experience. The entire purpose of vehicle connectivity is customer retention.  GM needs better marketing and messaging to keep the company in the forefront of the connected car industry. This latest messaging is an amazing marketing failure and a non-starter for most consumers.
One company can take heart from GM's stumble. After becoming the poster child for features-on-demand by announcing plans to charge a subscription for access to heated seats, BMW will have a bit of schadenfreude at GM's expense – this time.
Also read:
C-V2X: Talking Cars: Toil & Trouble
Automotive Semiconductor Shortage Over?
Auto Makers Face Existential Crisis
Share this post via: