I knew that the acronym for TFT meant Thin Film Transistors, but I hadn't heard that FPD stands for Flat Panel Detectors. It turns out the FPD are solid-state sensors used in x-ray applications, similar in operation to image sensors for digital photography and video. I'll be attending and blogging about what I learn at a webinar next week:
Accelerating TFT and FPD Design
Tuesday, May 16th, 2017 from 10AM to 11AM PDT
Hosted by Silvaco
Webinar Overview
This webinar will provide an overview of different techniques for TFT and FPD design enabled by the Silvaco EDA tool portfolio. With recent advances in display technology, circuits in display designs have enhanced their functionality and grown rapidly in size. Design and simulation of these enormous circuits are a challenge for the traditional SPICE simulators. Fast-SPICE-like simulators are far better suitable for these applications. In this webinar, we will discuss several key aspects which make these simulators popular in large circuit domain and demonstrate how to simulate a TFT-based display panel using Silvaco's SmartSpicePro – event-driven multi-rate simulator. Next, we will be discussing the new features of Silvaco's Layout Editor tool, Expert for improving design productivity on FPD layout. And finally, we will discuss early voltage drop analysis techniques on large scale TFTs. InVar Prime offers an easy solution for early TFT layout analysis.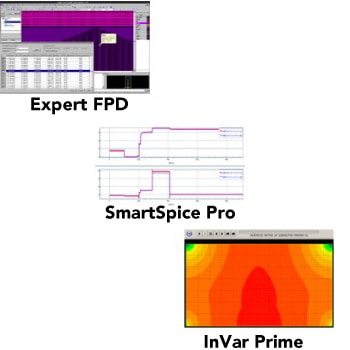 Webinar Highlights
• Overview and demo of new FPD-related features of Expert layout editor:– Improved Equal Resistance Router
– 3D RC extraction interface
– Improved compatibility with OpenAccess
• Key features of TFT-based display panels from the circuit simulation point of view
• Key aspects of event-driven multi-rate circuit simulation methodology
• Simulation performance and accuracy trade-off
• Challenges in TFT-based display panel simulation
• Simulation of TFT-based display panel examples – transient simulation
– result accuracy comparison with SmartSpice
– simulation performance and accuracy control
• Key power integrity problems of layout design for TFT-based display panels
• Transient nature of TFT displays and requirements for reliability analysis
• Analysis performance and accuracy trade-off with layout only data
• Challenges in TFT-based display panel voltage drop analysis
• Examples of TFT-based display panel voltage drop analysis
• Transient simulation performance and accuracy control
Webinar Registration
You need to register online and it's a simple process with just a few fields to fill out, then check your email inbox for a confirmation message with a link to the webinar. Something that makes Silvaco webinars different than most is that the presenters are actually expert users of the tool, and expect to see live demonstrations followed by a Q&A session at the end.
About Silvaco, Inc.
Silvaco, Inc. is a leading EDA provider of software tools used for process and device development and for analog/mixed-signal, power IC and memory design. Silvaco delivers a full TCAD-to-signoff flow for vertical markets including: displays, power electronics, optical devices, radiation and soft error reliability and advanced CMOS process and IP development. For over 30 years, Silvaco has enabled its customers to bring superior products to market with reduced cost and in the shortest time. The company is headquartered in Santa Clara, California and has a global presence with offices located in North America, Europe, Japan and Asia.
Share this post via: