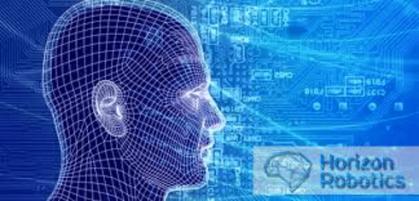 If you haven't noticed, there has been a BIG influx of money into Artificial Intelligence (AI) technologies. Most recently, the Chinese government announced that AI is one of their top initiatives with a goal to catch up with the United States within 3 years and to be the world leader in AI by the year 2030. Horizon Robotics, founded in 2015, is one of China's AI startups. It just closed a $100M A-round funding led by Intel Capital in October 2017 with the intent to build AI-based hardware and software targeted for use in autonomous vehicles, smart homes and smart cities. They plan to differentiate themselves by building low power, low cost intelligent processors that will enable devices to perceive, interact, understand and make decisions locally in the fog instead of having to transmit data to the cloud.
To accomplish their goal, Horizon's team led by founder Kai Yu, former head of Baidu's Institute of Deep Learning, has created a unique architecture they call their Brain Processing Unit (BPU). The architecture is open and allows for it to be targeted to multiple different compute platforms and end-markets applications. One of Horizon's main goals is to be able to make any device an intelligent entity that can "think" locally without having to communicate to the cloud. That implies a lot of on-chip compute power, while also being cost effective enough to be sold in high volumes.
Because Horizon's AI solutions are dealing with the real world, their chips have complex heterogeneous architectures that utilize multiple different processing engines, embedded memories and a variety of different sensor interfaces. Streaming data from sensors is fused into a homogeneous semantic environment upon which various hardware-accelerated AI-engines work to perceive objects, identify them and then predict their behavior. This implies an architecture that must deal with real-time cache coherency between different processors running at different speeds and workloads.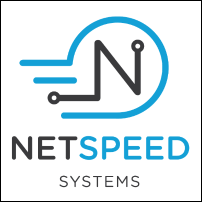 This clearly is not a one size fits all problem that can be tackled by one architecture. However, being a leader in AI is helping Horizon to attack the problem in a scalable way. Their understanding of AI's benefits led them to license NetSpeed's Orion and Gemini Interconnect IP for use in their AI chips. For those not familiar with NetSpeed, they use machine learning and AI techniques to help system architects synthesize System-on-Chip (SoC) interconnect fabrics known as networks-on-chip (NoCs). To be clear, Orion and Gemini NoCs are not static IP blocks, but instead are sophisticated interconnect fabrics that are synthesized by machine learning algorithms that analyze the anticipated workloads and traffic patterns between various processor engines, memories and external sensors interfaces.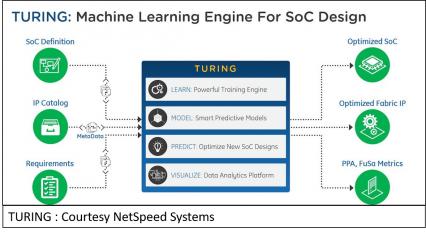 While Orion and Gemini are incredible technology on their own, the thing that really makes them appealing to Horizon is the fact that the same NetSpeed IP can be easily scaled up or down to meet the needs of many different end-market applications using NetSpeed's machine-learning Turing technology. And when Horizon says scaling they really mean scaling. They are ambitiously looking to put intelligence into as many as 1000 unique types of applications. You can imagine that the architecture for autonomous vehicles will be greatly different than an autonomous kitchen appliance. Yet both applications will use similar BPU building blocks from Horizon along with NetSpeed NoCs.
China by itself represents a huge AI market for Horizon. In the automotive market alone China now sells 30 million new cars each year. Advanced Driver Assisted Systems (ADAS) are well known for helping drivers park their cars or identifying objects in drivers' blind spots. However, according to Yu from Horizon, ADAS used in Europe or the U.S. won't cut it for China. ADAS in China must go to a whole new level as Yu says that in China the driving conditions are much more challenging. As examples, Yu says that in China drivers change lanes much more frequently than in most other countries and there are way more pedestrians everywhere, even on the highways!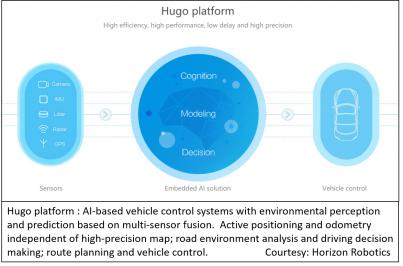 Automobiles are just the tip of the iceberg however as China predicts it will need hundreds if not thousands of new AI applications to help it with city management, traffic, and a host of Internet-of-things (IoT) devices that will be running on 5G networks within its large populous cities. Here again Horizon plans to make those edge devices intelligent with their Brain technology.
In summary, there is a big push for AI at the edge of the cloud and it appears that NetSpeed's NoCs are well positioned to leverage this upcoming market. As Horizon Robotics has figured out, the ability to integrate heterogeneous architectures with smart interconnect fabrics is an enabling technology for next generation AI systems.
See Also:
Press Release: Horizon Robotics Licenses NetSpeed Interconnect IP for AI SoCs
NetSpeed Turing Technology
NetSpeed web site
Horizon Robotics web site
About Horizon Robotics
Horizon Robotics aims for becoming the global leader of embedded AI. By jointly optimizing algorithm and processor design, Horizon Robotics is delivering software and hardware integrated solutions with high performance and low power to equip devices, such as autonomous vehicles and smart cameras, to make human life more safe, convenient and fun. The company has a strong R&D team with rich industrial experience support the development of the smart world. Horizon Robotics has received funding from venture investors including Morningside Venture Capital, Hillhouse Capital, Sequoia Capital, GSR Ventures, Linear Venture, Innovation Works, ZhenFund, Wu Capital, Tsing Capital and Vertex Ventures, as well as from Yuri Milner, a legendary venture capitalist from Silicon Valley. http://en.horizon.ai/

About NetSpeed Systems
NetSpeed Systems provides scalable, coherent on-chip network IPs to SoC designers for a wide range of markets from mobile to high-performance computing and networking. NetSpeed's on-chip network platform delivers significant time-to-market advantages through a system-level approach, a high level of user-driven automation and state-of-the-art algorithms. NetSpeed Systems was founded in 2011 and is led by seasoned executives from the semiconductor and networking industries. The company is funded by top-tier investors from Silicon Valley. It is based in San Jose, California and has additional research and development facilities in Asia. For more information, visit www.netspeedsystems.com.
Share this post via: