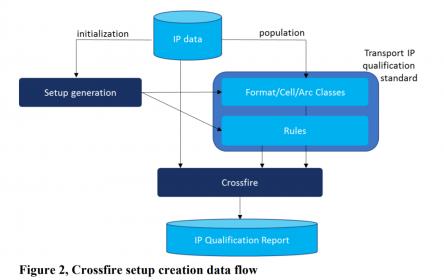 In case you missed it, Fractal is now officially part of the TSMC EDA Alliance. Fractal Crossfire is the leading IP and Library QA tool used by TSMC and many of TSMC's customers so this is for the greater IP good, absolutely. Fractal has also released a new white paper "Setup Generation for Fractal Crossfire" that we can talk about but first let's check out the meat of the press release:
Fractal Technologies is proud to announce its acceptance as a partner in the TSMC EDA Alliance, a key component of the TSMC Open Innovation Platform® (OIP). Within this partnership Fractal Technologies will be cooperating with TSMC to support mutual customers. Fractal Crossfire provides a validation solution for the qualification of IP blocks prior to the integration of these components into final designs for manufacturing.

"TSMC recognizes the need of our customers to have a formal IP qualification handshake in place. This enables TSMC to deliver IP products that are compatible with customer-specific requirements on IP configuration. As an independent IP qualification solution, Fractal Crossfire is enabling this IP qualification capability," said Suk Lee, senior director of the Design Infrastructure Marketing Division at TSMC.

Bottom line:leading edge processes are breaking internal QA flows. If your QA strategy is "If it ain't broke, don't fix it" then you are in for a rude awakening.
If you are not familiar with Fractal we have been covering them on SemiWiki for more than five years so their landing page is a great place to start. You could also check out the IP Library and QA with Crossfire webinar we did last month.
The new white paper "Setup Generation for Fractal Crossfire" is a quick 6 pages and registration is not required so it is open for all.
In this white-paper we will discuss this customization process for the Fractal Crossfire IP qualification tool. We will review the toolbox provided by Crossfire to automate the setup process and the ways in which a design organization can further leverage a well designed IP qualification setup by providing it as a standard to its suppliers.
You can also see Fractal at the Design Automation Conference next week in booth #2333. I will be there signing copies of "Fabless: The Transformation of the Semiconductor Industry" compliments of Fractal. I hope to see you there!
About Crossfire
Mismatches or modelling errors for libraries or IP can seriously delay an IC design project. Because of the increasing number of different views required to support a state-of–the-art deep submicron design flow, as well as the complexity of the views themselves, library and IP integrity checking has become a mandatory step before the actual design can start. Crossfire helps CAD teams and IC designers in performing integrity validation for libraries and IP. Crossfire ensures that the information represented in the various views is consistent across these views. Crossfire improves Quality of your Design Formats.
About Fractal Technologies
Fractal Technologies is a privately held company with offices in San Jose, California and Eindhoven, the Netherlands. The company was founded by a small group of highly recognized EDA professionals. For more information: http://www.fract-tech.com/.
Share this post via: