I had the good fortune to catch a live webinar recently that was quite compelling – Conversation with Dr. Walden Rhines: Predicting Semiconductor Business Trends After Moore's Law! Dr. Rhines, known to most as Wally, doesn't need much of an introduction. Any semiconductor or EDA professional knows who he is and what he's accomplished. His discussion about predicting the future didn't disappoint. Wally is the rare individual who is articulate, knowledgeable and able to explain complicated phenomena in a way that is accessible to all. If you missed the live event, you will want to catch the replay here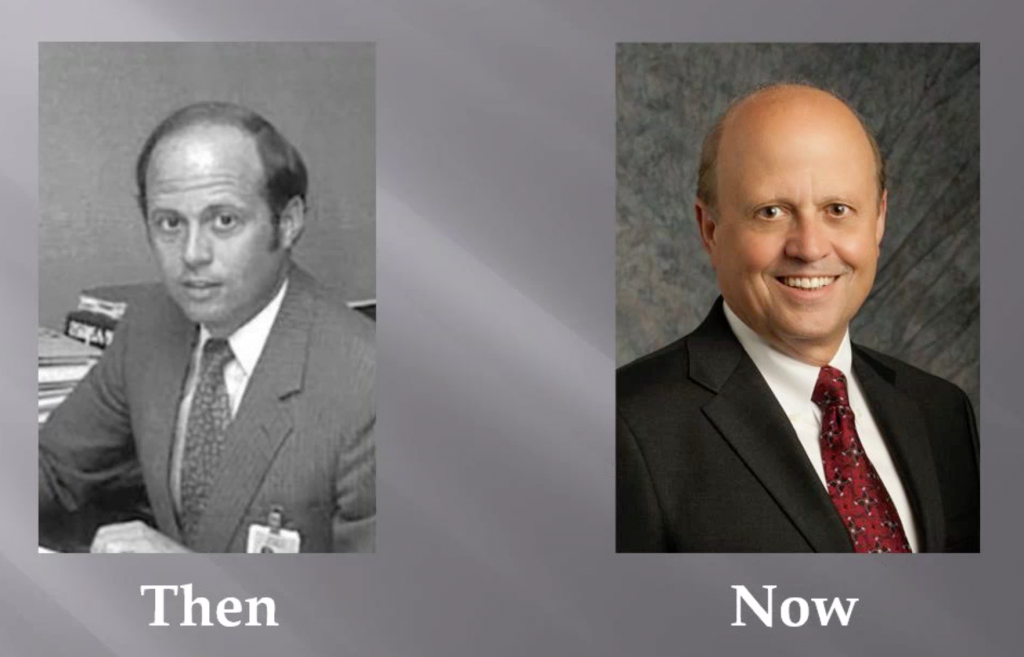 You may wonder about the significance of the photo above.  Read on…
Wally's discussion was based on his new book, "Predicting Semiconductor Business Trends After Moore's Law!" The book is available on Amazon here.  To get you more interested in the webinar, there may be some free stuff, like a PDF version of the book in store for you if you watch it.
I don't want to repeat the insights offered in the webinar here, it's much more entertaining to hear them from Wally. I will offer a few topics just to whet your appetite. Do you know what the semiconductor learning curve is and how it informs the predictions of Moore's Law? What about the Gompertz curve? This one has been around since 1825 and can be used to predict everything from the growth of tumors, population and product adoption. Want to understand how all this relates to semiconductor and Moore's Law? Watch the webinar.
Do you ever wonder when silicon transistors will finally need to be replaced? Wally explains that with solid analytics. What about IC silicon revenue per unit area over time? What does that curve look like?  Again, watch the webinar. I could go on, but I'll stop here.  By now, you should be looking to click one of the webinar links above. The entire event is under 40 minutes, including a very robust Q&A session. The questions posed to Wally are included below to further whet your appetite.
And regarding the photo above – this was the final slide for the final question below – How does Wally manage to look so young after 50 years in this dog-eat-dog business?  Wally's answer to this one might be the best nugget of all.
Can you predict the revenue impact of Covid 19 on both the semiconductor and EDA industries?
Does your book suggest that Moore's Law is not coming to an end?
What will drive Scale for semiconductor going forward if Moore's law will not be true forever. Will it be innovative packaging, materials or some other factor?
If your consolidation vs specialization trend plays out, what will the company structure of the EDA industry look like in ten years?
How can you explain some of those remarkable ratios, like the constancy of revenue per unit area of silicon?
Will China be successful in its quest for self-sufficiency in semiconductors? How will semiconductor companies in the West be affected?
What are some future challenges for this next generation of neuromorphic computers?
Why has the EDA industry accelerated its growth in recent years?
Compute servers in the cloud were once dominated by Intel. Now NVIDIA, Google Tensor Flow and other hardware is showing up in the cloud.  What will things look like in the future?
How will the semiconductor industry cope with the need for better data security?
How should the semiconductor companies prepare their teams for transitioning from a "component / bottom up" focus to a "top down" approach? How can the many IC design expert's transition to a "system-level" thinking and learn about many, likely very diverse applications?
The semiconductor industry has relied on parallel cost and learning curve (seen in chapter 2 of the blog) and past deviations from this have been quickly corrected like in the case of Test Equipment. With the introduction of EUV, the lithography curve is meant to go almost flat as ASML increase the price of its tools almost in line with their productivity. What do you think is the impact of this very significant cost inflation on the industry? Is it possible to bring the lithography curve back to trend despite a technological monopoly? If not, who bears the extra cost / sub-trend deflation?
In your opinion, what is going to be the role of Europe in the future semiconductor business? Any segment that can be led by European companies such as Infineon, Soitec or ST?
How does he see the role of all the backend next 10 years vs. past 10 years? Thinking about packaging and PCBs/Substrates as well?
What does he think is the impact of a move to chiplets architectures on the EDA industry?
What could change the shape / inflection points of his prediction for the transistor curve (chapter 4, fig 7, the S curve of Silicon)? Or what does he see that could materially change the Si/GDP penetration curve?
Ask Wally how he manages to look so young after 50 years in this dog-eat-dog business.
Share this post via: